Section Branding
Header Content
Study recruits Glynn residents to measure their bodies' chemical levels
Primary Content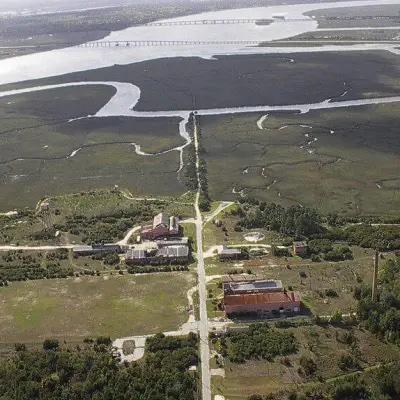 Mary Landers, The Current
Home to four Superfund sites, the Brunswick area has a long history of environmental contamination from local industry. The region's dolphins have been studied and found to carry a heavy load of toxic chemicals, including Aroclor 1268, a mixture of PCBs used only at the Brunswick LCP site. But there has never been a study of Brunswick residents to determine if the environmental contaminants have entered people's bodies.
Until now.
Emory University researchers in partnership with Rebuilding Together Glynn County and other local organizations are recruiting participants to learn if residents have been exposed to potentially harmful chemicals at a level that is higher than in other places. 
"This study is particularly about exposure," explained Noah Scovronick, assistant professor in the Rollins School of Public Health at Emory University and a co-leader of the study. "So "We're not attempting in this pilot study to discover how people are being exposed, necessarily, or whether the exposure is associated with any health problems. It's really just to try to identify that people have blood levels of certain contaminants that are higher than what's found in the general population of the United States."
Some of the contaminants researchers will be looking for are known to be associated with some of the sites in and around Brunswick, like mercury, PCBs, and certain pesticides. They're also screening for some other commonly investigated contaminants like lead and other heavy metals.
Participants will complete a short questionnaire to collect demographic information, as well as information on possible routes of exposure, such as diet and employment at any of the industrial sites. They'll also provide a blood sample for analysis. In return they'll receive a $50 Walmart gift card, their individual test results of pollutants measured in their blood sample, an invitation to meetings that will report the overall findings plus a packet of materials on how to reduce their exposure to chemicals.
Participants must be at least 18, live in the Brunswick area now and have lived there at least 10 years total.
"We are pleased that we can respond to community concerns about environmental pollution in Brunswick" said Glynn County Commissioner and The Community First Planning Commission Board Member Allen Booker in a press release announcing the study. "Local organizations designed this study in partnership with Emory scientists, and we are hopeful that the study will provide residents with some of the information they are looking for."
The researchers have gotten robust response to their initial efforts to recruit participants, Scovronick said, with many area residents expressing that they knew they grew up in the shadow of industrial facilities, and have long wondered if it's the reason that they have family members who've gotten sick. Many of the neighborhoods closest to the Superfund sites are predominantly Black and the researchers want participation from people who are living or have historically lived there.
Scovronick and research partner Dana Barr, also of Emory, are aiming for 50-100 participants. The first round of testing is planned for mid-March. If they get enough people, including a good balance of people from different backgrounds, ages and neighborhoods, the first round of testing may be sufficient. If there are no unforeseen delays, results should be available by the end of the summer, Scovronick said.
This study is funded by the Emory University Exposome Research Center through a grant from the National Institute of Environmental Health Sciences (NIEHS).  For more information or to apply visit bit.ly/912health or email brunswickexposure@emory.edu or call 404-727-0250.
This story comes to GPB through a reporting partnership with The Current.
Secondary Content
Bottom Content