Section Branding
Header Content
On President's Day in Jimmy Carter's hometown, residents remind the nation: 'Love everybody'
Primary Content
The centerpiece of the Jimmy Carter National Historic site is the former Plains High School — President Carter's alma mater. 
And today the old auditorium with its folding wooden seats was decked out as it has been for over a decade on Presidents' Day with flags, red white and blue bunting and memorabilia belonging to historian Laurence Cook, laid out for his presentation.
"It's ironic today that I'm giving this presentation on the lesser known presidents," Cook said. "I would say as a historian, I will make this statement: I believe [Jimmy Carter] is the best-known president around the world."
Cook said Carter loves these talks about the nearly forgotten details of presidential history and is usually here on President's day. This year, of course, is different, and so Cook said he was tempted to change course.
"But I knew President Carter would want me to stay with the planned program and not make it all about him," Cook said.
In conversation around Plains, people echo the theme of a selfless Jimmy Carter again and again.
Like Carter, Rebecca Davenport is a fan of these President's Day talks in Plains. And she has her own piece of memorabilia: A 1977 Carter inaugural pin hanging from her sweater. 
"He's the only president from Georgia, so I thought I would wear it today, right?" she said.
And it's not a replica, she said. It's the real deal.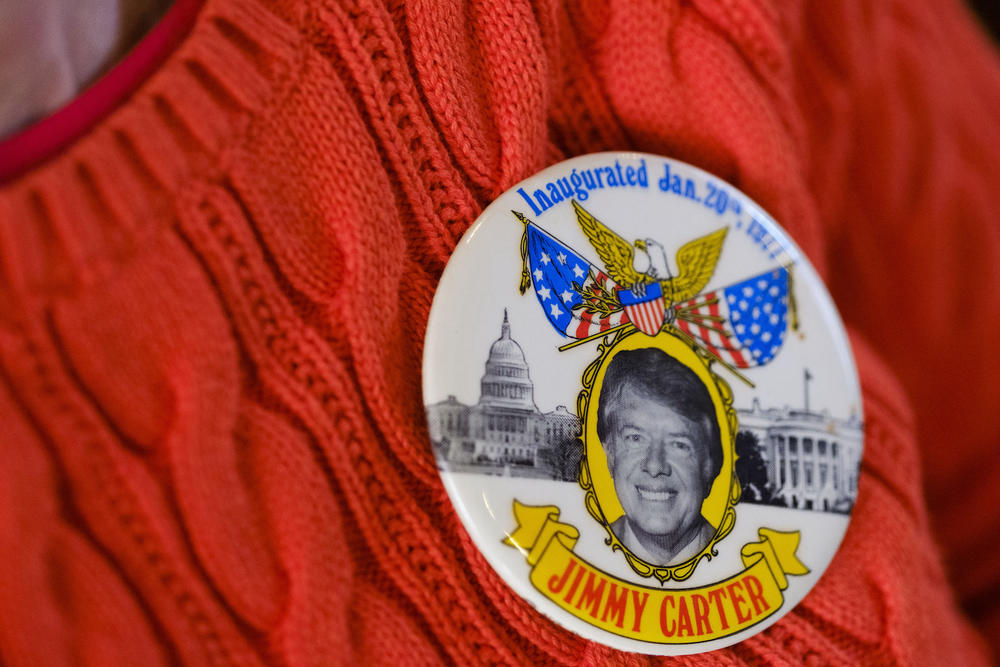 "Isn't that crazy?" she added. "So i'm celebrating him today."
So what is she celebrating?
"I think his concern for the underdog," she said. "As someone who might have had a controversial presidency. But afterwards, I think the whole country can confirm we admire him and his spirit."
Bernadette Backhaus and Spencer Horne were passing through Plains on vacation when they stopped on the main street, across from where out-of-town journalists have gathered. Backhaus said they like to cram as much history as they can into these road trips. 
And they came today with knowledge of Carter's condition. 
"Yeah, we were in the hotel room last night in the room just watching TV, and we looked at our phones and were like 'Oh my God; he went into hospice care,'" Backhaus said. "It's kind of sad."
Backhaus said she's read a few of Carter's books and wished more people saw him the way she does. 
"Well, I mean — how do I say this?" she began. "He was definitely into human rights and the respect of people and all that. It's just a shame people don't consider him a good president with what he did do."
Like Backhaus, Angelique Chemin said she was shocked by the news that Carter is in hospice.
"It's kind of breaking my heart," Chemin said. "And I feel sad for his wife and family to have such a gentle sweet soul leave our world."
For Chemin, it's Carter's lived example of the central tenet of his Christian faith that inspires. 
"'As they say in the Bible, it says 'Love everybody,'" she said. "It doesn't say 'Love everybody but...' It just says, 'Love everybody.'"
It's a lesson Chemin said she hopes she remembers even after Carter passes away. 
Secondary Content
Bottom Content