Section Branding
Header Content
Georgians with marketplace insurance aren't guaranteed good access to care
Primary Content
A study of over 600,000 Georgians with health care plans under the Affordable Care Act found a quarter million subscribers deal with network inadequacy, or a lack of nearby in-network providers for even basic care.
That makes them insured, but essentially uncovered.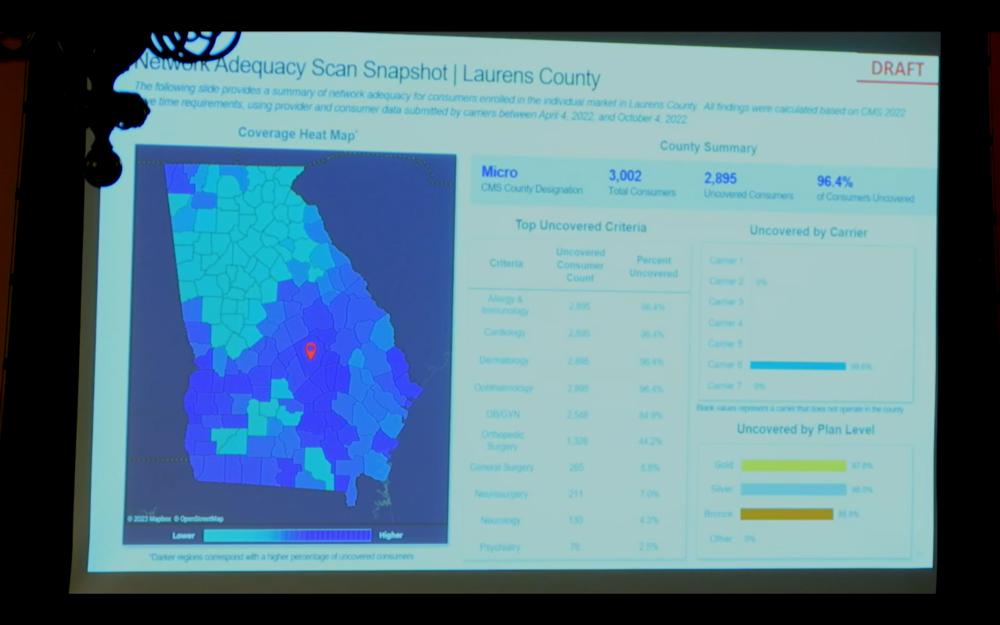 County-level data from last year shows some rural counties with over 90% network inadequacy. Depending on the insurance provider, people might have almost no access to allergists or obstetric gynecologists, among others. 
Attorney for the Department of Insurance, Gregg Conley, spoke to the state House Health Committee on Monday. 
"There's two reasons you're going to see uncovered individuals," Conley said. "One reason is, perhaps there are not enough providers. If it's a contracting issue, some insurers have a big network and some have a small one, that's a tougher nut to crack."
This session, a new bill from the state Senate could create stricter adequacy standards for insurers in Georgia. 
The Centers for Medicare and Medicaid proposed their own guidelines this year with different time and distance requirements based on specialty and county types. For example, marketplace consumers in metro areas should be no more than 10 miles from primary care and 30 miles from emergency medicine. 
In rural counties, providers of any type should be no more than a 30-mile drive away. 
Standards are important, because Conley said most consumers don't know how to adequately compare marketplace plans. 
"I think there is a significant gap between when consumers sign up for insurance believing they have access to a physician, as opposed to whether they actually do," Conley said. 
Plus, enrollment keeps going up.
Nationally, 15.9 million people signed up for marketplace insurance this year with 846,000 million enrolled in Georgia. 
Federal subsidy programs, which have made health insurance premiums less expensive for consumers, have likely boosted enrollment numbers. This past enrollment period, some plans went for as low at $10 a month with tax credits. 
In Georgia, Gov. Brian Kemp's reinsurance program also aims to reduce premium costs. Over $90 million in the governor's budget is set aside for reinsurance and for the state's development of its own insurance portal. 
Over 1.2 million people in Georgia are uninsured. 
Secondary Content
Bottom Content