Section Branding
Header Content
Georgia man who died at Pearl Harbor will be buried at Arlington National Cemetery
Primary Content
LISTEN: Shipfitter 3rd Class Malcolm Donald was stationed on the USS Oklahoma the morning of Dec. 7, 1941. His remains were identified more than 75 years later — and he'll be buried with full honors this week. GPB's Devon Zwald has more.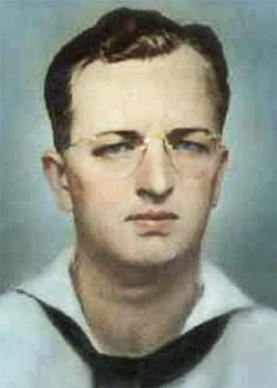 A Georgia man who died during the Dec. 7, 1941, attack on Pearl Harbor will be buried at Arlington National Cemetery Thursday with full military honors.
Shipfitter 3rd Class John Malcolm Donald was stationed on the USS Oklahoma when Japanese aircraft struck the ship with aerial torpedoes. 429 USS Oklahoma sailors were killed. But only 35 were initially identified.
More than 70 years later, over 350 crew members, including Donald were identified by scientists with the Defense POW/MIA Accounting Agency — the agency tasked with "accounting for missing and unaccounted-for U.S. personnel to their families and the nation."
Donald was born in 1913 in Ball Ground, Ga. He enlisted in the Navy in July 1940 and was stationed on the USS Oklahoma in October 1940, according to the Navy.
His remains were recovered after the attack and buried at the National Memorial Cemetery of the Pacific, according to the DPAA. The agency identified his remains on April 11, 2018 after Department of Defense directed in 2015 the disinterment of unknowns associated with the USS Oklahoma.
"For the Donald family, I hope they feel like they can get some finality, some closure after having the identification done and having the opportunity to see their loved one buried," said Lt. Cmdr. Jory Morr, who served as the POW/MIA branch head for the Navy. "Hopefully, they feel like it was done in a dignified way and with honor."
Morr said scientists made identifications with DNA testing on both sailors and their family members. He said a genealogist created family trees based on the list of lost sailors. They then reached out to families and asked for their DNA samples, which ultimately led to identifications.
All but 33 crew members who died on the USS Oklahoma were identified. The final 33 unidentified were reinterred in a ceremony Dec. 7, 2021.
Morr said the number of sailors that have been identified is great, but he doesn't forget the families of the ones that haven't.
"We never consider the case closed. We are always pursuing to identify each and every sailor that is missing or unidentified," he said.
Secondary Content
Bottom Content