Section Branding
Header Content
Black volunteers passing out water at 2020 Albany voting site cleared of wrongdoing
Primary Content
Black volunteers who gave food and water to early voters in the 2020 election broke no laws, the Georgia State Election Board said Tuesday. But the woman who filed the complaints faces potential charges for bringing a gun into a polling place.
The woman accused members affiliated with Black Voters Matter of violating election rules prohibiting campaigning within 150 feet of a polling place, and said she was "scared for my safety" by the group's actions passing out water, playing hip-hop music and talking with voters in a multi-hour line in Albany in October 2020.
State investigators found no violations from the voting rights group, as the sweeping voting law SB 202 that explicitly prevents non-poll workers from distributing food and water inside the 150 foot barrier was not in effect yet. But the election board did vote to refer the woman who filed the complaint, Sarah Webster, to the attorney general's office for violating a state law preventing people from bringing guns within 150 feet of a polling place.
During the board's meeting in Macon, Webster, who is white, offered often combative explanations for her suspicions of Black Voters Matter and why she brought an antique pistol (that she said was not functional) with her to cast a ballot. She compared volunteers with the group, known for hosting bus tours to boost voter participation in Black communities, to armed Black Panther Party members; accused the state election board of covering up election fraud in the 2020 presidential election and said she feared for her life because of the volunteers' presence.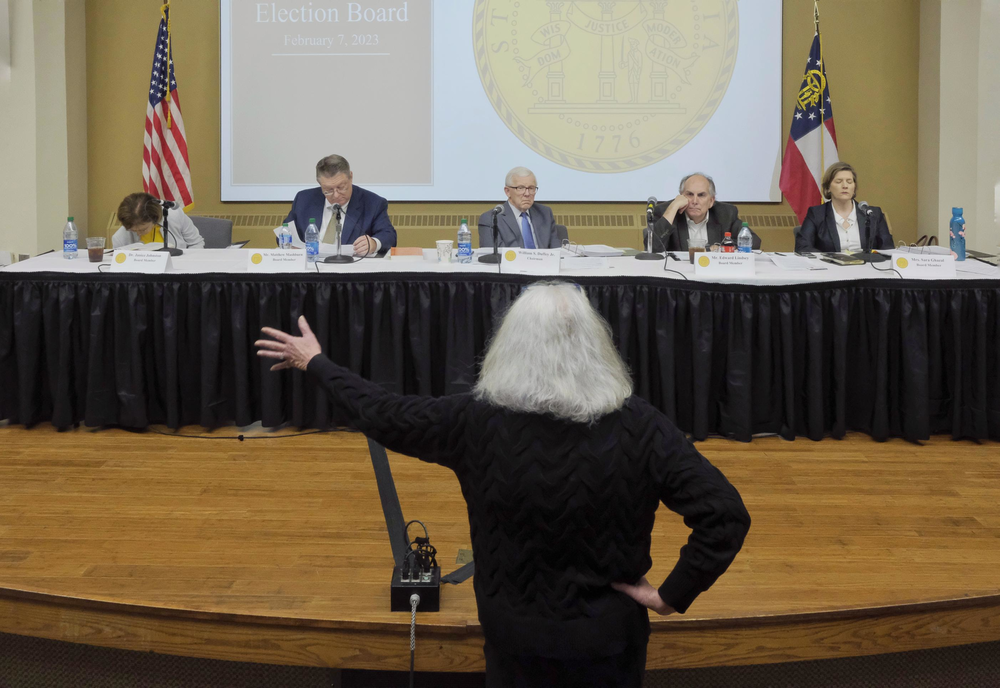 "I remember the Black Panthers that stood in front of the polling place with their guns, that's how I felt when I pulled up to vote in Albany, Ga.," Webster said. "That's what I felt. 71 years old, I don't run as fast as I used to, and I was totally intimidated. I'm still intimidated and shaking."
According to investigators, Webster got into a confrontation with the Black Voters Matter group after casting her ballot and was later charged with disorderly conduct.
Demetrius Young, one of the people passing out refreshments and now an Albany city commissioner, said both in the meeting and at a press conference afterwards that there was never any illegal campaigning and his group was being targeted for being Black and trying to help all voters combat long wait times.
"I spoke to Ms. Webster and explained to her what we were doing," he said. "I was simply trying to help people who were in 90-degree heat, standing in line for six hours trying to cast their vote, many of them passing out on the sidewalk."
He added that Webster was even one of the people who received water, despite her complaint about their presence.
Young also said he was relieved that the two-year time period it took for the complaint to get resolved is finally over.
"You know, the half has not been told on about what we went through through that whole elections period," he said. "We were the ones that were threatened with violence, guns pulled on us, but we were the ones who were threatened with arrest from the local officials there. We were the ones who had to endure charges and and things of that nature."
Bryan Sells, a voting rights attorney representing Young and others working with Black Voters Matter that were accused of breaking campaigning rules, said in a press conference the State Election Board made the correct decision in dismissing the claims but decried the fact that the process even had to happen.
"The recommendation by the investigators was that there was no violation, and that was correct," Sells said. "The point I want to emphasize is that my clients have been under legal jeopardy now for more than two years, and they should never have been in jeopardy, because what they did back in October 2020 was not unlawful."
Protect the Vote GA's Hannah Joy Gebresilassie also denounced the "bullcrap" from Webster and warned of the danger of having a gun inside the polling place.
"We saw a woman today in there that tried to defend herself who could have easily hurt somebody, who could have easily taken someone out, who could have easily done something very atrocious and regrettable with a gun," she said. "We're not talking about that enough."
Sells, Black Voters Matter and other voting rights groups in attendance also took the opportunity to slam the provision in SB 202 that, were it in effect back in 2020, likely could have meant the organization would be in violation of the restrictions on where a third party can provide food and water for voters waiting in line to cast their ballot.
Secondary Content
Bottom Content