Section Branding
Header Content
Neighbors of planned 'Cop City' weigh in on controversial development
Primary Content
LISTEN: Hear from the residents of Southeast Atlanta who would be most affected by the Police Safety Training Center. GPB's Amanda Andrews reports.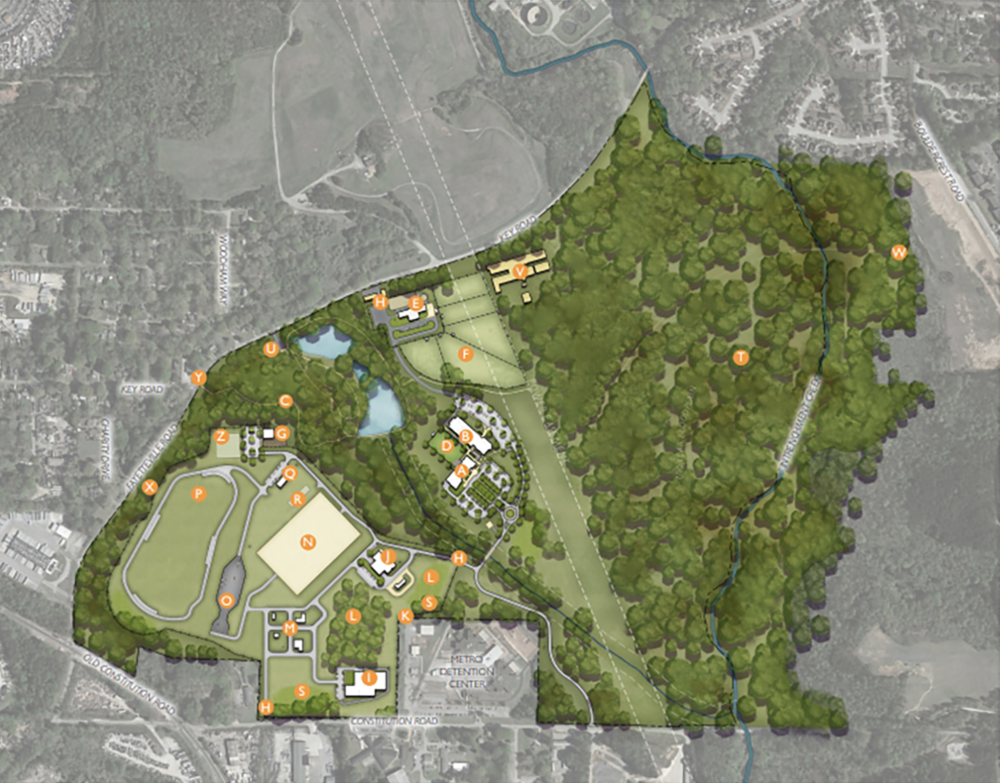 The South River Forest is where Atlanta leaders want to build what they call the Atlanta Public Safety Training Center, a complex for police and firefighter training. 
Activists from around the country who oppose the center and want to preserve the natural surroundings refer to it as "Cop City." Protester Manuel Teran was killed by law enforcement there on Jan. 18, 2023, after they say the protester shot and wounded a Georgia state trooper near the site. 
Away from those national headlines are the people who already called this area home for decades. The site of the planned construction is located southeast of the city in DeKalb County and abuts Intrenchment Creek and nearby residential neighborhoods. 
What is the residents' vision for development in surrounding areas?
First, there's already a police training facility in the neighborhood: the Atlanta Police Pistol Range on Key Road.
Although Chelsea Goolsby has lived here for most of her life, she didn't know the range existed. She'd assumed it was gunfire in the community and dialed 911.
"I hear gunshots all the time and I always call [the police], " Goolsby said in an early January interview with GPB. "I call every time I hear it. I call all the time, and they just never thought, they just…it's like nothing is a big deal."
Goolsby said sounds from the firing range, noisy trucks on Bouldercrest Road, and fire department sirens affect her daily life. 
"You know, you hear that noise," she said. "It's never no noise, and with it being a school here the kids have to get some sleep."
The police presence near Chelsea Goolsby's neighborhood could grow exponentially. What's planned is a public safety training center rivaling the size of Atlanta's Piedmont Park with amenities such as simulated city where officers can practice riot control and a closed driving course for emergency vehicle training. 
The original plan for the development had a price tag of $60 million of investment from philanthropic and corporate donations and $30 million in taxpayer dollars.
Angela Burgess-Wilson said she hasn't seen that kind of investment in the 40-plus years she has lived here. She said she would spend the money differently. 
"I would put in different things that are more conducive for the people that live in this area," Wilson said.
Such as a grocery store, for starters.
"Like, there's not a Kroger or Publix nearby here any place," she said. "So I would ask the neighbors if they would like to have one of those stores."
Betty Goolsby is Chelsea Goolsby's grandmother. She'd like better food options, too:
"We need stores and stuff, you know, like in other neighborhoods ... how they have those eating places you can go outside," she said. "We want to feel comfortable, safe."
Back in 2017, there was a plan by the city to make this area more comfortable and appealing for residents. Margaret Spalding with the South River Watershed Alliance worked with then-Mayor Kasim Reed on the vision for the South River Forest, that would conserve the land from the Old Atlanta Prison Farm while revitalizing economic growth  in the community. 
"The concept was like this emerald necklace of connected green spaces," Spalding said.
Meanwhile, city leaders became anxious to address a steep drop in the number of police officers. In 2021, under Mayor Keisha Lance Bottoms, the South River Forest plan shifted to the training facility which they hoped would encourage officers to stay in Atlanta.
Though the training center site itself is in Atlanta, it lies just outside city council district lines and in unincorporated DeKalb County. So Angela Burgess-Wilson and her neighbors do not have a city council member to call with their concerns. 
"We got to pay for it," Burgess-Wilson said. "So if I got to pay for it, I think I should have the right to vote for it or not. And I vote against it."
She's not alone.
Before the project was approved in September 2021, City Council heard 17 hours of public comments largely opposed to the development and in favor of preserving the site as greenspace.
Throughout 2022, some activists occupied the forest as a means of protest while other environmental groups took legal action to prevent DeKalb County from approving the land disturbance permit.
The Jan. 18 confrontation in which a trooper was shot and Teran was killed led to national attention and renewed protests. 
During a Jan. 31 press conference announcing that the project would secure construction permits from DeKalb County, Atlanta Mayor Andre Dickens said he's listened to the public.
"This announcement we're making today is due in large part to the extensive input from the community that we received over the last year — year-plus — through the community stakeholder advisory committee," Dickens said.
But Margaret Spalding believes the stakeholder committee was not without its problems.
"There were no environmental organizations or representatives put on that council," she said.
Members of the community stakeholder advisory committee also attempted to oust an environmental engineer for raising concerns about environmental studies on the site. 
At the press conference, Dickens said most of the property around the Public Safety Training Center will remain greenspace, even if that means a new firing range in the neighborhood where folks like Chelsea Goolsby and Angela Burgess-Wilson live. 
Meanwhile, protesters who weren't allowed inside the Jan. 31 press conference vowed to continue fighting for what they call their forest.
Secondary Content
Bottom Content