Section Branding
Header Content
Lawmakers: Democrats file legislation to expand abortion on Day 6
Primary Content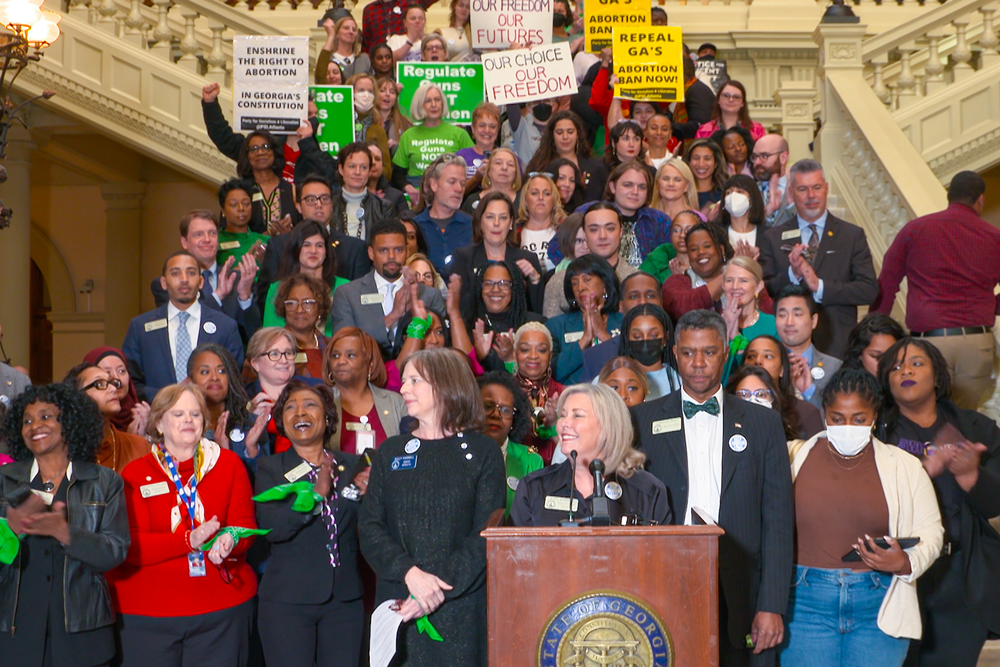 Georgia Democrats filed a new bill that would expand abortion access in Georgia.   
Senate Bill 15, sponsored by Sen. Sally Harrell (D - Atlanta), would repeal Georgia's abortion ban and further expand abortion access. 
The abortion ban, House Bill 481, was passed in 2019. The law bars nearly all abortions when "fetal cardiac activity" is detected — usually around six weeks of pregnancy. When the ban took effect in July after Roe v. Wade was overturned, abortion care providers scrambled to accommodate patients and had to turn many away. 
The proposed law, named the "Reproductive Freedom Act," outlines abortion access as a "fundamental right." It explicitly bans law enforcement agencies from arresting an individual for getting or performing an abortion, as long as the procedure otherwise follows medical law.  
SB 15 also could be used to require insurance providers to cover abortion procedures and medication.  
Rep. Shea Roberts (D - Sandy Springs) also spoke in support of the legislation.
"We all want the rights and resources to make our own decisions about when and how to build our families and we want to raise our families with dignity," she said. "I am personally invested in this issue. I've been open since last year about my own abortion experience, sharing it publicly because I believe it's my responsibility as an elected leader to call out our Republican colleagues who continue to pass legislation that restricts at least half of the state's population."
Roberts had an abortion at the advisement of her doctor after finding out a pregnancy was no longer medically viable. She filed the House version of SB 15.  
Though in effect, Georgia's abortion law is being challenged in court. The Georgia Supreme Court is expected to rule on it later this year. 
Plaintiffs in the most recent challenge claimed that the ban violates the stringent right to privacy under the Georgia Constitution, and that since Roe v. Wade was the law of the land when it was passed in 2019, it's void. 
Speaker of the House Jon Burns (R - Newington) said in a news conference Thursday that Republicans do not plan on filing further abortion restrictions until the court rules on the current law. 
Harrell said that Democrats believed it was important to file the abortion expansion legislation, even while the current ban is being challenged.  
"We have heard that Republicans are kind of doing a 'wait and see,' but House Bill 481 is in effect right now," she said. "So we're not going to waste any time."
With Republican majorities in both chambers, the bill could face an uphill battle to be passed. 
Secondary Content
Bottom Content