Section Branding
Header Content
Members of Congress sign up for TikTok, despite security concerns
Primary Content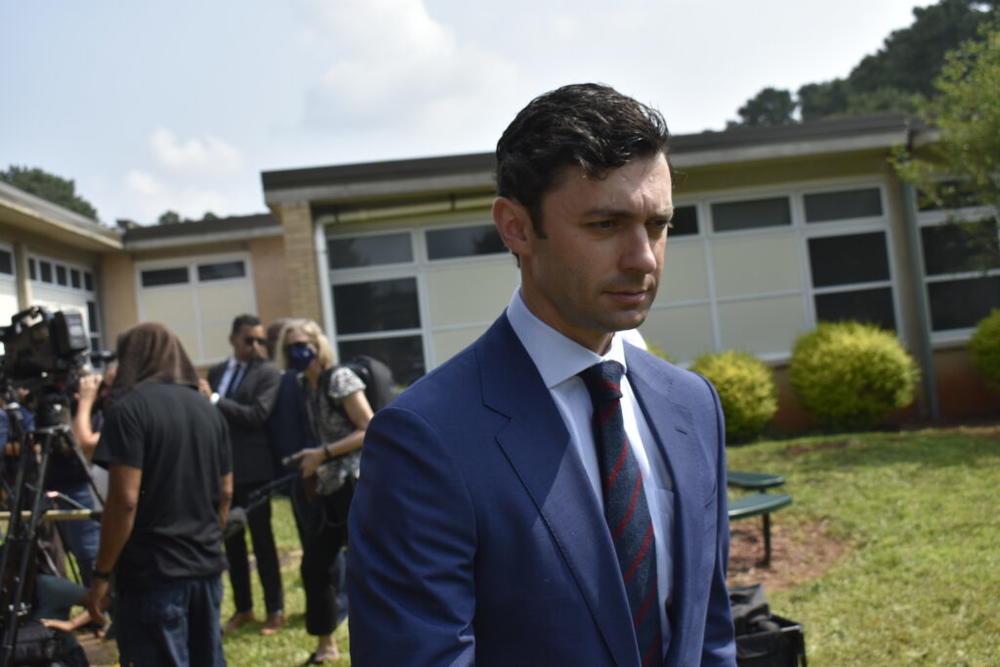 WASHINGTON — Just like teens, members of Congress are setting up TikTok accounts — even as the popular app is increasingly barred from government devices and heads of federal intelligence agencies raise concerns about data collection and surveillance obtained by a Chinese-owned company.
At least 32 members of Congress — all Democrats and one independent — as of early January had TikTok accounts, according to a review by States Newsroom. While there are no laws in place banning lawmakers from using the app on their personal devices, cybersecurity experts have raised concerns over data collection for those members who deal with sensitive government topics.
Of those members of Congress, at least half either currently sit or have previously served on committees dealing with foreign affairs, the U.S. military, investigations and national security.
One enthusiastic TikTok user is U.S. Democratic Sen. Cory Booker of New Jersey, who sits on the Senate Committee on Foreign Relations. Booker has a huge TikTok following of more than 329,000 accounts and has racked up 2.8 million likes.
However, he does not have the application installed on any government devices and his team regularly consults with security experts to "update and implement the necessary precautions to ensure continued account and information security," Maya Krishna-Rogers, a spokesperson for Booker, said in an email to States Newsroom.
She said Booker joined in early 2022, as a way to connect with constituents.
"Sen. Booker has found TikTok to be a creative and engaging space, and thinks it is important to meet people where they are, bringing more messages of kindness, truth, and justice to Americans," she said.
"He has always been an advocate for continued oversight and necessary regulation to ensure that social media platforms are prioritizing user privacy and safety."
Concerns about social media
At issue for critics is TikTok's ownership by ByteDance, which is based in China and owned by that government. The popular app has more than 1 billion downloads, with two-thirds of U.S. downloads coming from teens, according to Pew Research Center. 
Several cybersecurity experts raised concerns about not just lawmakers' use of TikTok, but other social media platforms like Meta — formerly named Facebook Inc. — and Instagram that can easily track a user's location and even obtain access to microphones and cameras for sitting members of Congress.
"It's reckless for them to be using software that has these potential national security vulnerabilities," said Anton Dahbura, a cybersecurity expert. Dahbura added that the problem is that the data collected from the app is sent to China, where that government has "a long track record of using data for nefarious purposes."
Dahbura, who is the executive director at Johns Hopkins University Information Security Institute, said that members of Congress should exercise caution and not use the app "until the authorities give the all clear sign — it's a very bad idea to be using TikTok."
He pointed to public warnings from the FBI last year that raised questions about TikTok. FBI Director Christopher Wray testified that the FBI does have national security concerns with TikTok.
"They include the possibility that the Chinese government could use it to control data collection on millions of users or control the recommendation algorithm, which could be used for influence operations if they so choose, or to control software on millions of devices, which gives it an opportunity to potentially technically compromise personal devices," Wray told lawmakers during a November hearing.
Members on TikTok
Some lawmakers with TikTok accounts deal with national security issues and sensitive investigations. That includes U.S. Democratic Rep. Bennie Thompson of Mississippi, who previously led the House Homeland Security Committee and was tapped by former House Speaker Nancy Pelosi to lead the Jan. 6 investigations into the insurrection at the U.S. Capitol.
His office did not respond to questions about his account. Thompson has no videos posted and only follows two other accounts, CNN and MSNBC.
Other high-profile Democrats who have accounts include the chair of the U.S. House Congressional Progressive Caucus, Pramila Jayapal of Washington; Rep. Alexandria Ocasio-Cortez of New York; and Rep. Ilhan Omar of Minnesota. None of their offices responded to requests for comment from States Newsroom.
"I think it's legitimate to wonder if the Chinese government's getting access to this," Jen Golbeck, a professor at the College of Information Studies at the University of Maryland, said. "But I think it's a real problem when you act like companies like Meta, for example, you don't have to worry about them because they're based in the U.S."
Meta has also become the subject of congressional hearings over its collection of user data.
"So why are we talking just about TikTok and not about any other ones?" she asked. "That makes it feel like this is more kind of anti-China posturing than an actual concern about the very real problem of intrusive data collection."
Bans, restrictions
Several members of Congress have called for a nationwide ban on the app, such as Republican Sen. Marco Rubio of Florida and Republican Rep. Mike Gallagher of Wisconsin, who introduced legislation to ban not only TikTok, but other social media platforms controlled by the Chinese Communist Party.
Brooke Oberwetter, a TikTok spokesperson, said the company is disappointed that Congress has moved to ban the app from government devices, calling it "a political gesture that will do nothing to advance national security interests."
One congressional Democrat, Rep. Mark Pocan of Wisconsin, doesn't think TikTok is cause for concern.
Pocan has his own TikTok account, and has posted about 10 videos, most relating to his work in Congress and bills that Democrats passed.
"I mean, if we really think that we're so fragile as a nation that somehow someone's version of the Wednesday dance is going to crash democracy," he said during a meeting with reporters in his district office. "We've got much bigger issues."
Wednesday is a Netflix show that is a spin-off of The Addams Family that focuses on the eldest daughter, Wednesday, as she attends a special boarding school while trying to solve a murder. The popular dance that has circulated TikTok is of Wednesday doing a mashup of Goth dance moves to the "Goo Goo Muck," a 1981 punk song.
Pocan said Congress should be more concerned about intellectual property rights and Chinese corporate espionage.
"It's a risk when you go and make something in China because it can be stolen," he said. "It doesn't matter if you're a Democrat or a Republican, you should care about that.
He added that most of his colleagues are unfamiliar with TikTok and see the app as an easy target because of its connection to China. "I think we should take the same aggressiveness on issues of substance that could actually be more useful for U.S. business than TikTok."
Late last year, the U.S. Senate unanimously passed Republican Sen. Josh Hawley of Missouri's bill that would ban federal employees from using TikTok on government devices. The bill became law after senators attached it to a massive omnibus bill for funding the government in December of last year.
Federal agencies such as the Department of Homeland Security, Department of Defense and Transportation Security Administration had already banned the app on government devices.
Hawley's bill easily passed the Senate Committee on Homeland Security and Governmental Affairs, where one senator, who also chairs a panel on special investigations, has his own account.
Democratic Sen. Jon Ossoff of Georgia has an impressive following of more than half a million accounts. While aides in his office say he is supportive of legislation to ban the app from government devices, they did not respond to questions about any security measures he has taken. Ossoff also chairs a Senate panel on investigations.
Who do they follow?
Most lawmakers on the app follow each other and accounts that are aligned with their party platforms, but some lawmakers follow accounts that have nothing to do with politics.
For example, Ossoff does not follow any of his colleagues, but follows several accounts relating to BTS, a global K-pop boy band from South Korea.
Another senator, newly elected Democrat John Fetterman of Pennsylvania, only follows three accounts — that of his Pennsylvania colleague, Democratic Sen. Bob Casey, the Wegmans supermarket chain, which is popular in Pennsylvania, and an account that posts dog videos.
The blunder of mispronouncing "Wegmans" during the 2022 Pennsylvania Senate race by GOP candidate Dr. Mehmet Oz, created its own news cycle, with the Fetterman campaign taking a jab that Oz was not a Pennsylvania resident and then throughout the campaign painting Oz as an out-of-towner. Oz had a long-time residency in New Jersey, but did have a home in Pennsylvania.
Sen. Bernie Sanders of Vermont, the independent and former presidential candidate, appears to be the member of Congress with the most TikTok followers at 1.4 million. He has more TikTok followers than people that he represents in his home state of Vermont, which has a population of more than 645,000.
Sanders, who chairs the Senate Budget Committee, did not respond to questions about his TikTok account.
But not all Democrats are on board.
U.S. Sen. Mark Warner of Virginia, the chairman of the Senate Select Committee on Intelligence, has raised concerns over the app. He recently praised his state of Virginia for moving to ban the app from government devices.
"TikTok has the stamp of approval of the Chinese Communist Party and it poses a serious national security threat due to its data collection practices and its ability to reach and manipulate Americans," Warner said in a statement.
And it's not just congressional Republicans who are pushing for a ban. More than a dozen GOP and a handful of Democratic governors have taken steps to ban the app from government devices.
Some of those states with a total ban on TikTok from government devices include Nebraska, Indiana, Idaho, Iowa, South Dakota, Maryland, New Hampshire, Georgia, Tennessee, Ohio, Montana, Wyoming, Virginia, North Dakota, Texas, South Carolina, Utah, Oklahoma, West Virginia, Alaska and Alabama.
Democratic governors who have issued executive orders banning TikTok from government devices include Kansas Gov. Laura Kelly, Wisconsin Gov. Tony Evers, Gov. Phil Murphy of New Jersey and North Carolina Gov. Roy Cooper.
States with partial bans on the app for government devices include Florida's Department of Financial Services, Pennsylvania's Department of Treasury and Louisiana's State Department.
In 2020, former President Donald Trump signed an executive order, banning the app. However, it was never enforced.
Members of Congress with TikTok accounts so far in January include:
U.S. Rep. Donald Payne Jr. of New Jersey
U.S. Rep Sheila Jackson Lee of Texas
U.S. Rep. Bobby Scott of Virginia
U.S. Rep. Vicente Gonzalez of Texas
U.S. Rep. Bennie Thompson of Mississippi
U.S. Rep. Nikema Williams of Georgia
U.S. Rep. Alexandria Ocasio-Cortez of New York
U.S. Rep. Ilhan Omar of Minnesota
U.S. Rep. Shontel Brown of Ohio
U.S. Rep. Cori Bush of Missouri
U.S. Rep. Rashida Tlaib of Michigan
U.S. Rep. Pramila Jayapal of Washington
U.S. Rep. Chrissy Houlahan of Pennsylvania
U.S. Rep. Mark Pocan of Wisconsin
U.S. Rep. Tony Cárdenas of California
U.S. Rep. Dean Phillips of Minnesota
U.S. Rep. Frederica Wilson of Florida
U.S. Rep. Jamaal Bowman of New York
U.S. Rep. Steven Horsford of Nevada
U.S. Rep. Sean Casten of Illinois
U.S. Rep. Katie Porter of California
U.S. Rep. Jeff Jackson of North Carolina
U.S. Rep. John Garamendi of California
U.S. Rep. Mark Takano of California
U.S. Rep. Maxwell Frost of Florida
U.S. Sen. Ed Markey of Massachusetts
U.S. Sen. Jon Ossoff of Georgia
U.S. Sen. Bernie Sanders of Vermont
U.S. Sen. Cory Booker of New Jersey
U.S. Sen. John Fetterman of Pennsylvania
U.S. Sen. Bob Casey of Pennsylvania
U.S. Sen. Kirsten Gillibrand of New York
This story comes to GPB through a reporting partnership with Georgia Recorder.
Secondary Content
Bottom Content