Section Branding
Header Content
Lawmakers are kicking off the 2023 legislative session. Here's what Georgians can expect
Primary Content
LISTEN: State lawmakers are flocking back to Atlanta for this year's legislative session. Here are some things that might be on the agenda. GPB's Riley Bunch reports.
——
Monday marks the beginning of a new legislative session and several changes under the Gold Dome that will impact lawmakers' work.
New leadership holds the gavel in both the House and the Senate and a large group of freshman lawmakers will begin learning how to navigate the complicated and political process of legislating. 
Lt. Gov.-elect Burt Jones, a former state senator, will be sworn in to succeed outgoing Lt. Gov. Geoff Duncan. After the unexpected death of former House Speaker David Ralston, Rep. Jon Burns, a Newington Republican, was nominated by Republicans to fill his shoes and will officially be voted into the position on the first day of session.
Gov. Brian Kemp, fresh off of winning a second term as governor, can comfortably begin pushing his priorities through legislative allies in both chambers — including another hefty tax refund he promised on the campaign trail to offset inflation pains.
The leadership shake-up creates heavy uncertainty for what may play out in the state Capitol over the course of 40 legislative days. Lawmakers will likely battle over issues from abortion and election changes to affordable housing and continued crime concerns.
Here are a few things to watch for this session.
Should Georgia do away with runoffs?
Lawmakers are eyeing an overhaul of the state's runoff election system that has caused political fatigue for both politicians and voters as margins in statewide races have continued to narrow. 
Georgia is the only state in the country that requires runoffs after both primary and general elections if no candidate receives 50% of the vote plus one. The drawn-out process costs taxpayers millions of dollars — over $10 million during the 2022 U.S. Senate runoff, according to The Atlanta Journal-Constitution. 
Secretary of State Brad Raffensperger called on lawmakers to do away with runoffs but did not offer an alternative.
"No one wants to be dealing with politics in the middle of their family holiday," Raffensperger said in a December press release. "It's even tougher on the counties who had a difficult time completing all of their deadlines, an election audit and executing a runoff in a four-week time period."
On GPB's Political Rewind, Alan Abramowitz, professor emeritus of political science at Emory University, said that Georgia runoffs were originally established to make it more difficult for Black candidates to be elected to office.
Until recent years, Republicans held an advantage, he said, but that changed as Democrats swept the 2020 and 2022 U.S. Senate runoffs.
"Now we see that Democrats have won the last three times," he said. "So Republicans want to take another look at this. But I don't think there's anything close to a consensus about what should be done about it. So it's not clear to me that we're going to end up with a change."
Abramowitz suggested that lawmakers could change the period of time between an election and a runoff, drop the vote threshold for candidates or eliminate it altogether.
But some in favor of the runoff system argue it keeps Libertarians from pulling votes away from other candidates.
Ryan Graham, political director of the Libertarian Party of Georgia, told GPB News that he supports the majority vote standard but supports other approaches like so-called ranked choice or instant runoff voting that would prevent the major voter dropoff usually seen in runoff elections.
"I really do appreciate that it requires a majority vote," he said. "But is it really a true majority when only half of all your voters show up for the runoff? You know, that's probably debatable, but I would say no."
He also argued that the current system limits the ability for voters not aligned with the two major parties to vote their views.
"People still tell us time and time again, we love you, but we can't vote for you because we just can't let the other candidate win," Graham said. "So they just can't let the Democrat win or they can't let the Republican win. So they can't vote Libertarian because they still have this idea that there's a 'spoiler effect.' With ranked choice voting or instant runoff voting, you eliminate even the perception of that."
What might happen next on abortion?
Georgia's abortion restrictions have swung back and forth between previous standards to a near-total ban as the state's 2019 law has been caught up in multiple court cases.
The so-called "heartbeat bill" — which bans almost all abortions around six weeks of pregnancy — is currently in effect as the Georgia Supreme Court reviews a constitutional challenge against it.
During the election cycle, Kemp flip-flopped on whether or not he would support additional abortion restrictions this upcoming legislative session. During an early debate against Democratic opponent Stacey Abrams, he said he did not want to go beyond the 2019 law. Later, as it got closer to Election Day, he said he would review any proposed legislation.
Many lawmakers have said they are wary of any changes to the 2019 law itself — as it is pending in the state's highest court — but organizations against abortion care are eyeing other potential crackdowns.
Elizabeth Edmonds, leadership director of the Georgia Life Alliance, told GPB News that the organization — which helped draft the 2019 law — are focused on other initiatives including a bill that would limit access to abortion pills by mail.
Last session, lawmakers debated the proposal that would have added requirements like an in-person visit with a medical provider. Other versions of the bill would ban the mail-order of abortion medication altogether.
"Going into the session, I think people are optimistic," Edmonds said of abortion opponents. "But I think the majority of people who want to work on building a culture of life know that our work is not done just because Roe v. Wade was overturned and our 'heartbeat bill' for now, is in effect."
The Georgia Supreme Court is scheduled to hear oral arguments over the state's 2019 law in March. 
Andrea Young, executive director of the ACLU of Georgia, said the organization has concerns that restrictions on medication abortion could impact women who have other health needs.
"We have real concerns about the implications of restricting those medications because they are called for in many areas of women's health," she said.  "Not only voluntary abortion — as important as that is."
Democrats are also teeing up for a potential battle over abortion. 
In the weeks leading up to the start of session, the first pre-filed bill of the new two-year legislative term was a proposal from Lithonia Democratic Rep. Dar'shun Kendrick to provide pregnant people compensation if they are "compelled" to carry a pregnancy to term under the new ban.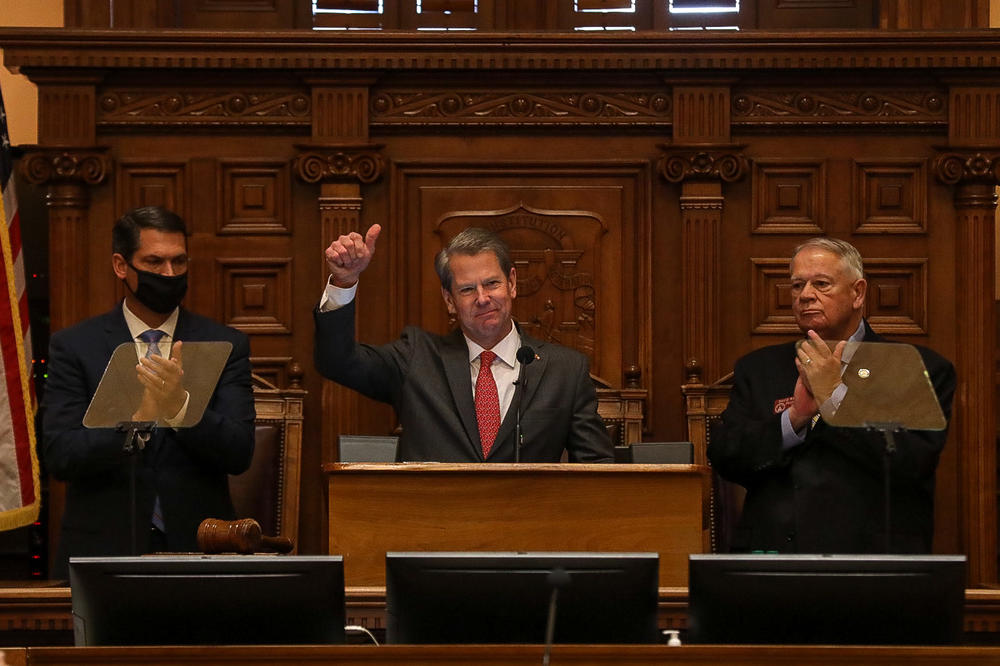 How will lawmakers spend Georgia's money?
Passing a balanced budget is the only thing Georgia lawmakers are required to do by law while under the Gold Dome. Lawmakers are sitting on a nearly $6.6 billion surplus which they can tap into to bolster state programs and offer taxpayer relief — or they could refrain from using it at all.
But despite Georgia's unprecedented stash of extra cash, there's little consensus on how to best use it.
On the campaign trail while gunning for his second term in office, Kemp focused his message on easing the burden of high grocery and gas prices for Georgians. He outlined steps that include working another $1 billion on income tax refunds and $1 billion in property tax relief into the upcoming budget.
Kyle Wingfield, president of the Georgia Public Policy Foundation — a conservative-leaning group — said lawmakers would be wise to make one-time investments like tax rebates since it's uncertain if the state's revenues will remain high.
"When you have this one-time money and you don't think it's going to keep going on forever, you don't want to set yourself up with recurring commitments in the future," he said. "And while I know there are a lot of people out there with proposals for creating or expanding programs on an ongoing basis, the revenues are going to come down at some point. This is just something that can't go on forever or won't."
Some lawmakers have called for the extra resources to be used to boost state systems — many which haven't seen a significant increase in funding in years. One example is more dollars toward the state's Medicaid waiver programs that provide community-based support for disabled Georgians.
Danny Kanso, director of legislative strategy and senior fiscal analyst at the Georgia Budget and Policy Institute — a more left-leaning organization — pointed to the fact that Georgia's surplus is on top of a completely full rainy day fund that's hit its maximum level of about $5.5 billion.
A recent state report showed that Georgia agencies have seen a record-high turnover rate, exceeding 25%. Kanso said these staffing issues can trickle down to a lapse in services.
"We have fewer people in these core agencies who are doing more work, who are still largely underpaid, and who are struggling to meet the basic missions of their agencies, despite the incredible population growth that we've seen in Georgia," he said. "A part of what's driving the surplus is the fact that the state is still in a posture of austerity, and hasn't adjusted its spending levels in line with what we've seen in revenues. That, of course, means that we are on pace to continue to generate these large surpluses, but we're really not using them."
Secondary Content
Bottom Content