Section Branding
Header Content
Analysis: How the 2022 midterms cemented Georgia's rise in politics
Primary Content
LISTEN: GPB's All Things Considered host Peter Biello speaks with political reporter Stephen Fowler about the results of Georgia's 2022 midterm elections and how they will impact politics in 2023 and beyond.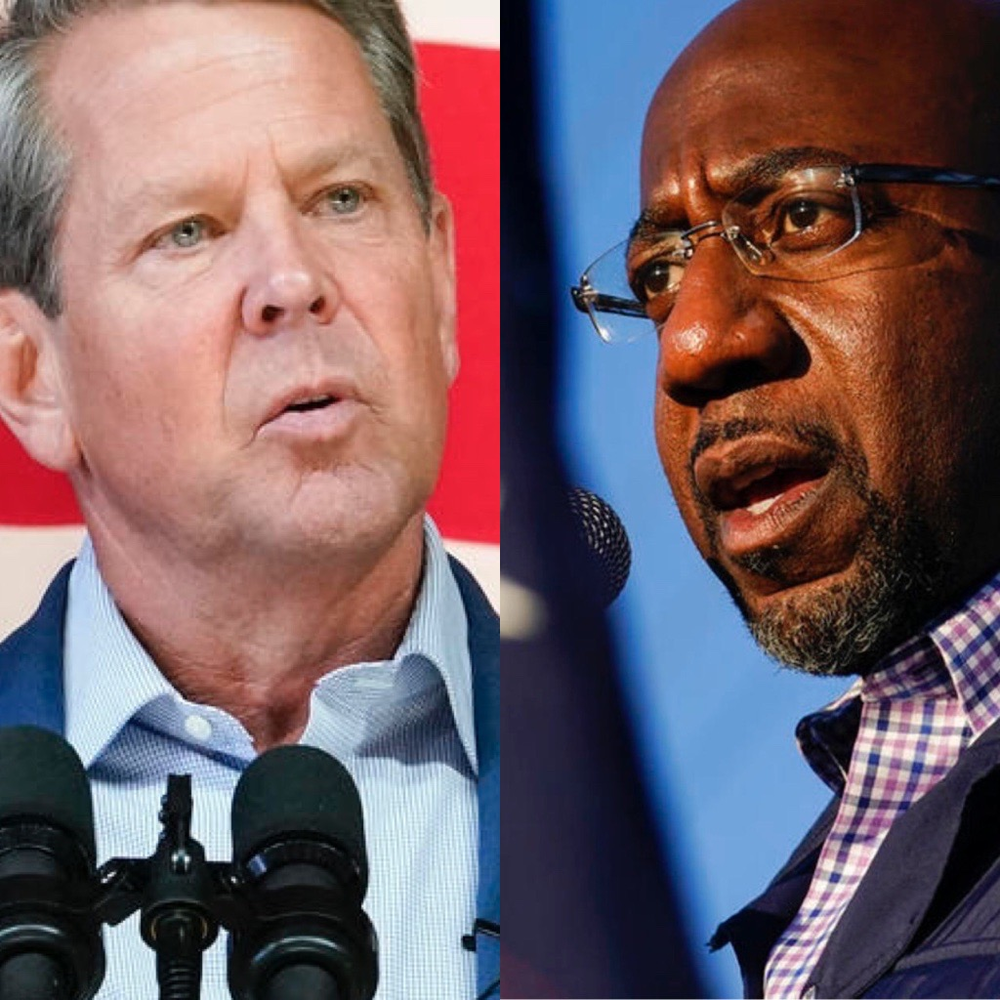 In case you've missed the last few years of news, Georgia is now a premier political battleground state with elections that have drastically influenced the trajectory of American politics — including the most recent 2022 midterms.
Republican Gov. Brian Kemp beat Democratic rival Stacey Abrams in the governor's race by more than seven percentage points, harnessing the state's strong economic footing and his early rollback of COVID restrictions into a powerful campaign message that convinced both hardcore conservatives and moderate swing voters to reward his incumbency over Abrams' ambitious visions for a more progressive Georgia.
Democratic Sen. Raphael Warnock survived his fifth election in two years to earn a full six-year term in the U.S. Senate in an abbreviated runoff against Trump-backed Herschel Walker, a former athletic standout who was marred in constant scandal and struggled to articulate what policies he would seek in Washington.
After Warnock and fellow Democratic Sen. Jon Ossoff provided the crucial majority-making votes in 2021 runoffs, Warnock's victory ensured outright Democratic control of the chamber with 51 seats, even as Sen. Kyrsten Sinema of Arizona shifted her party affiliation to be an independent who will still likely vote with Democrats.
Elsewhere in the country, a projected "red wave" of Republican congressional victories in the midterms largely failed to materialize, and the GOP is starting 2023 with an even narrower majority in the House than Democrats did in 2020. Georgia's Rep.-elect Rich McCormick flipped his U.S. House District 6 seat (previously held by Democrat Lucy McBath, who was elected in District 7 in November), helping to create a razor-thin mandate that could be limited by a small number of Republican members at any given time.
Two sides of the same Republican coin
Historically, the party in power during a midterm year suffers more defeats at the ballot box, and President Joe Biden's flagging popularity and elevated inflation rates seemed to have Republicans primed for victory in competitive House and Senate races. But former President Donald Trump's presence — and insistence on continuing to push the lie that he won the 2020 election — helped boost numerous Republican primary candidates who were loyal to him but later rejected in November by voters for extreme views.
In Georgia's midterm election, the campaigns run by Kemp and Walker provided dovetailing outcomes that underscore Trump's waning influence, even among the most loyal base. Following his 2020 election defeat, Trump vowed to seek revenge on Republicans that did not help him overturn the results, ultimately promoting a slate of largely far-right primary challengers against Kemp, Attorney General Chris Carr, Secretary of State Brad Raffensperger and other statewide officeholders.
From familiar figures like former U.S. Sen. David Perdue and Rep. Jody Hice to relative unknowns like Georgia Attorney General candidate John Gordon and Insurance Commissioner candidate Patrick Witt, almost every single one of Trump's endorsed candidates from the state suffered crushing blowout defeats, especially Perdue's challenge of Kemp and Hice against Raffensperger. An analysis of election data shows a sizable number of people who previously voted in Democratic primaries crossed over to vote against the Trump candidates. In the general election, each Kemp and Raffensperger earned the highest vote share of any other statewide candidate on the ballot as voters rewarded the two men for standing up to election denialism and Trump.
For his part, Kemp largely avoided either acknowledging or antagonizing Trump during his campaign, instead courting his base with looser gun laws and tighter restrictions on abortions and voting rights and earning support from moderate swing voters by touting the state's economic health and development under his watch.
Then, there's Herschel Walker. Walker's celebrity status as a former University of Georgia football standout and Heisman Trophy winner means it's likely he could have cruised to a similar wide primary victory margin if Trump had not got involved and encouraged him to run. But in a trend that played out in fellow swing states Pennsylvania and Arizona, Republican primary voters backed Trump's choice but general election voters resoundingly rejected them, even as other Republicans largely did well.
Walker did not make false claims about the 2020 election a central or even significant part of his first run for office, but a stream of false claims he made about virtually everything else quickly dominated the race.
The longtime Texas resident was mired in controversy after controversy as reporters uncovered fibs and falsehoods about Walker's business acumen, personal backstory and, in the final weeks of the race, allegations that he pressured multiple ex-girlfriends to seek abortions despite publicly opposing any access to the procedure.
Walker also frequently went viral for nonsensical statements about policy issues, like claiming "bad air" from China floating into America's "good air" negated the need for fighting air pollution, calling for "a department that can look at young men that's looking at women that's looking at social media" to fight against school shootings and a stump speech tangent in which he reviewed a movie about vampires and werewolves he watched in the middle of the night.
Like other Trump-backed Senate candidates who lost, Walker was viewed by a crucial segment of Republican and moderate voters as unqualified to be a U.S. senator. Roughly 1 in 10 Georgians who cast ballots for Kemp opted to vote for someone other than Walker or leave the race blank. He lost in a December 2022 runoff by nearly 3%.
Recalibrating for Democrats
Warnock's victory over Walker was the lone bright spot for Democrats statewide, as the coalition of voters that drove the party's narrow victories in the 2020 presidential race and 2021 Senate runoffs were unable to be replicated at the state level in 2022.
Over the last decade, an influx of younger and more diverse residents concentrated in metro Atlanta has recalibrated the state's political fabric, turning suburban districts that once sent conservatives like former House Speaker Newt Gingrich to Congress into reliably Democratic strongholds that have also narrowed the margins in the state House.
Much of the growth in competitive politics in recent years has been shepherded and fueled by Abrams, the former state House minority leader who is a prolific fundraiser, organizer and national media figure despite losing her two most recent elections.
Abrams' argument that Georgia's fiscally conservative state government should pivot to invest more in things like expanding Medicaid and undo restrictions on abortion and voting access targeted both the Democratic base and lower-propensity voters and helped set the once-red state on a path to purple.
In 2018, after losing the Georgia governor's race by roughly 55,000 votes, Abrams said that the state's voter laws kept voters from casting their ballots and, in a fiery pseudo-concession speech, acknowledged she would not be governor but in the aftermath regularly claimed the election was "stolen" and not "free or fair."
Abrams rose to national prominence delivering the rebuttal to Trump's State of the Union address in 2019, launched voting rights group Fair Fight and census-focused Fair Count, and was the subject of countless television segments, interviews and profiles chronicling her fight in Georgia and stance as a compelling Democratic campaigner.
But after Trump's refusal to acknowledge defeat in the 2020 presidential election, the Jan. 6, 2021 insurrection attempt at the U.S. Capitol and an Obama-appointed judge ruling against a massive voting rights lawsuit filed by the Abrams-aligned Fair Fight, the Democrats' claims about the 2018 governor's race were remembered in a different light by a state weary of election denial.
Her economic message that Georgia wasn't doing enough for its residents was frequently stymied by Kemp's election-year announcements of pay raises and tax cuts and record-setting economic development, and Kemp's refusal to overturn the election for Trump neutered attacks that he was too extreme for the state, even as abortion rights became a salient issue following the Supreme Court's gutting of the Roe v. Wade precedent.
Now, some of the party's top leaders and figures like former state Sen. Jen Jordan and state Rep. Bee Nguyen are out of the political arena at a time when the state is under at least four more years of Republican political control.
Redistricting in 2021 led to incremental gains in the state House and Senate, but the lack of many competitive seats likely maintains GOP dominance through much of the decade, while federally Georgia will have two Democratic U.S. senators until Ossoff is up for reelection in 2026.  
The state's competitiveness is further amplified by the Democratic National Committee's proposal to move Georgia earlier in the presidential primary calendar for 2024 and Atlanta being one of the finalists to host the party's convention.
With some uncertainty around who will run and become the presidential nominee for either party, the midterm results and the resulting next two years in Georgia politics will be crucial not just for residents of the state but for the rest of the country.
Secondary Content
Bottom Content