Section Branding
Header Content
Hartsfield-Jackson asks passengers to be on lookout for human trafficking during holiday travel
Primary Content
LISTEN: Officials at Hartsfield-Jackson International airport talk efforts to crack down on potential human trafficking over the holidays. GPB's Riley Bunch reports.
——
Atlanta Mayor Andre Dickens calls Hartsfield-Jackson International Airport the "crown jewel" of the city of Atlanta. 
The travel hub reclaimed its title as the busiest airport in the world last year, after being bumped to second during the pandemic.
But with millions of passengers funneling in and out of the airport's corridors and concourses, airport and local officials also recognize its dark side: an avid underground sex trafficking industry that the city says generates $300 million a year in Atlanta.
Hartsfield-Jackson anticipates nearly 5.2 million passengers traveling through the airport from Dec. 16 through Jan. 3.
With an expected jump in travelers during the holidays, airport officials said that they're paying close attention on the ground and are ready to work with public safety partners to crackdown on potential threats.
Andy Gobeil, director of communication and public affairs at the airport, told GPB News that they rely on not only airport employees to know what to look for, but for the public to also be cautious of their surroundings.
"We inform all of our employees about the danger signs to look for," he said. "We make sure that all of our passengers are well aware of what's going on, as well. We have signage throughout the airport telling people what to do, what to look out for, how to engage. And chief among them is to call 911."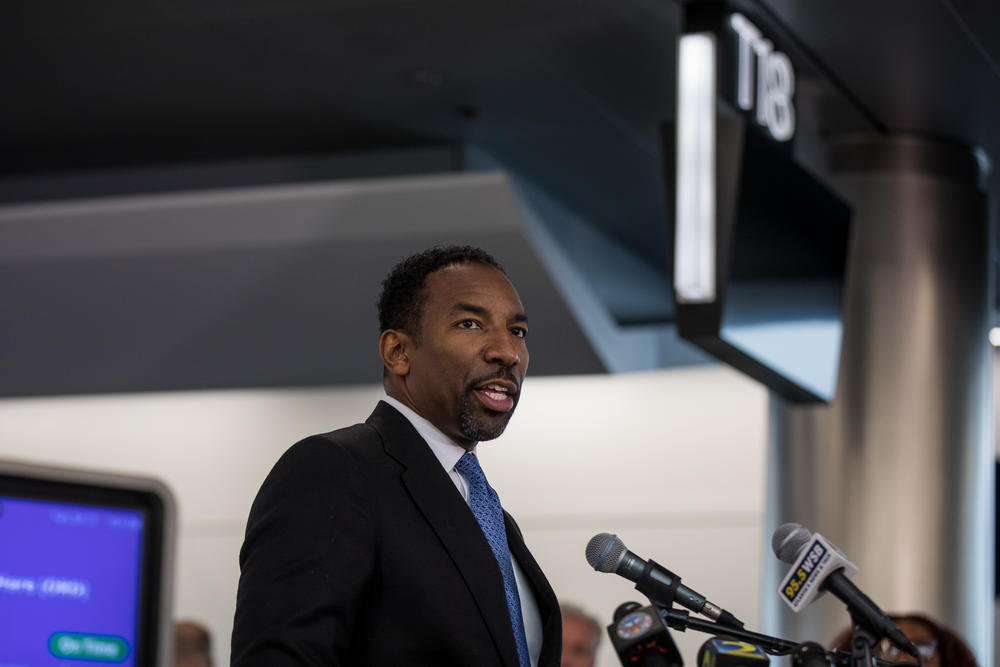 On Dec. 13, just days before the expected holiday crush of passengers at the facility, Dickens was on site with airport officials to celebrate the opening of the airport's newest concourse extension.
As the airport continues to expand to accommodate increased travel, he said, efforts to crack down on human trafficking remain a priority.
"We have teams of people that are covert as well as undercover," he told GPB News. "And we've been training our concessionaires and retailers to spot signs of distress or signs of potential trafficking."
Bolstering supports for sex trafficking victims and increasing penalties on traffickers has also been a focus under the Gold Dome. First lady Marty Kemp has long spearheaded efforts to keep the issue a top priority.
Gobeil said that any large events like holiday season travel require increased efforts to spot potential trafficking victims.
"Whenever there is a large event that's taking place in the region, of course, we're going to pay close attention to that," he said. "So we will, of course, keep a close eye on it. And I will reiterate this: It is our job to provide a safe, efficient and enjoyable experience for all of our passengers. Safety is the key and that takes everybody to collaborate."
Secondary Content
Bottom Content