Section Branding
Header Content
Georgia's new AAPI, Hispanic caucuses hope to harness political power for their communities
Primary Content
LISTEN: The 2023 legislative session will feature two new bipartisan caucuses where members hope to tackle issues facing the Asian American and Hispanic communities. GPB's Riley Bunch reports.
——
Georgia's upcoming legislative session will be marked by new leadership in both chambers and an increasingly diverse incoming class of freshman lawmakers.
Matching trends with the expanding state electorate, nonwhite members of the General Assembly are eying to bolster their political power by banding together — both Democrats and Republicans — to advocate for members of their communities.
Lawmakers recently announced the formation of two new caucuses under the Gold Dome: the Hispanic and AAPI caucasus. Both groups are made up of bipartisan members who hope to leverage their allyship to push legislative priorities — like tuition equity for immigrant students — across the finish line.
There is a template for such bipartisan, bicameral alliances at the State House. The rural caucus and behavioral health caucuses are two examples of otherwise politically odd bedfellows working together to push through measures that advance the groups' shared interests.  
"At the end of the day, I think all of us would agree, hopefully, that we want Georgians to be prosperous," said Senate Caucus Chairman Jason Anavitarte, who is co-chairing the new Hispanic caucus.
"We really want to build — at least I want to really build — real prosperity for Georgians all over the state," he told GPB News. "And that's regardless of your background or where you came from or what your individual or family story is."
'Not painting them with a broad brush'
On March 14, 2021, two days before a lone gunman went on a deadly shooting spree that spanned three spas in the Atlanta area, State Sen. Michelle Au stood at the lectern in her chamber and warned of that very possibility. 
Au asked her colleagues in the legislature to wake up to violence and racism against the Asian American community spurred by disinformation about the COVID-19 pandemic and racist rhetoric perpetuated by former President Donald Trump.
Eight people were killed in the mass shooting — mostly Asian American women. 
The shooting captured international headlines and put a spotlight on Georgia's AAPI community, underscoring barriers they face when trying to access support.
Georgia Democrats then introduced a slate of bills in response to the mass shooting, including legislation that would establish a statewide translation system for 911 calls and create enhanced training for public safety officers to communicate with Georgians in other languages. 
"Even last session, we had the most AAPI legislators that Georgia's ever had in its history," Au said of 2022. "So that was already sort of historic. And we liked the fact that we had this critical mass of people and we were able to sort of come together and represent our communities a little bit better."
This upcoming legislative session, there will be even more AAPI members of the General Assembly — combined from increased numbers in both parties.
"We countered that regardless of how the election shook out, we were going to again have a historic number of Asian legislators representing, and pretty importantly, representing on both sides of the aisle," she said. "Which is pretty emblematic of how Asian voters and Asian community members represent in Georgia. Because not all Asian people are Democrat or Republican."
Lawmakers say one challenge with representing and engaging diverse communities is that they have to be sensitive to cater to a large spread of backgrounds, languages and political beliefs.
"Not painting them with a broad brush or assuming that everyone thinks or votes the same way," Au said.
Leadership of both the newly formed AAPI and Hispanic caucuses emphasize the importance of combining forces across the aisle to tackle issues within their community where they see bipartisan agreement.
Georgia's Hispanic population has boomed over the last decade and now makes up over 10% of the state's population.
Anavitarte, who was recently elected as the majority caucus chairman, announced he would co-chair the new Hispanic caucus under the Gold Dome. Anavitarte was the first Republican Latino elected to the Senate just two years ago.
Anavitarte said that the growing needs of the community prompted him and co-chair Republican State Rep.-elect Rey Martinez to form the caucus.
"Why don't we have a venue or a place where — regardless if we're Republican or Democrat — we can come together and have discussions, honestly, have debate?" he said.
"I think the diversity in the caucus, in our beliefs, in our value system, sometimes our family stories — which literally are all uniquely different — is what will make the success of the caucus."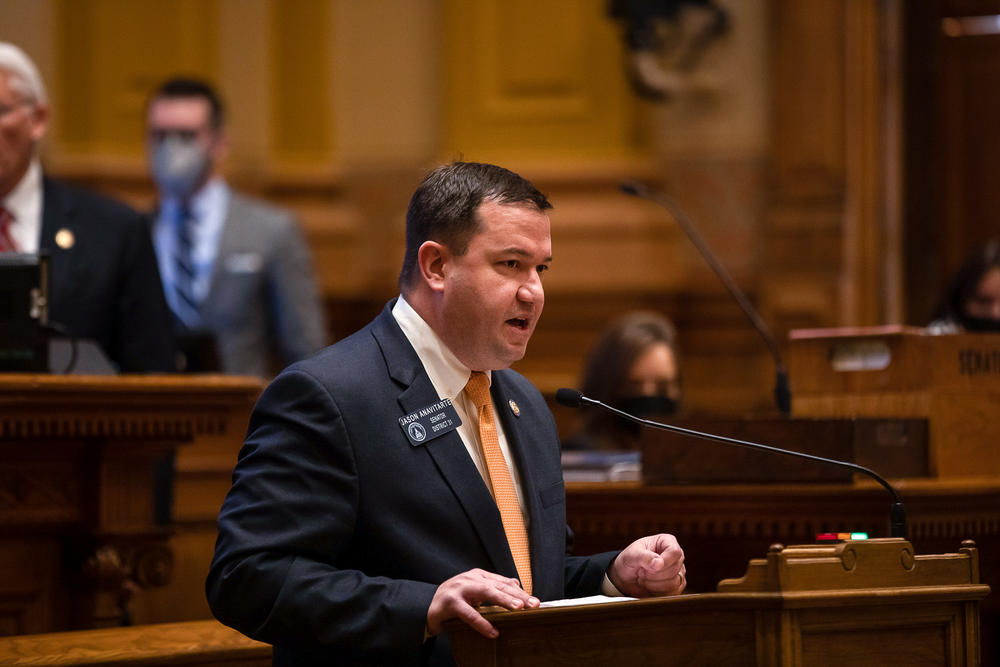 Community orgs hope to tap into growing political power
Georgia's quickly diversifying electorate garnered national attention after the 2020 elections when minority voters turned up in large numbers to help back Joe Biden for president and send two Democrats to represent the state in the U.S. Senate.
Au said after the election a barrage of news stories were published with a tone of surprise that Asian American voters cast ballots in record numbers: AAPI voters had a record turnout rate of 64.6% with 45,000 first-time voters, according to Asian Americans Advancing Justice Atlanta.
"When it made some of the national news, some of the notice was, again, a little bit cursory and I felt like this tactic of this novelty story of like, 'Can you believe there's all these Asian people in Georgia?'" Au said. "We want this to stop being surprising, able to, you know, actually start focusing on outreaching to Asian voters because it really matters and it made a difference in the past."
Au said that both Democrats and Republicans don't do as good of a job as they should at reaching out to AAPI Georgians. Partly because it's complicated, she said, to translate campaign literature into many different languages and address the needs of populations from many different countries.
"But that's shortsighted," she said. "I think (the goal is) just bringing attention to the fact that the size of our caucus reflects the size of the Asian population in Georgia. That growth just reflects the fact that Asian voters are engaged — and that Asian people are engaged in wanting to become part of the legislative system."
Community organizations are also eying an opportunity to bolster the political power of their communities with the formation of the new caucuses. 
"The Asian-American community and Georgia saw a lot of great success in 2020 and 2021, really making sure our voices were heard," said Aisha Yaqoob Mahmood, executive director of Asian American Advocacy Fund. "And I think we really doubled down in 2022 and showed up again and also helped to elect a record breaking number of Asian-American legislators in the state of Georgia."
The progressive-leaning nonprofit organization and its partners knocked on 55,000 doors, made over 788,000 phone calls, sent over 81,000 texts and delivered more than 1.2 million mailers to Georgians in multiple languages over the midterm election cycle.
Mahmood said she hopes their work to get AAPI legislators in office will lead to progress on issues important to the community.
"One of those things is really moving the needle on tuition equity, which we know has been an issue for all immigrant communities across the state," she said. "Making sure that undocumented students and all other students who have resided in the state of Georgia have easier access to paying in-state tuition rates instead of having to pay out-of-state tuition."
Legislation to establish in-state tuition for Deferred Action for Childhood Arrivals recipients gets attention every session, but fails to cross the finish line. The issue is also a top priority for Hispanic community organizations that hope to finally get the proposal passed.
Santiago Marquez, CEO of the Latin American Association, said his organization is also pushing for in-state tuition to be passed this year.
"For those young folks that were brought here as children really had no choice in the matter, they have not been able to qualify for in-state tuition here in Georgia for colleges," he said. "With the labor shortages that we have, with the need for talent in Georgia, to me it's a workforce issue."
Marquez, too, pointed to the importance of legislators from both sides of the aisle working together on core issues facing the Hispanic community.
"I like the fact that there are more Hispanics that are running, more Hispanics getting elected — a bipartisan effort," he said. "I think that's really important, especially in Georgia, because we like to talk about Georgia becoming a blue state, but a lot of people forget that every state held office is held by a Republican and the state legislature is controlled by Republicans. So it's good to have representation from both parties."
Secondary Content
Bottom Content