Section Branding
Header Content
GHSA football and flag football championships are underway!
Primary Content
LISTEN: The boys high school football championship games are underway in Georgia, but girls got game too! Flag football is the fastest-growing high school sport in the state and is bringing lots of exciting action to the field. GPB's Leah Fleming talks to Georgia High School Association Executive Director Robin Hines about it. Then she chats with GPB Sports' Hannah Goodin about the high school football championship action starting Thursday.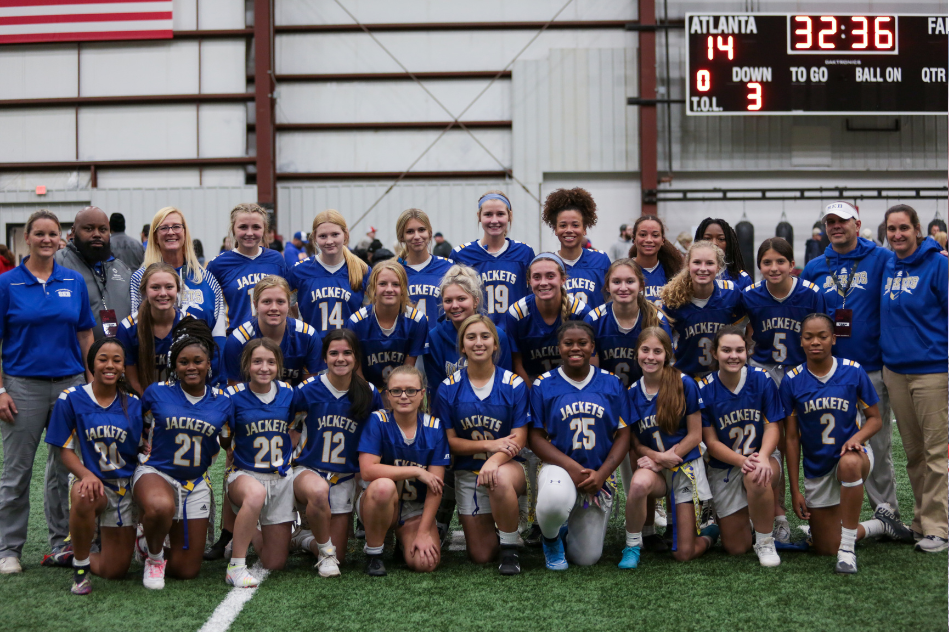 It is championship time for GHSA football!  That includes six girls high school flag football teams competing for three state championships in the fastest-growing sport in the state right now.
Robin Hines is executive director of the Georgia High School Association. GPB Morning Edition Host Leah Fleming spoke with him about the tournament.
Leah Fleming: What are some of the moments that really stand out for you, that you have seen so far?
Robin Hines: Well, you know, just generally speaking, just the complexity of what's going on with girls flag football now. I mean, just over the last few years, just the strategies, the coaching, the competition level is incredible.
Leah Fleming: How did flag football make its way into Georgia?
Robin Hines: I guess about five years ago, I went down to Orlando and looked at what Florida was doing and what USA Football was doing as far as flag was concerned. And you know, of course, looking at ways that we could provide more competitive situations for our young women. And as luck would have it, the [Atlanta] Falcons came forward and wanted to get this started. Of course We began with Gwinnett County as they put it in their schools, and it was wildly popular. It was more of a club sport at that particular time. Several other counties added the sport, and again it was wildly popular. And so that was when we planned to sanction it as a statewide event. And we did. Initially, we had 180 schools signed up, but that was the COVID year, and about half of those pulled out that first year. But we were able to have a state championship. And This year, I believe we have 227 schools that put a varsity team up there and 47 JV programs. So, we're seeing that grow. We're seeing districts get it down into the middle school level and doing things with rec departments around the state. So it's not going to slow down. It's our fastest-growing sport and we are really excited about it.
Leah Fleming: The boys' championships are going on as well. It is the biggest sport and biggest attraction, I think, for the Georgia High School Association. What do you think makes football such a popular sport here in Georgia?
Robin Hines: Well, we're in the Southeast. And, you know, it's just such a long-standing tradition. I think that in our part of the country, there's just been so much emphasis placed on football, you know, from many, many, many years ago that goes on today. And I think that's why you see things like the SEC that perform so well year in and year out. ... I think that football in the state of Georgia is the best that it is anywhere in the country. And, you know, I'll just throw a little stat out there. People talk about Texas and, you know, I was looking at some statistics.  When the draft came about, ... 30 players from Georgia went into the NFL draft. Texas had 32 that went into the NFL draft. But gosh, they have like 11 million more people or something like that. So, it just is a testament to the players that we have in Georgia and the outstanding coaching. ... I think the only difference between football on Friday nights and Saturdays and Sundays are the size and speed of the participants, because I think the coaching is just as good.
Leah Fleming: Robin Hines is executive director of the Georgia High School Association. We'd like to thank you so much, Robin, for taking some time with us this morning.
Robin Hines: Thank you, Leah. Any time.
To get more on girls flag football and all of the championship games going on — and GPB's coverage of it — Leah Fleming spoke this week with GPB Sports host and producer Hannah Goodin. 
Hannah Goodin: So there's three divisions in flag football. So Division 1, which is 1A through 4A, it will be Southeast Bulloch versus Harris County. So Southeast Bullock is the team to watch. They've only been around for two years, but undefeated. They've never lost. And they're the defending Division 1 state champs. So they are the team to watch there. Then at 12:45 p.m. is Division 2: So that's 5A and 6A; Lithia Springs versus Central-Carroll. So Lithia Springs, it's their second year back to the finals after a crazy triple overtime loss last year against Dodge. And Central-Carroll, they have a new head coach in Bronson Ivester and he's rallied the team to a 4 and 5 season and a trip to the finals. Really, really fun team to watch there. 
Leah Fleming: GPB is going to air all of this.
Hannah Goodin: Yes.
Leah Fleming: Okay. How can people see it? 
Hannah Goodin: So we will air them all on television, GPB TV — but as always, we stream everything, so you don't have to have television. GPB.org/sports, GPB Sports app and social media. 
Leah Fleming: So you were talking about Southeast Bulloch.
Hannah Goodin: Yes.
Leah Fleming: They are just the team to beat — undefeated. You had a chance to hear from their coach, right?
Hannah Goodin:  I did. So their head coach, Marci Corcoran, is one of the only female coaches. So we had the GHSA Media days on Sunday and I had the chance to sit down with her and talk to her about the growth of the sport and her team. So here's Marci. 
Marci Corcoran: This is our second year and last year we had about 40 something girls try out. This year we had over 50. And just the community's been behind us and we have more and more people coming to every game and our girls just really love it. We've gotten out in the community and are going to go to some great games and practices and try to grow the sport there as well. So it's been amazing to see the growth. 
Hannah Goodin: So over 50 girls coming in, trying out. The stadiums are filling up to watch these girls play, too. And GPB, we've been streaming a game of the week every week and the numbers for viewers are amazing. And on our GPB Sports YouTube channel, the most watched content is flag football.
Leah Fleming: So this is not just a big moment for girls flag football, but also the boys. Take us through that. What we can expect to see?
Hannah Goodin:  Yeah, obviously, the girls are more important. 
Leah Fleming: Obviously!
Hannah Goodin: Obviously, I'm just kidding. But the boys is the showcase of the GHSA's entire season. This is the biggest moment for the GHSA. So we have the boys finals as well. So it begins Thursday after flag football. So flag football kicks off with their three state championship games. Then the boys single-A Division 1 and 2 starts that evening at 5:00 and 8:00. Friday, the even classifications play. So 2A plays at noon, 4A at 3:30 and 6A will play at 7. Then on Saturday the odds play. 3A will play at noon, 5A at 7:30. And then we'll start with the grand finale, the biggest game of them all: 7A, 7:00 p.m. So for those teams and who will be playing, you can follow us at GPB Sports as well.
Leah Fleming: Hannah Goodin is host and producer at GPB Sports.
——
Southeast Bulloch won its second straight GHSA flag football championship Thursday afternoon.
The team is now 39-0, having never lost a game since starting its program two years ago. The girls team is also the first back-to-back champion since the GHSA officially began sanctioning flag football state championships in 2021.
WATCH: Southeast Bulloch versus Harris County in the GHSA 1A-4A Championship game
Secondary Content
Bottom Content