Section Branding
Header Content
Georgia Today: Final runoff numbers, teens arrested in Thanksgiving shooting; Ludacris gifts shoes
Primary Content
LISTEN: On the Thursday Dec. 8 edition of Georgia Today: A look at the final numbers from the runoff election, two teens arrested for a Thanksgiving shooting, and rapper Ludacris teams with Mercedes-Benz to gift shoes to schoolchildren.
TRANSCRIPT:
Peter Biello: Welcome to the new Georgia Today podcast from GPB News. Today is Thursday, Dec. 8th. I'm Peter Biello. Coming up on today's episode, we crunch the final numbers from the U.S. Senate runoff election. Atlanta police have arrested two teenagers in connection with the fatal shooting of a 12-year-old and a 15-year-old on Thanksgiving weekend. And rapper and entertainer Ludacris, along with Mercedes-Benz, surprised some Atlanta schoolchildren with some early holiday presents. These stories and more, coming up on Georgia Today.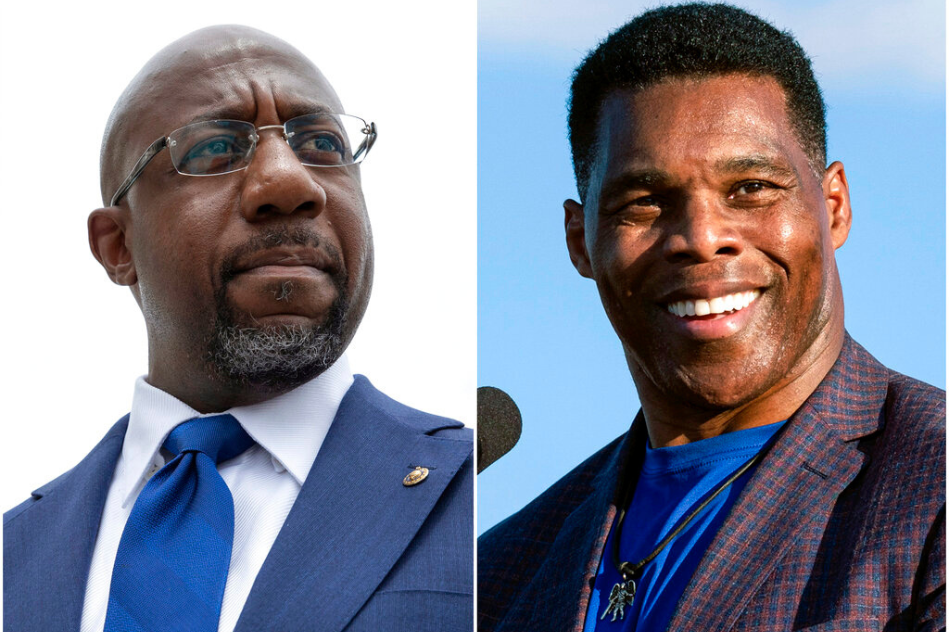 Peter Biello: With most of the votes now counted, Sen. Raphael Warnock beat Republican Herschel Walker by nearly three points in the runoff election this week. GPB's Stephen Fowler breaks down some of the numbers.
Stephen Fowler: Warnock earned a higher share of the votes than he did in the November general election in all but 11 of Georgia's 159 counties. And Herschel Walker, who did the worst out of any statewide Republican candidate on the ballot in November, also underperformed Gov. Brian Kemp's margins in key Republican counties. Another key difference: in-person early voting turnout. The number of people that voted on optional early voting days, mainly in Democratic strongholds, was higher than the final margin of victory. For GPB News, I'm Stephen Fowler.
Story 2
Peter Biello: Atlanta police have arrested a 15-year-old and a 16-year-old in connection with the fatal shooting of a 12-year-old and a 15-year-old at an Atlanta shopping and entertainment complex over the Thanksgiving weekend. The juveniles were charged with murder, aggravated assault and gang-related crimes. GPB's Orlando Montoya spoke with Reverend Shanan Jones, who will eulogize the youngest victim, Zyion Charles.
Rev. Shanan Jones: It's sad when a 12-year-old, Zyion Charles, and a 15-year-old, Cameron Jackson, are gunned down. Cameron was dreaming of being in the 2024 Olympics. It's a crisis when a 15-year-old and a 16-year-old are charged with with the murder. And so, you know what the trajectory of their life will be in the system. And it's just — it's it's it's sad. I would have been pleased to know that they were graduating from high school. All four of these students, these these these young men were in the Atlanta public school system. I wish that we could have one day seeing them graduate, go on to college, trade school, the military. But unfortunately, two are dead with whatever hopes and dreams they housed there. Their parents housed. And then two will be in the system forever. And it's it's just — it's a crisis.
Orlando Montoya: This has been a turning point for a lot of people. What do you think this turning point — why it happened and where we go from here?
Rev. Shanan Jones: Well, I said, and I'll be meeting with several community leaders, with Police [Chief] Schierbaum of Atlanta on tomorrow, myself and several members of Concerned Black Clergy are gang activists that work with young — gang intervention workers. I should call them — professors, criminologist, labor leaders. I think that that we've reached a point where, in the African tradition, we have a saying called Sankofa. It means to look back. If we look back so that we leave no one behind. And unfortunately, we are in a society today where parents need retooling. Churches and faith organizations need to come outside of the four walls of their church and make sanctuary at the intersection of church and society. When a mother says that she has reached out to the police some 50 times, but she had no pastor to reach out to, not because the pastor was not there, but because that mother perhaps was not connected to a church or faith community, it says that I can't wait for that mother to come and join my church. I have to go seek her out and I have to be a presence in community. I think what's happening is, is that we're moving at a pace that is so fast that we're leaving so many behind. And we need to slow down and look around and come together and link arms and find collaborations and solutions. And so we're asking for philanthropic Atlanta. We're asking — in the metro area — we're asking for the business community, educators, police, community leaders, pastors to come together — parents to come together. Let's link arms and let's find a way, politicians, to begin to deal with this this problem. And the major thing that we need to look at is the underfunding of hope. We need to invest in hope in the city. And it takes money to bring about hope. But — but programs that better collaborate, that the programs that are created in collaboration with faith and government and schools and other community agencies will begin to strike a mighty blow at the violence that we're seeing and to begin to beat that back. And I say "beat it back" because you fight fire with fire. And so if we can beat it with love, we can end the violence of hate.
Peter Biello: Reverend Jones is part of a coalition of Black clergy that is planning a march on Saturday. Police have not identified the two arrested because they are minors.
Story 3
Peter Biello: Georgia State Rep. Matt Hatchett has been named to lead the state House Appropriations Committee. The announcement yesterday gives the Dublin Republican a key role in writing the state's $58 billion budget. The appropriations post is being vacated by Rep. Terry England, an Auburn Republican who did not run for reelection. Hatchett's appointment was announced earlier than usual by House Speaker Jan Jones, who says Hatchett needs to start preparing.
Story 4
Peter Biello: Google's annual search trends report looked at what people wanted to know about in 2022 versus last year. GPB's Ellen Eldridge reports on how Georgia played a part this year.
Ellen Eldridge: This  year, Google notes trending searches for "election results" — that includes the focus on Georgia's Senate race. But 2022 also saw a breakout surge moments after Betty White's death. People also wondered how to pronounce Qatar and Kiev, indicating interest in the World Cup and the war in Ukraine. Alex Joseph is a Google trends expert. He says other trends show how people are making decisions in daily life.
Alex Joseph: The other trending search that really speaks to the mood domestically is gas prices. The No. 1 and 2 searches were for "gas prices near me."
Ellen Eldridge: Joseph says he feels optimistic after seeing an all-time high number of searches related to sustainability and electric cars. For GPB News, I'm Ellen Eldridge.
Peter Biello:  Just in time for the holidays. Ludacris and Mercedes-Benz have surprised schoolchildren in Atlanta with more than 500 new pairs of shoes. The car company's holiday giving program, Season to Shine, partnered with nonprofit shoes that fit to provide kids with new athletic shoes to attend school. Mercedes also partnered with its brand, Ambassador Ludacris, and his foundation to deliver the shoes to Miles Elementary School yesterday. Since 1992, shoes that fit has provided over 2 million pairs of brand new shoes and other necessities to children across the U.S.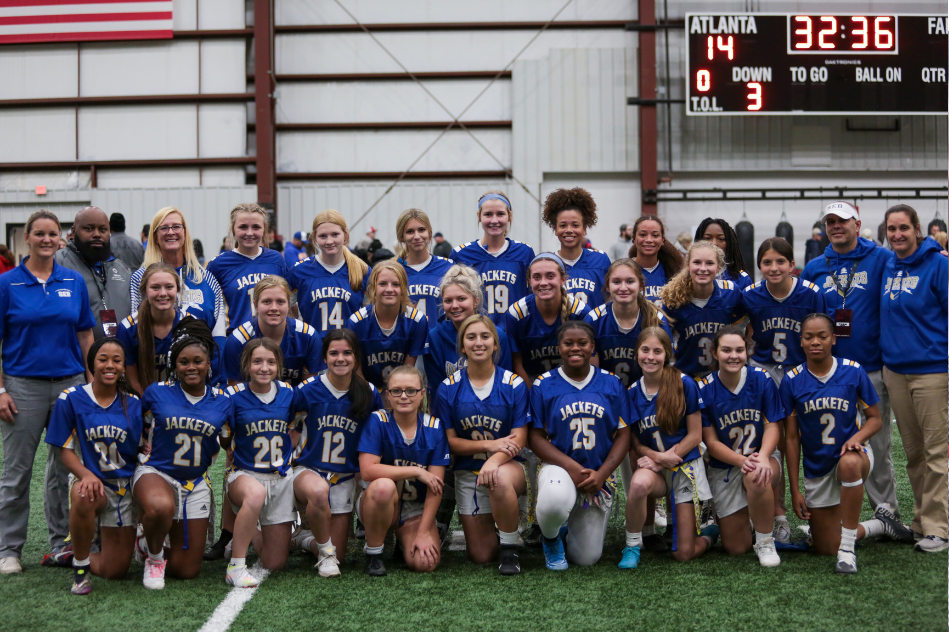 Peter Biello: Southeast Bulloch won its second straight GHSA flag football championship today. The team is now 39-0, having never lost a game since starting their program two years ago. They are also the first back-to-back champions since the GHSA officially began sanctioning flag football state championships in 2021. Head coach Marci Cochran talked to GPB's Jon Nelson after today's victory.
Marci Cochran: Oh my gosh, it's been an awesome ride today. I mean, we've worked hard for this. We're 39-0. And it's hard to do that. And it's been a great experience. Had to come — overcome adversity today. But we did it.
Jon Nelson: Southeast Bulloch, represent! How hard was it to repeat now that you're 39 and 0, how hard was it to repeat as a champ?
Marci Cochran: Oh, it was tough. I mean, there are a lot of good teams. Everybody in the state of Georgia has gotten so much better and you can tell by our scores a little bit. Their defense has stepped it up and it was just a dogfight and state tournament every game we played. So we're excited to come out on top today.
Jon Nelson: What's it been like to see the sport grow not only around the state of Georgia, but in Southeast Bulloch and in Brooklet to see the success that you guys have been having?
Marci Cochran: Oh, it's awesome. Flag football's an awesome sport and I'm so glad that I get the opportunity to coach it and these girls get to play it. And now everybody in the state of Georgia is getting a tour and it's just really cool.
Peter Biello: You can catch all the weekend football championship action — tackle and flag football — on GPB.org and on the GPB Sports app. And while we're talking sports, let's add a little bit of offseason baseball to the mix. The Atlanta Braves have acquired right-handed pitcher Joe Jimenez in a deal with the Detroit Tigers. The deal includes cash and a trade of outfielder Justin Henry Malloy and pitcher Jake Higginbotham. Braves general manager Alex Anthopoulos says the team spent months negotiating with Detroit about Jimenez.
Alex Anthopoulos: Again, we liked our bullpen, but we do think this completes it and just adds that one more power arm from the right side that we were hopeful and optimistic to add.
Peter Biello: The 27-year-old Jimenez pitched 62 games for the Tigers last season, going 3 and 2 with a .349 ERA and 2 saves. And he was named to the All-Star team in 2018. And that is it for today's edition of Georgia Today. And as always, we welcome your feedback. You can send it to us by email. The address is GeorgiaToday@gpb.org.
I'm Peter Biello. Thanks very much for listening. We'll see you tomorrow.
Secondary Content
Bottom Content