Section Branding
Header Content
Georgia Today: Runoff election day; health care and affordable housing, new name for Savannah square
Primary Content
LISTEN: Today is runoff election day in Georgia, health care systems are investing in affordable housing, and a new name may be coming to a public square in Savannah.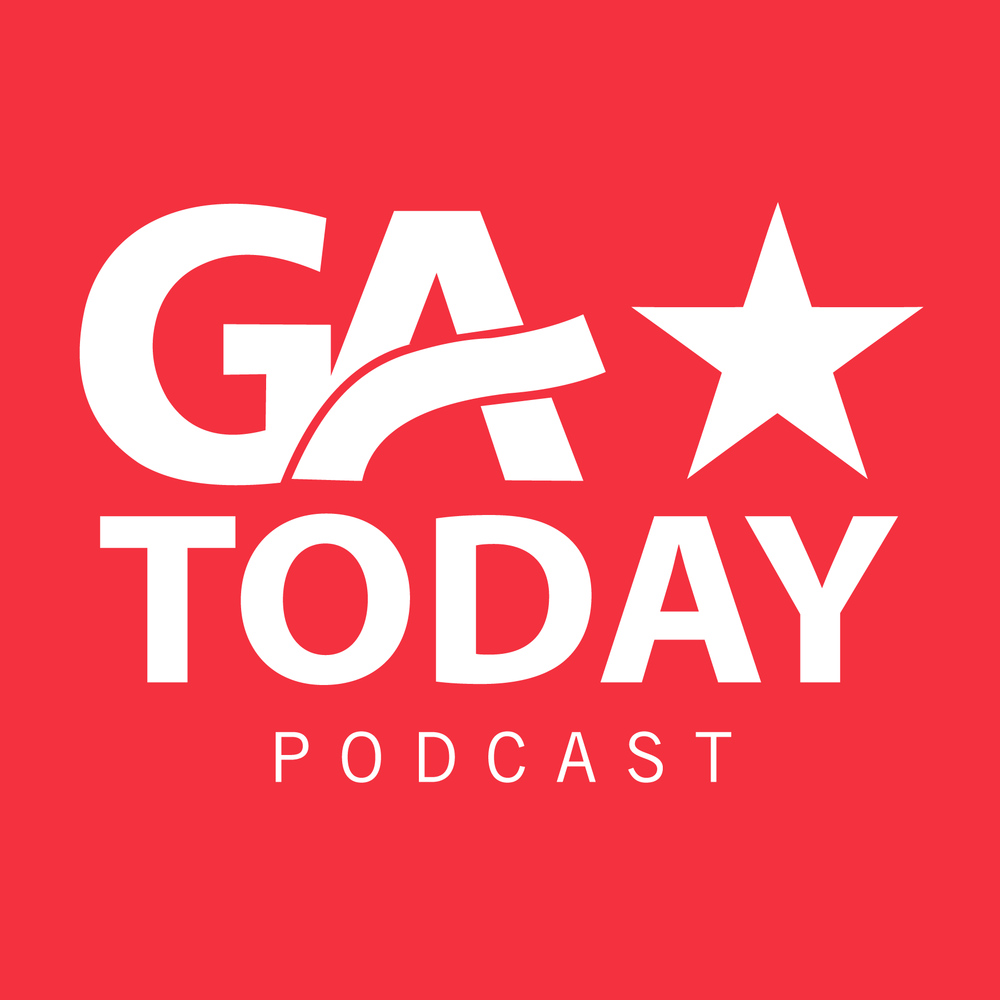 Peter Biello: Welcome to the new Georgia Today podcast from GPB News. Today is Tuesday, Dec. 6. I'm Peter Biello. Coming up on today's episode: Today is election day in Georgia — again. Some health care systems have been investing in affordable places to live, and it's happening right here in Georgia. And there's a push to rename a public square in downtown Savannah after a Black nurse who served alongside the Union during the Civil War. These stories and more are coming up on Georgia Today.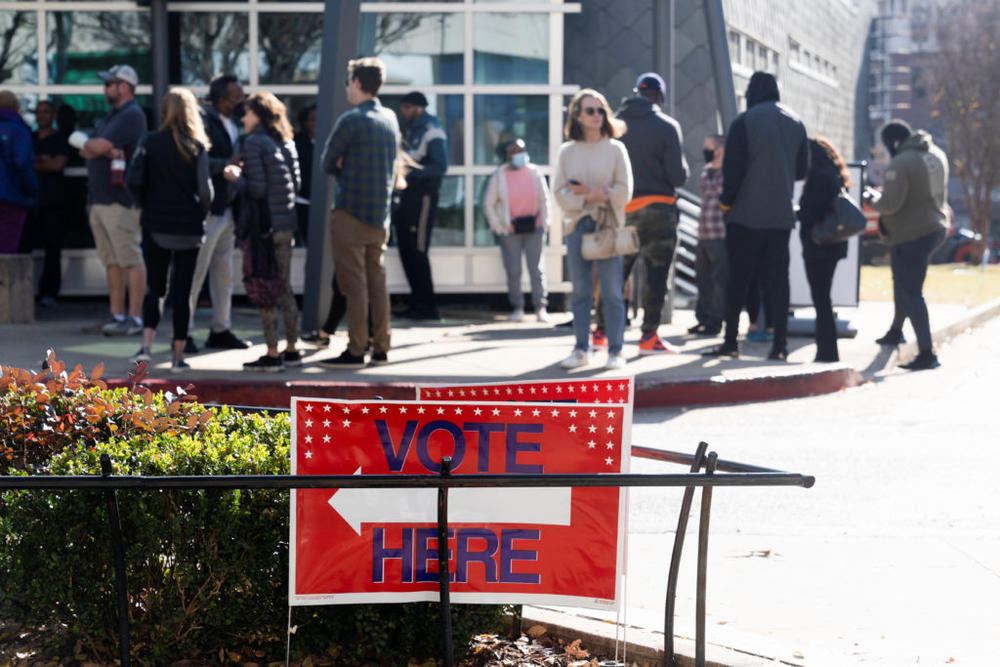 Peter Biello: The polls are open for voting in Georgia's Senate runoff until 7:00 tonight. Many, like school principal Terrance Phillips, who was the first to cast his vote at Macon's Glorious Hope Baptist Church this morning, were lined up before the polls opened.
Terrance Phillips: You know, I think we should have choices. And it appears that some candidates are trying to take those choices away. Think about family members, think about just life in general. Things are happening every day. And and we want to be able to have the right to to make good decisions if we need to.
Peter Biello: We also caught up this morning with Clyde Shelton in Macon.
Clyde Shelton: The economy, inflation, everything. I mean, everything's at stake. You know, several years ago, I was doing great. I had more disposable income than I knew what to do with. And now, I'm lucky to make it paycheck to paycheck. That's what's in it for me. I'm wanting to get back to the way things were. You know, the right way.
Peter Biello: Sandra Jackson cast her ballot in Savannah. She says she voted for Sen. Raphael Warnock in part because of his support for abortion rights.
Sandra Jackson: I'm 66. I'm not having any babies, but I have grandbabies. And to think that they couldn't do what they want to with their own body, that that really bothers me.
Peter Biello: Again, the polls will be open until 7:00 tonight. For the latest results, go to GPB.org/elections.
Peter Biello: Following the COVID-19 pandemic, many public health departments have been left unprepared for the next public health crisis. The Centers for Disease Control and Prevention is awarding states more than $4 billion to help them prepare. GPB's Sofi Gratas has more on the federal investment in Georgia.
Sofi Gratas: Georgia's Department of Public Health will receive close to $100 million over five years from the CDC. The money will help address workforce shortages by funding staff at the state and local level. It also includes money to create an electronic medical record system to make better use of data. Brian Castrucci is a former public health worker and advocates for public health as president of the De Beaumont Foundation. He says to get the most out of this historic funding, Georgia should dole it out equally.
Brian Castrucci: So right now, it is critical to rebuild the public health system in rural America. That's where those district health director is to be so critical and so vital because they know the needs of their community.
Sofi Gratas: The grant also includes more than $10 million in separate funding for Fulton County. For GPB News, I'm Sofi Gratas in Macon.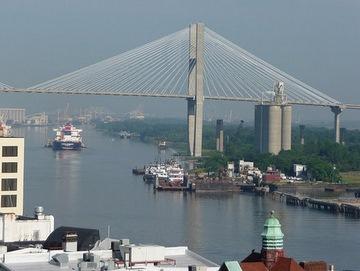 Peter Biello: The Port of Savannah is planning a $410 million overhaul of one of its terminals to make room for larger ships. The Georgia Ports Authority Board approved the project under a plan to expand Savannah's capacity for cargo containers by more than 50% by 2025. Ocean Terminal will be upgraded to allow the complex to focus almost exclusively on cargo shipped in containers. Operation at the Port's Ocean Terminal, which currently handles most of Georgia's breakbulk cargo, such as lumber, paper and steel, will move over the coming year to the nearby Port of Brunswick.
Story 4
Peter Biello: Affordable homes are in short supply in many parts of this country. Because unstable housing is often linked to poor health, some health care providers are investing in building or renovating new places to live. The goal is to improve health outcomes in communities. And it's happening right here in Georgia.
On a sunny day in Atlanta sweet Auburn neighborhood, a huge truck hauls dirt from a construction site. Katherine Lawler is partially responsible for what's happening here. She's the CEO of Saint Joseph's Health System and Mercy Care.
Katherine Lawler: This is the construction site of the future Macaulay Station. It will be 170 units of affordable housing located right on Macaulay Park.
Peter Biello: Mercy Care has pledged to pay the rent on 10 of those apartments for people waiting for permanent, affordable housing. There's no formal limit on how long tenants can stay. But Mercy Care expects an average stay of 90 days. Lawler says it's an effort to help people get healthy outside the hospital setting in their communities.
Katherine Lawler: What makes people healthy starts first with the opportunities they have in their life and also with their ability to live in a safe, stable and affordable community.
Peter Biello: She's describing a concept known as the social determinants of Health. This is the idea that having access to healthy foods, a good education, clean air and affordable housing matter when it comes to overall health. Lawler says these apartments will help with that.
Katherine Lawler: By doing this comprehensive approach to health, that's really where we chip away at long term inequities that have manifest themselves in many communities, but certainly in Atlanta as well.
Peter Biello: Mercy Care in Atlanta is not alone. In the last decade or so, several health care systems across the U.S. have made significant investments in affordable housing. Boston Medical Center has made no-interest loans to help developers create more than 1,300 units of affordable housing. Megan Sandel is Boston Medical's place based investing lead. She says they've primarily served people who don't have stable housing.
Megan Sandel: We have many patients that would keep coming back through the emergency department and hospital simply because they didn't have a place to take their insulin or to plug in their CPAP machine at night.
Peter Biello: But with a stable place to live, she says, those patients are less likely to use the ER for preventable ailments. Connecting these patients to affordable housing could even save money. UPMC Health Plan in Pittsburgh has contributed to loan funds that help developers complete affordable housing projects. UPMC Health Plans' Kevin Progar says they compared the cost of patients' ER visits before and after placing them in affordable homes.
Kevin Progar: Usually very somewhere between basically 5,000 and $10,000 a number per year and for kind of avoided cost that we think they might have spent otherwise.
Peter Biello: While UPMC Health Plan, Boston Medical and others often step away from their housing projects once they're completed, Mercy Care in Atlanta plans to stay involved. It'll raise funds to pay the rent. Jeffrey Brenner, a former United Healthcare executive, says for long term success, they need to use these units strategically.
Jeffrey Brenner: If they don't target the units to people who are coming in and out of the hospital all the time, then they're not going to have an incentive to keep doing this.
Peter Biello: Mercy Care is still working out qualifying criteria for who can live in those 10 units. Back in Atlanta from the kitchen window of his two bedroom apartment, Zach Eidex has watched workers prepare the ground for College Station. He says he's worried about his rent increasing and what more low income housing will do to the neighborhood.
Zach Eidex: I spoke with someone who lived here 20 years ago and it was low income and there was lots of crime. So I would be slightly worried that, you know, the tenants would be responsible.
Peter Biello: Across the street, Brittney Briscoe walks her dog, a Chihuahua mix named Max. She's lived in this neighborhood for four years. She says she thinks McCauley Station can help.
Brittney Briscoe: The only way that you can ever reach privilege is, like, you have to get out of poverty. So yeah, it's going to create some, whatever, transition woes. But like we are helping those people that are able to live there, have access to privilege.
Peter Biello: And that access, at least for some in this Atlanta neighborhood, will get a little bit easier in early 2024 when McCauley Station is scheduled to open.
Story 5
Peter Biello: A renewed effort is underway to rename a public square in downtown Savannah after a Black nurse who served alongside the Union during the Civil War. GPB's Benjamin Payne reports.
Bejamin Payne: Susie King Taylor is known as the first Black army nurse. She could also become the first woman and first person of color to be the namesake of one of downtown Savannah's iconic public squares.
Rozz Rouse: She took care of the sick and dying comrades during the Civil War, so she made her mark as an American hero.
Bejamin Payne: That's Rozz Rouse, an activist with the coalition to name Taylor Square. The group scored a major victory last month when council members voted to remove the name of former Vice President John C. Calhoun from a square near Forsyth Park on the grounds that Calhoun was a strong supporter of slavery. On Friday, Rouse and her allies gathered outside Savannah City Hall to announce the second phase of their campaign: to add Taylor's name to that now-nameless square. Activist Patt Gunn says that next phase will consist of educating the public about Taylor in an effort to earn community buy-in.
Patt Gunn: And so we want to educate all of Savannah that she is worthy of that square. We are organizing communities. We want nurses. We want educators. We want citizens. We want artists.
Bejamin Payne: With the new year right around the corner. The group hopes to convince City Council to add Susie King Taylor's name to the public square in 2023. For GPB News, I'm Benjamin Payne in Savannah.
Peter Biello: We mentioned, earlier in the podcast, the Port of Savannah. So let's close things out today with a fun thing you can do next time you're at the port: track where those giant ships have been. VesselFinder.com has a free map that is updated by the minute, so you can zoom in on the port and see all the ships. You can also see where they've been, where they were built — lots of other fun facts. Hat tip to GPB's Benjamin Payne for theVesselFinder.com tip. And that is it for today's edition of Georgia Today. We welcome your feedback. Send us an email. The address is GeorgiaToday@gpb.org. I'm Peter Biello. Thanks very much for listening and we'll see you tomorrow.
Secondary Content
Bottom Content