Section Branding
Header Content
See who is voting early in Georgia's 2022 runoff election
Hero Image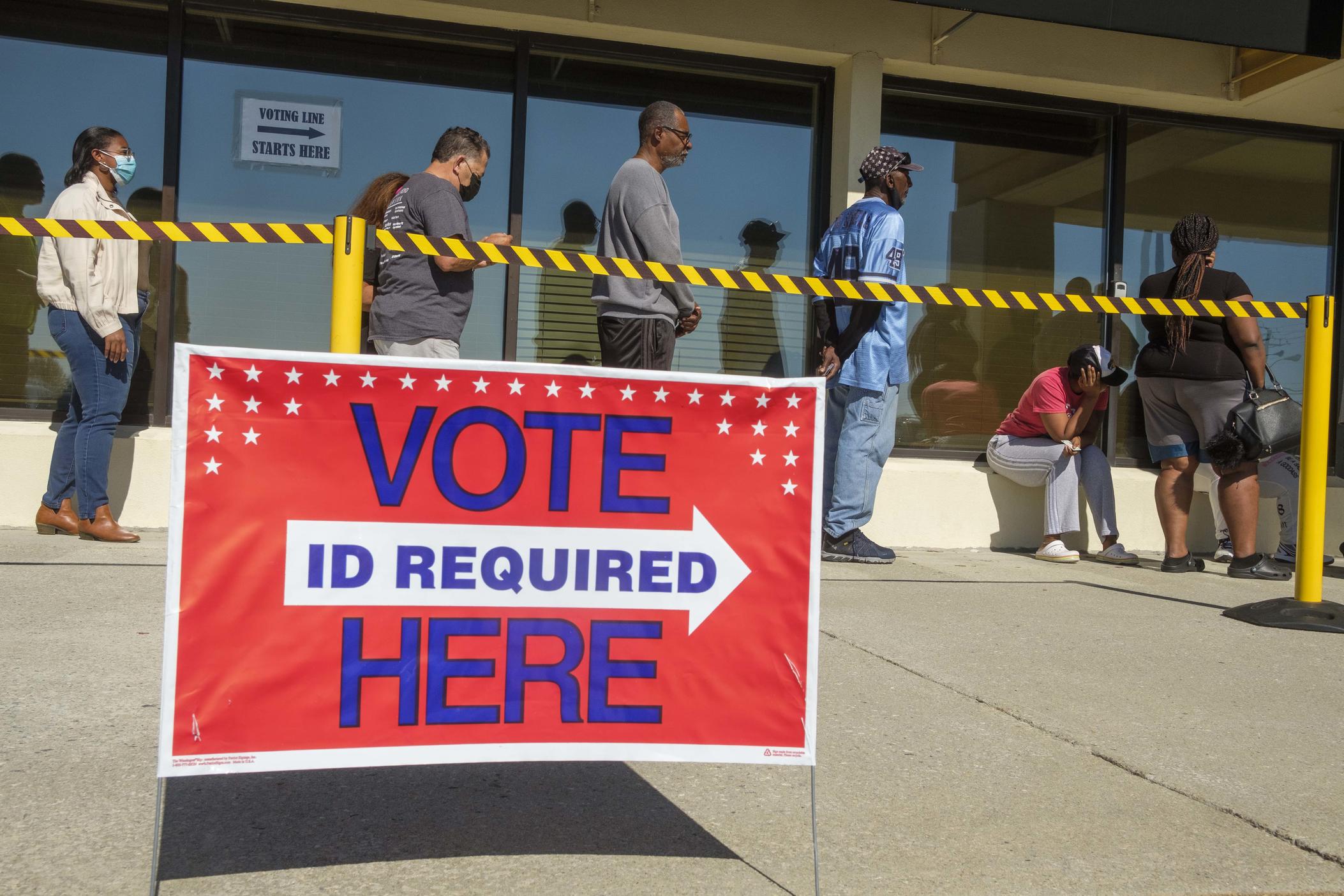 Primary Content
In spite of the shortened runoff window — or maybe because of it — Georgia voters are showing up in droves to once again decide their U.S. senator in a runoff, with a surge of younger voters and higher Black turnout in the start of early voting.
The first day of statewide in-person early voting Monday shattered the single-day record, with more than 303,600 people casting their ballot across the state. That record was nearly broken again the very next day as nearly 303,500 Georgians voted in person again. On the final day of in-person early voting, close to 353,000 Georgians voted, as voters in some metro Atlanta counties were in line well after the 7 p.m. cutoff to get in line.
As of Friday, Dec. 2 1,852,576 people had participated in the runoff between incumbent Sen. Raphael Warnock and Republican Herschel Walker, according to the state's absentee voter file. That included 136,156 mail-in ballots and 1,712,658 in person.
The voting process for the runoff was changed under 2021's Senate Bill 202 and is four weeks after the general election instead of nine weeks. That means a much tighter turnaround for election preparation, only five mandatory days of statewide in-person early voting and far less time to request and return an absentee ballot. Before that window closed Monday, 223,561 people had their applications to vote by mail accepted.
All 159 counties began early voting Monday, though some were able to begin sooner. Douglas and DeKalb counties together served nearly 20,000 people the Tuesday and Wednesday before Thanksgiving, and about 150,000 showed up the Saturday and Sunday after. Saturday voting was allowed as an option for voters after Democratic groups sued over the state's interpretation of a law dealing with early voting after a holiday.
Nearly 80,000 voted that Saturday, primarily in large, urban Democrat-heavy counties that were open, and another 87,000 showed up Sunday.
Propelled by that weekend of optional voting, younger Georgians are making a noticeable impact in voting numbers. As of Friday, those under the age of 30 made up 8% of early votes, and roughly 16% of those did not participate in the general election earlier in November.
Many of the voters who have participated so far are typical early voters who participate regularly in elections. As of Friday, Dec. 2, roughly 96% of the 1,852,576 early voters who have cast ballots for this election also voted in the 2022 general election in November. 91% voted in the 2021 Senate runoffs, 92.2% voted in the 2020 general election and 79.8% voted in the 2018 general election.
Roughly 76% of early voters cast ballots in all four elections, while about 4.2%, or about 75,000 voters, did not vote in this November's election but showed up this time.
Black voters make up roughly 29% of Georgia's 7.8 million registered voters and 31.9% of the early vote so far. The actual share may be higher, as nearly 9.4% voters so far have their self-identified race listed as "unknown," and state elections officials say many are likely Black. 
Nearly 58% of the people that have voted also participated in the 2022 primary elections — and 47% of those people pulled a Democratic ballot, compared to 53% in the Republican primary. It is important to note that Georgia does not have party registration, so anyone can choose to vote in any primary. This year saw a notable number of Democratic voters cross over and support Republican incumbents such as Gov. Brian Kemp and Secretary of State Brad Raffensperger against Trump-backed primary challengers.
Another dynamic to watch during early voting is turnout in counties that saw higher levels of dropoff in support for Walker compared to Kemp. Roughly one in 10 voters who supported Kemp in the general election opted not to vote for Walker, leading to the razor-thin runoff while the rest of the statewide Republican ticket cruised to victory.
Click through the tabs in the graphics below to see more voter turnout data, including turnout for Black and white voters as well as by county, plus how the early vote so far compares to total votes in the 2022 midterm.
This post will be updated daily throughout early voting, with changes in bold type.
Secondary Content
Bottom Content