Section Branding
Header Content
Top of mind for Cherokee County voters: inflation, school board
Primary Content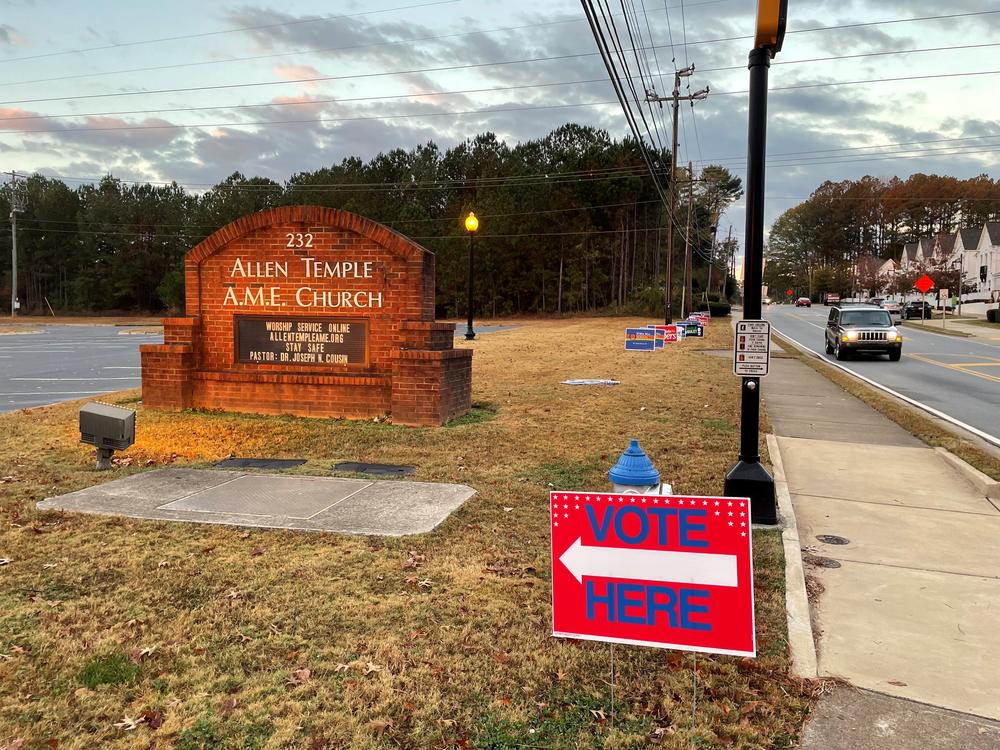 After asking a handful of people at Woodstock's Allen Temple A.M.E. Church this morning why they decided to cast their ballot as polls opened on Election Day as opposed to during early voting, most said they just didn't have or make enough time.  
"I don't know, forgot," Jeff Imperial said. "Slipped my mind."
The top-of-mind issues for these voters include inflation, socialism, the right to an abortion, and housing rates.  
The secretary of state's office estimated more than twice as many Georgians will vote Tuesday than what we saw on Election Day in 2020. 
Georgia also achieved a record this year for midterm absentee-by-mail voting.  
Any voter worried about long lines at the polls were encouraged to check their county's website for wait times and polling locations before going to vote. 
No lines longer than 20 to 30 minutes were reported in Cherokee County before the end of the lunch rush, a poll worker in Holly Springs said. She asked GPB News not to share her name.
Similarly to Woodstock, close to 30 people were waiting in line when the polls opened in Holly Springs, and the first voter in line got there at 6:15 a.m.
Lines stayed steady and the Holly Springs worker estimated about 500 people had voted by the end of the lunch rush.  
While most folks are friendly, one man asked the worker whether the voting machines were made by Dominion. 
She told him, "yes," and he rolled his eyes.  
But he still cast a ballot. 
One of the biggest reasons this worker signed up to help on Election Day was to "be diligent and make sure hearsay wasn't taking place."
She could not stand the misinformation and outright lies about Georgia's elections. 
The Dominion voting machines issue is especially egregious because, she said, that issue has been debunked, "put to bed." 
Voters in two areas of Cherokee County have runoff races for seats on the school board.
Normally, school board elections don't get a lot of attention. 
But around 4:30 p.m. today, only one person stood on Arnold Mill Road waving an election sign, supporting the Republican candidate for the District 5 school board election.
Cherokee County was one of two Georgia counties with candidates backed by the New York-based 1776 Project Political Action Committee or PAC. 
The so-called "4CanDoMore" campaigned together against critical race theory and supported the banning of books in public schools. 
The fringe group of far-right candidates were ousted in the primaries. Now, at least some Democrats support the Republican candidate. 
Crystal Atkinson of Woodstock voted in the District 5 race. Though she said she voted for the Democratic candidate, she considers herself an independent voter.  
She's the mother of students in the local schools and said she wants the board members to see that all children are thought of as whole people.  
So, it's important to Atkinson that elected school board members support the social and emotional well-being of children.
"I think that that's something that has to happen within the schools," Atkinson said. "They have to support these positive interactions between the kids to try to help reduce any bullying situations; try to help reduce school pressure, which is a big deal."
Atkinson said she and her husband, Eddie, voted in favor of diversity as well. 
"Our county kind of has the tendency to not have a lot of diversity," she said. "And I think that hurts our students as they go out into the real world, to not see more diversity. At my children's elementary school, there was only one African American teacher. And I think that's a problem."
She also said she wants more funding for the arts. 
FOLLOW GPB NEWS FOR ELECTION RESULTS HERE.
Secondary Content
Bottom Content