Section Branding
Header Content
Georgia schools struggle with how to stop violence at their doors
Primary Content
LISTEN: Georgia schools are struggling with how to stop violence at their doors. Educators say they alone can't keep students safe. GPB's Riley Bunch reports.
——
At 8 a.m. on a Tuesday in September, students shuffled through the doors at Mount Zion High School in Clayton County. But this school year is marked by a new routine.
The crowd of high schoolers funnels through tall body scanners — new devices installed in the district's middle and high schools as part of a $5 million effort to spot potential weapons being smuggled onto school grounds. 
In an address to parents in July, Superintendent Dr. Morcease J. Beasley reiterated another new policy: clear book bags for all students. He told them to be patient as suppliers of the bags have been flooded by orders at the start of the year.
"There is no law that says what we've observed in Texas cannot happen here," Beasley said, referring to the massacre at Robb Elementary School in Uvalde, Texas, in which 19 students and two teachers were killed. "We're doing our part to be prepared and to be proactive."
Clayton County's enhanced security measures are on par with a wide variety of efforts in schools across Georgia to respond to increased violence within communities and a desperate attempt to prevent a school shooting from taking place in the Peach State.
School officials, from urban to rural areas, agree that safety measures need to be increased but there's little consensus on what will work best. 
Some counties support staff — and, in some cases, teachers — carrying weapons on campus while others are opting for electronic door locks and emergency alert badges for teachers.
With every threat comes the very real possibility that, on any particular day, a school shooter could wreak havoc and cause a mass casualty event. 
The shocking mass shooting in Uvalde rekindled fear that it is nearly impossible to stop violence at the school door. Dozens of law enforcement personnel lined the hallways of the elementary school but failed to act for more than an hour while the shooting continued.
But educators and community leaders say student safety and an increase in gun violence within Georgia communities are inextricably linked as schools across the state grapple with how to keep students safe and gun violence off their grounds.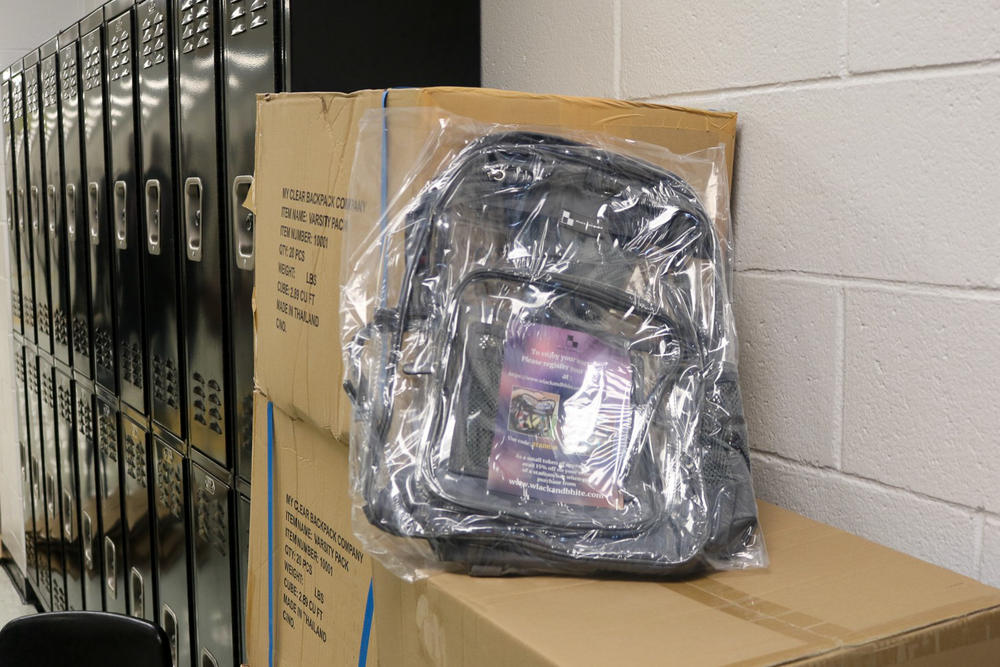 'Schools are not in a vacuum'
Clayton County schools, Beasley said, saw a startling increase in weapons confiscated at the end of last school year — a pattern that is echoed by other metro Atlanta districts.
Working closely with the local police department, he said, they found that the trend runs in tandem with a spike in weapons circulating in the community.
"Schools are not in a vacuum," Beasley said. "Normally, things that happen in society, they find their way in some way, form or fashion into the schools. And that's exactly what we've been dealing with."
"So we don't necessarily own this issue, but we have to respond to the issue because we have to protect the instructional environment," he said.
Educational leaders said that with each school shooting that shocks the country, renewed responsibility is placed on schools to respond to increased safety threats — but they can't do it alone.
Lisa Morgan, president of the Georgia Association of Educators, said after the horrific massacre at the Texas elementary school last May, Georgia schools are responding in the only way they know how — with heightened security measures on buildings, intruder drills and updated safety plans.
"We are not seeing what we need to see, which is addressing the broader issue," she said. "Because this is not a school issue. This is a community issue. The violence from our communities is coming into our schools. And so we can't solve that problem as an education community alone."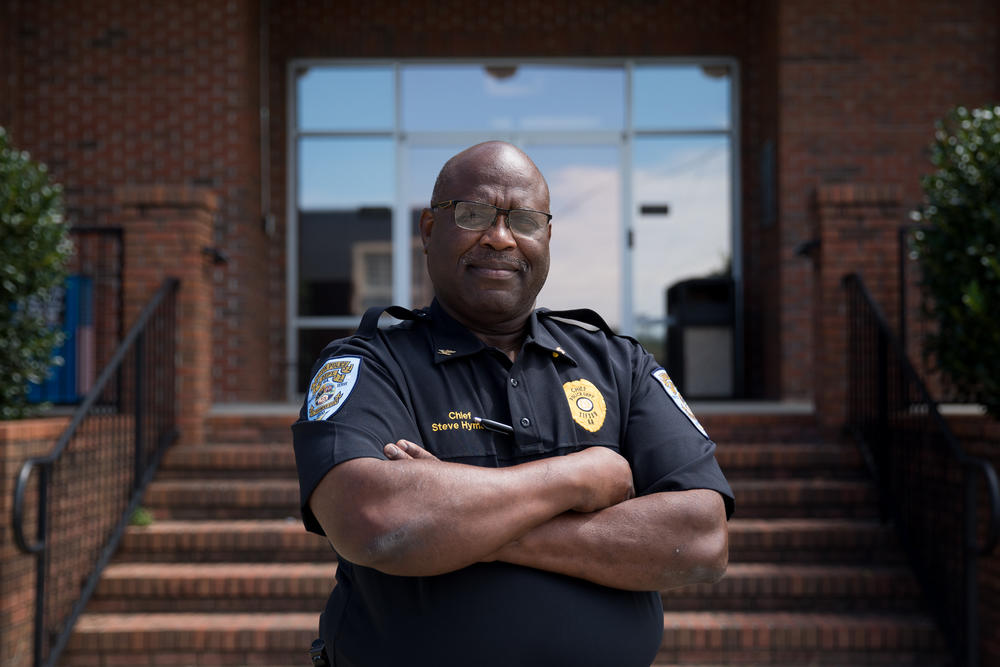 Communities on edge
Metro Atlanta schools are not alone in grappling with how best to prepare and respond to threats. A recent Snapchat message that circulated in the South Georgia town of Tifton sent the community into a spiral.
At 9 p.m. on a Tuesday night in August, a Snapchat message detailing that there would be a school shooting at noon the next day was shared like wildfire throughout Tift County and the surrounding communities. 
The message gave no details, creating a swirl of misinformation and sparking a social media witch hunt by parents and students, Tifton Police Chief Steve Hyman said.
After an investigation by the department in coordination with the Georgia Bureau of Investigation, he said, the message was deemed to be a hoax that originated from out of state. 
Law enforcement and school leaders made the call that it was safe for classes to go on as scheduled the next day.
"It caused a lot of disruption and it caused a lot of people to doubt the school system," Hyman said. "Every decision that I made that day was second-guessed by somebody. The school's decision to have school that day was second-guessed."
Tift County Schools Superintendent Adam Hathaway said the situation caused "a lot of panic and hysteria" and expressed frustration that community members criticized how the district responded to the threat.
"The one thing that I wish everybody would really realize is that we are not a law enforcement agency," he said. "So when we get terrorist threats like that, we allow law enforcement to do their job and we participate and help them 100% of the time."
With mass shootings so commonplace across the country, law enforcement agencies, local leaders and educators agree: No place is immune from it happening.
Every threat has to be treated as credible, said Hyman, who has been with the department for nearly four decades. 
"Just because it's happening in Texas or Alabama or New York, doesn't mean it can't happen here in Tifton tomorrow," he said. "I can't close my eyes and say, 'This is little Tifton, Ga. — in South Georgia, we don't have that kind of stuff,' because we could have it."
Local government officials, too, prepare themselves for the possibility that they may be the next face on national news detailing to the country a mass casualty event that happened in their hometown.
"I've told my husband so many times, I don't want to be that mayor," Tifton Mayor Julie Smith said. 
She recently attended an active shooter training course with the Tifton Police Department held at a local elementary school. It's far from the first time she's watched the drill, but this time, she said, she broke down in tears.
"There's no community that is immune to this," she said. "There's no town. There's no schools. It doesn't matter if you're a small town, a large town. We all face these issues. We face issues with keeping our children safe."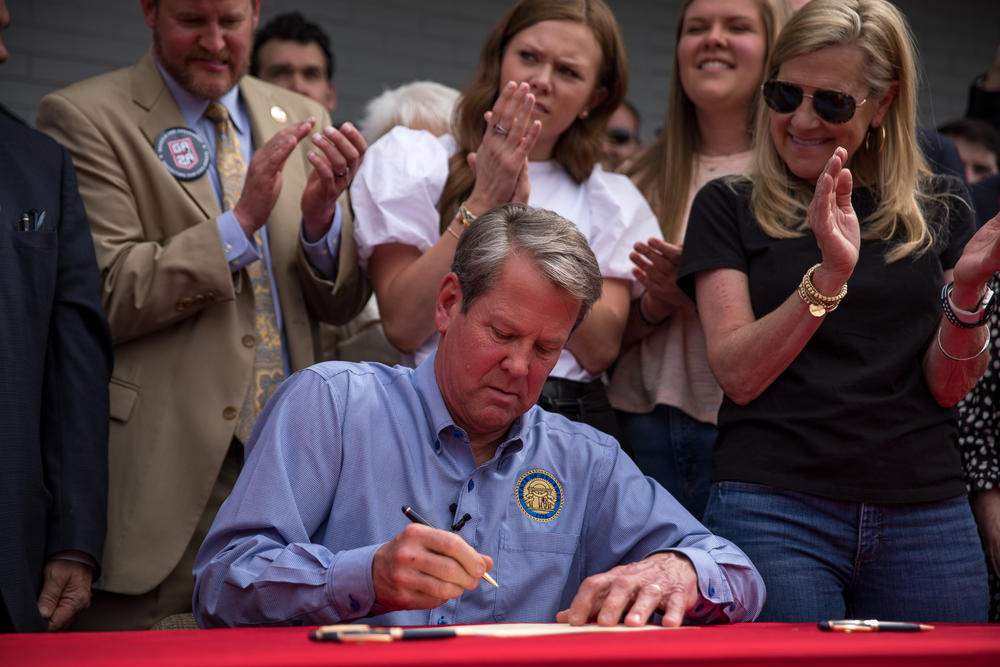 Gun rights and school safety
At the center of the debate of how to prevent not only school threats but the possibility of mass shootings across the board is Georgia's general lack of gun regulations.
In 2014, lawmakers passed a law which critics referred to as the "guns everywhere bill" that expanded the number of places Georgia gun owners could legally carry their weapons.
Then, in 2022, Georgia General Assembly passed what's commonly referred to as "constitutional carry," that makes it legal for gun owners to carry a concealed handgun in public without a license from the state.
Republicans and Second Amendment advocates cheered the measure as a small change to do away with unnecessary paperwork for individuals already legally able to own a gun. 
But Democrats and advocates for stricter gun laws point to spiking violent crime and say the law does away with one of the few background checks Georgia has on the books.
Superintendent Beasley with Clayton County said he believes the increase in weapons seen in the school system is an unintended consequence of the new law.
"Clearly we think it's tied to the new laws where people can just carry weapons and there are no repercussions," he said. "Clearly, it's spilled over into the schools and so we had to actually do what we needed to do to protect the instructional environment."
Georgia, like most other states, has been hit by a wave of violent crime. According to Everytown for Gun Safety, a national nonprofit that advocates for stricter gun control, Georgia saw a 44% increase in gun deaths from 2011 to 2020.
"There's no magic bubble around our schools that the problems in our communities of gun violence does not enter," said Morgan with GAE.
Morgan said her organization advocates for stricter gun control measures statewide in an effort to keep students safe like additional background check requirements and raising the age to purchase weapons.
"We have to look at those common sense solutions," she said. "We cannot solve that problem in our schools."
Even in a conservative, rural town like Tifton, where laws like constitutional carry are widely supported, Mayor Smith said the conversations on how to uphold Second Amendment rights while preventing shootings are something officials constantly grapple with.
"It's an interesting debate on what is our constitutional right, but at the same time, how do we protect our citizens — the most innocent of victims being children — against these horrific events that happen?" she said.
Secondary Content
Bottom Content