Section Branding
Header Content
Savannah Bananas unpeel 2023 schedule, revealing which 33 cities will host 'Banana Ball' games
Primary Content
LISTEN: Fans in 33 cities across 20 states will be treated to 'Banana Ball' next year. GPB's Benjamin Payne reports.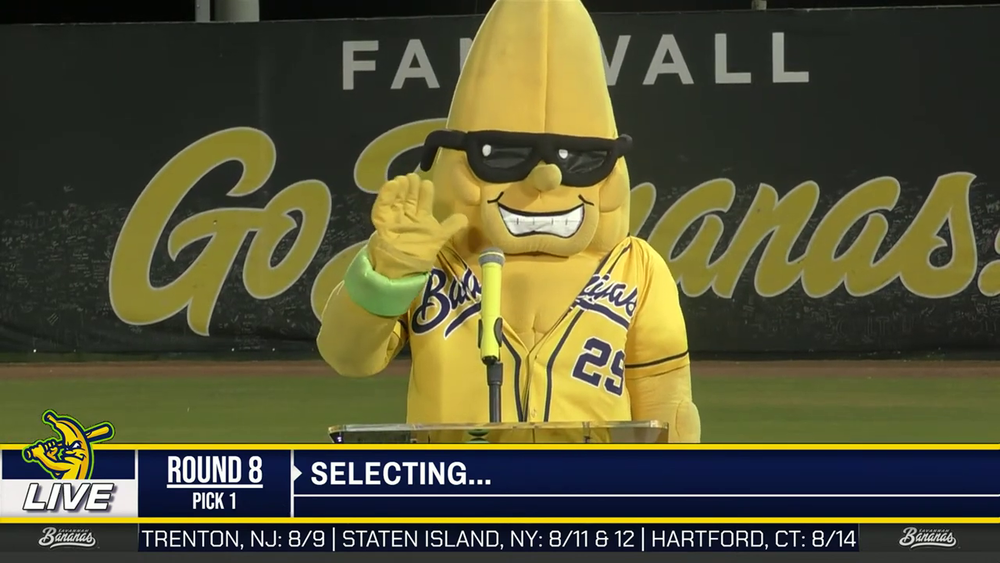 San Jose, Staten Island, Tulsa, Tampa, Nashville, Jacksonville.
No, these aren't part of the lyrics to "I've Been Everywhere" by Johnny Cash.
Rather, they're a few of the 33 cities where the Savannah Bananas will be playing next year, as the team showcases its signature brand of baseball before fans across the country.
"On this tour, you will see the most entertaining ball players in the world, playing Banana Ball, 'the greatest show on sports,'" said Bananas owner Jesse Cole on Tuesday night at Savannah's Grayson Stadium during the "Banana Ball World Tour Draft" — a live-streamed, hourlong unveiling (or, unpeeling) of the Bananas' 2023 schedule.
It all begins Feb. 17, when they take their talents to West Palm Beach, Fla. The Banana Ball season will run through the waning days of summer, culminating on Sept. 23 in Cooperstown, N.Y. — home of the National Baseball Hall of Fame and Museum.
Along the way, the Bananas will have — as Johnny Cash crooned — "crossed the deserts bare, man," as the team treks to Scottsdale, Ariz., and Peoria, Ariz., in the spring.
And, given their dazzling showmanship, another stop in the desert should come as no surprise:
"With the second pick of the fourth round of [the] draft, the Savannah Bananas select: Las Vegas, Nevada, baby!" proclaimed one of several grandmas in the "Banana Nanas" cheerleading squad.
Also on hand were the team's younger cheerleaders:
"That's right — it's the 'Man-Nanas': the world-famous 'Dad-Bod' cheerleading squad," said a long-bearded, tank-top-clad dad. "With the third pick of the fifth round of the 2023 Banana Ball World Tour draft, the Savannah Bananas select: Indianapolis, Indiana, baby!"
Also taking to the podium, albeit silently, was Bananas mascot "Split," who held up a sign declaring Milwaukee as a late-summer destination.
Even amid all the road trips, no city will get to harvest next year's crop of Bananas as much as Savannah: the "Hostess City of the South" will field 30 games at Grayson Stadium, beginning Feb. 25, seven years to the day that the Bananas announced their unorthodox name — a name that the club and its fans would slowly, but surely, grow into.
"That day changed everything for us," Cole said. "Well, not everyone loved the name, [but] that was the first time that fans knew we were here, and knew our mission to make baseball fun."
Secondary Content
Bottom Content