Section Branding
Header Content
Play (Banana) Ball! As Braves begin delayed spring training, Savannah Bananas embark on 'World Tour'
Primary Content
The Atlanta Braves begin preseason play on Friday at their spring training ballpark in Florida, but the defending World Series champions aren't Georgia's only beloved baseball team playing this weekend in the Sunshine State.
Enter the Savannah Bananas.
Although the club is a member of the Coastal Plain League, that collegiate minor league doesn't begin its season until late May. But there's nothing minor about "Banana Ball," the team's no-holds-barred brand of exhibition baseball — which makes its first-ever multi-city road trip this year, starting in Daytona Beach on Friday.
However, hometown fans got 2022's first taste of Banana Ball last Friday, when a kilt-bedecked bunch of Bananas took to a sold-out Grayson Stadium in Savannah.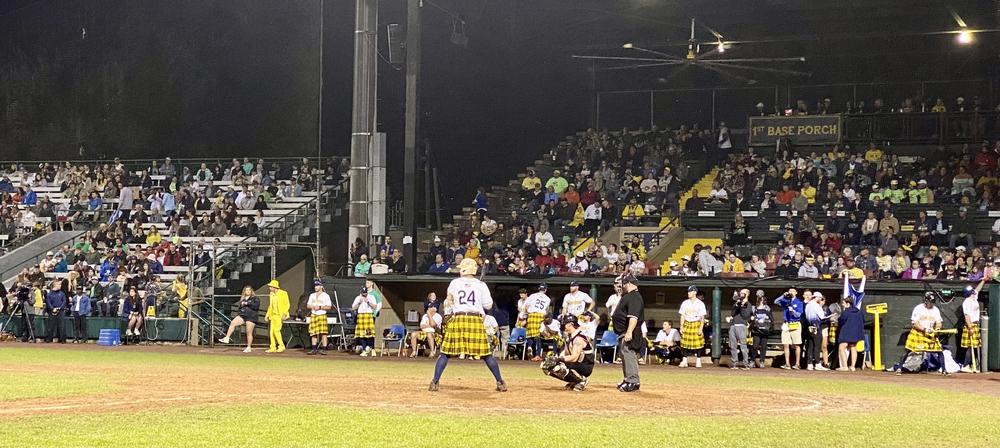 There, to the tune of Queen's "We Will Rock You," fans chanted against the opposing Party Animals, "We will, we will peel you!"
And peel them they did, as the Bananas won in walk-off fashion, 3-2.
But in sports, the final score alone typically tells only part of the story. Perhaps no sport is this more so the case than Banana Ball, which runs by its own set of rules.
For one, every inning counts: whichever team scores the most runs at the end of an inning is declared the "winner" of that particular frame, and is awarded one point.
The runs aren't cumulative, but rather reset after each inning — which helps explain how 10 runs were recorded in a game that ended in a score of 3-2.
But, even in topsy-turvy "Bananaland," three plus two equals five. In a game of nine innings, how can that be? It just doesn't add up — nor does it need to.
See, this isn't your grandma's baseball (unless your grandma happens to be in the "Banana Nanas" cheerleading squad): with a two-hour time limit, the game can end before nine innings are in the books.
That doesn't bother Christian Goldstein, who came to the game from nearby Tybee Island with her family: "It's wild and just a great, great time. We're having a blast. This has been one of the best family outings we've had in a really long time."
Locals aren't the only ones who flock to Grayson Stadium: it's a long way from home for Jordan Wertz of Pittsburgh, Pennsylvania. Waiting in line at the concession stand, he described Banana Ball as "out of this world. Definitely something I've never seen before."
So, what does one find on the concession menu at a Savannah Bananas game? Surprisingly, the usual ballpark fare: sunflower seeds, Cracker Jack, hot dogs, beer…
And, of course, bananas.
Secondary Content
Bottom Content