Section Branding
Header Content
Safety net hospitals in Georgia are at risk. Atlanta Medical Center is just the latest example
Primary Content
On a Wednesday outside Atlanta Medical Center, Cynthia Pratt is waiting for a lift, 20 miles back home to College Park.
"I've been coming to the hospital about ten years," Pratt says. "You know, people are friendly, they're family oriented. They treat you nice. You know, they treat you like you're somebody."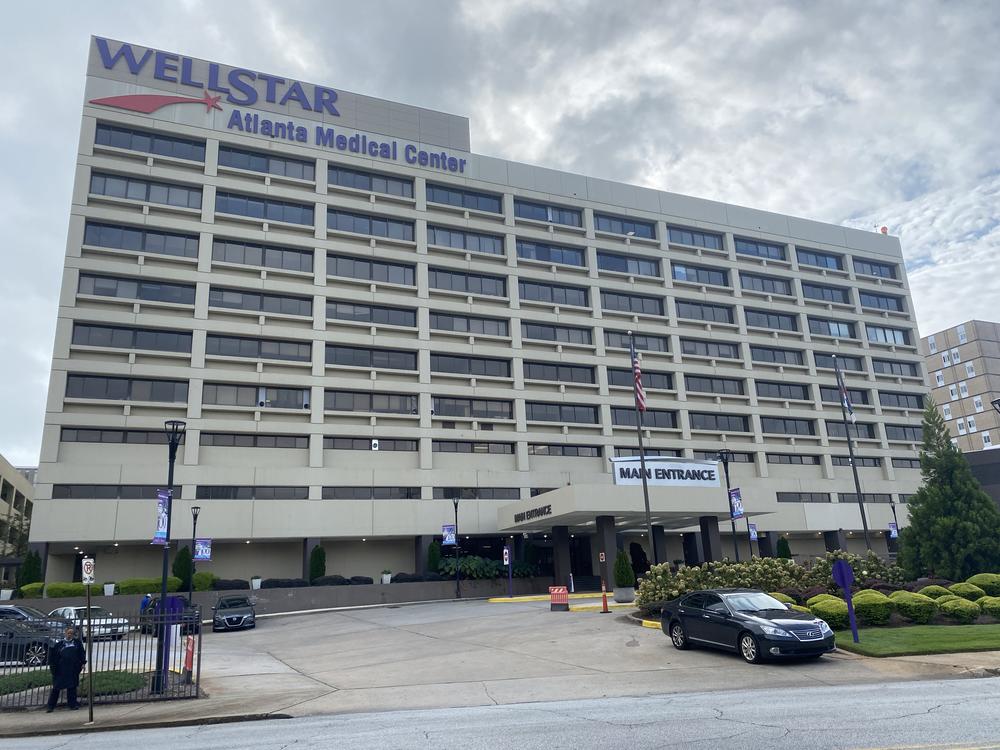 Pratt has a leg wound that she gets checked at the hospital once a week. She gets most of her treatment covered by Medicare. Atlanta Medical Center is where she sees a heart doctor and gets primary care.
A stone's throw away from Grady Memorial Hospital and Emory University Hospital Midtown, AMC is a safety net hospital, meaning more than 10% of its patient load can't afford to pay for care. More than 20% of its patients rely on federal health insurance. 
But after over 100 years of serving the community, the hospital is closing Nov. 1, and Pratt isn't quite sure where to go next. 
"You know, a lot of patients have to go places, too, not just the doctors," Pratt says. "Everybody's gonna be replaced."
In its original announcement, Wellstar blamed the closure on "decreasing revenue and increasing costs," saying losses from operations at Atlanta Medical Center reached $107 million over 12 months.
This is the second Wellstar facility to face closures in Atlanta this year. 
Hundreds of patients left behind by the closure of Atlanta Medical Center, many of them uninsured or underinsured, will need to go somewhere else for care. And nearby health care facilities aren't ready for them.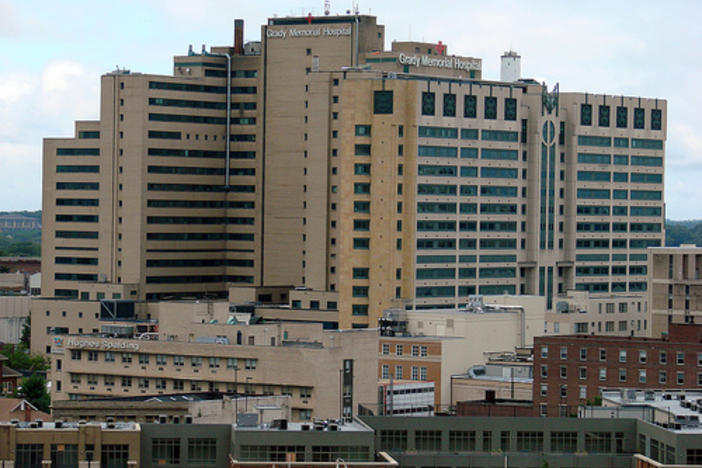 "We now have patients who have been admitted having to spend several hours in the ER before they're assigned to an inpatient bed," said CEO of Grady Health Systems John Haupert, speaking with GPB in late August. 
Grady Memorial Hospital is expected to take on 200 extra patients a day once the Atlanta Medical Center closes its emergency room on October 14. That's only a fraction of AMC's total patient load. 
But Grady, just one mile south of AMC,  already routinely diverts patients to other hospitals.
So even with Grady's help, patients could still be left looking for care, maybe even 100 miles away in Macon. Dennis Ashley, director of trauma care at the Medical Center in Macon, warns his hospital may not be able to pick up the slack.  
"If you look at that middle strip of the state, down Interstate 75, we've got our hands full with all the patients that we can handle," Ashley said. 
According to Liz Atkins of the Georgia Trauma Commission, health care facilities in South and North Georgia often send patients to Atlanta for more intensive care. 
"So reducing that number almost by half … is going to create a backlog of patients that need access to that care," Atkins said, referring to the loss of Atlanta Medical Center. 
But whether these surrounding hospitals are ready or not, picking up the slack in the health care system is what they agreed to do. 
Atlanta Medical Center, Grady Memorial and Atrium Health Navicent are nonprofit hospitals, meaning they must accept patients regardless of their ability to pay. That's in exchange for fat tax breaks. 
More than half of all hospitals in Georgia are nonprofit. Since 2008, four of the 10 hospitals that have closed were nonprofits, and three were government-owned. 
Monty Veazy runs the Georgia Alliance of Community Hospitals, which represents these kinds of hospitals. 
"We're walking a tightrope today because of the mix of payers," Veazy said, meaning the hospitals say costs from uncompensated and undercompensated care are putting them at risk of closure. 
Other factors, such as exorbitant costs for contract nurses amid a mounting health care workforce shortage, are putting nonprofit hospitals at a great risk of closure, Veazy said. 
"Any profits generated have to go back into the hospital or the community," Veazy said. "And when you do not have a good case mix, and that is the case with Wellstar, you can't make a bottom line."
Possible solutions are now campaign issues. 
Democratic candidate for governor Stacey Abrams spoke at the Medical Center in Macon during a campaign stop on Sept. 22.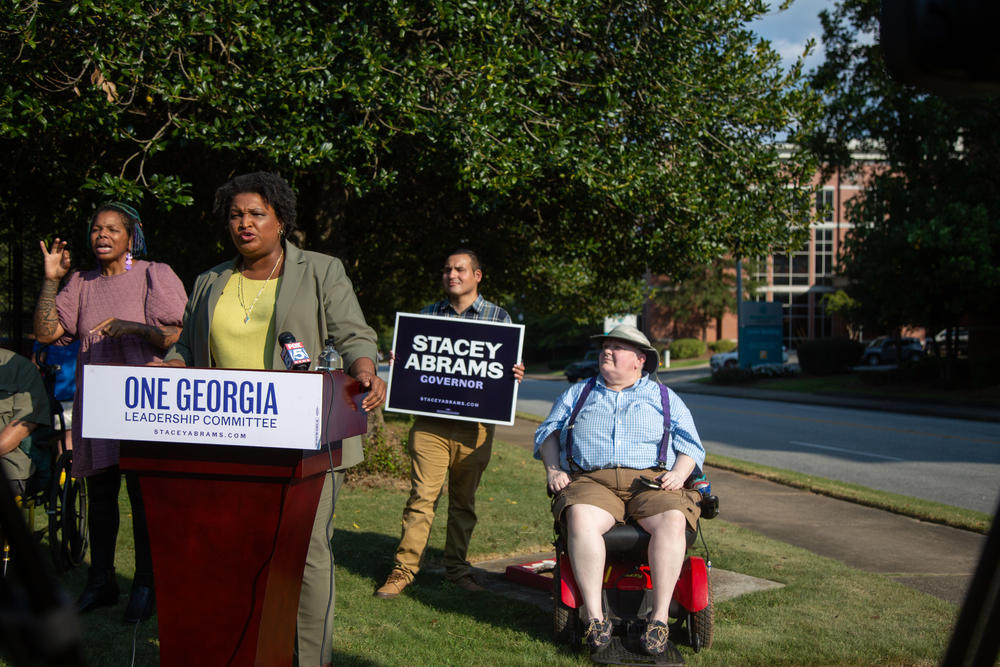 "You're going to be expected to accept these patients who are still coming here without insurance," Abrams said to the crowd. 
Abrams has made full Medicaid expansion her campaign's centerpiece. The federal government has encouraged states to pass this program since the passage of the Affordable Care Act, with the idea of providing financial stability to safety-net hospitals that often rely on fluctuating government support. 
Full Medicaid expansion in Georgia would insure an additional 500,000 people who otherwise can't pay for health care. 
"Medicaid expansion is more than giving a person an insurance card," Abrams said. "It's about making sure the rest of Georgia isn't paying their bill."
But even with the federal government pitching in at 90% of the cost, Medicaid expansion would still take some extra state money, which Georgia's Republican-led legislature has always opposed. 
Gov. Brian Kemp's partial Medicaid expansion offers a more conservative approach, covering 50,000 people with work requirements at almost three times less than what full expansion would cost the state. 
RELATED: Judge clears way for implementation of Georgia's narrow expansion of Medicaid
Hospitals in states with full expansion have seen more care paid for by Medicaid, according to studies from the Journal of the American Medical Association and Health Affairs Journal. Nonprofit hospitals in these states also close less often.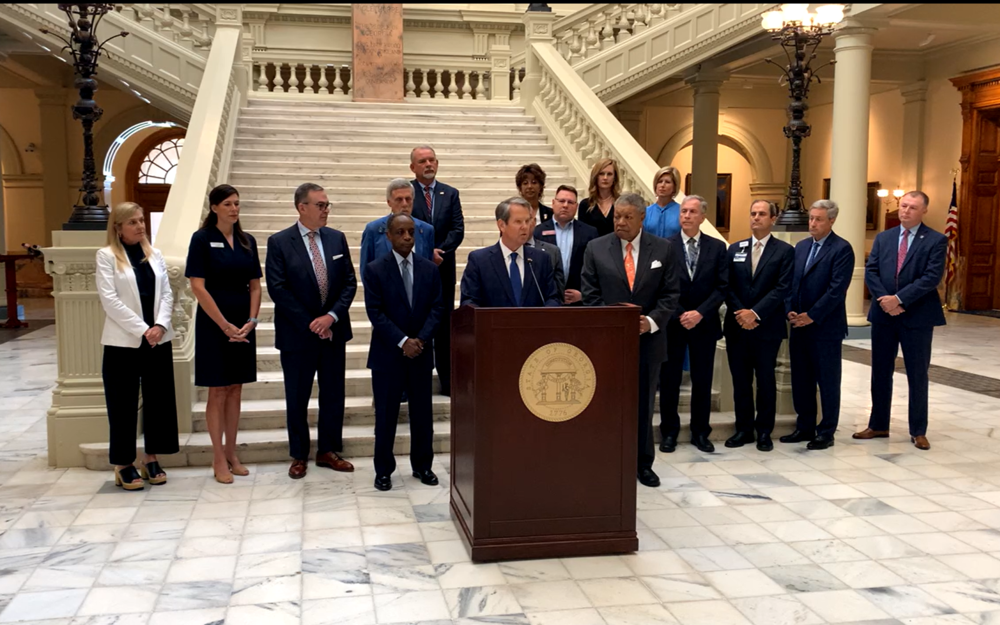 Kemp's solution is to award Grady Health Systems $130 million dollars of federal American Rescue Plan funds to build about 200 additional inpatient beds -- beds Grady already needed before they were expecting patients from  Atlanta Medical Center. 
"These are not Band-Aid solutions," Kemp said during a Sept. 15 press conference at the Georgia Capitol. "They are meaningful, carefully thought out and implemented measures designed to ensure this cornerstone of Atlanta's health care network is on solid footing for many years."
Though Grady Memorial Hospital does need more beds, lobbyist Monty Veazy said to expect more hospital closures unless something changes statewide. 
"We've been discussing this for over a year," Veazy said regarding the Atlanta Medical Center closure. "I think the timing was an issue, but I don't think it was a big surprise that their future was not going to last too long."
Adding extra beds at Grady could take at least a year. Meanwhile, the Atlanta Medical Center has already stopped accepting ambulance traffic to its emergency department.
Secondary Content
Bottom Content