Section Branding
Header Content
Macon Pride event features tale of a wedding disaster
Primary Content
LISTEN: GPB's Peter Biello speaks with writer Mark Mobley about his performance of "Friend of the Groom."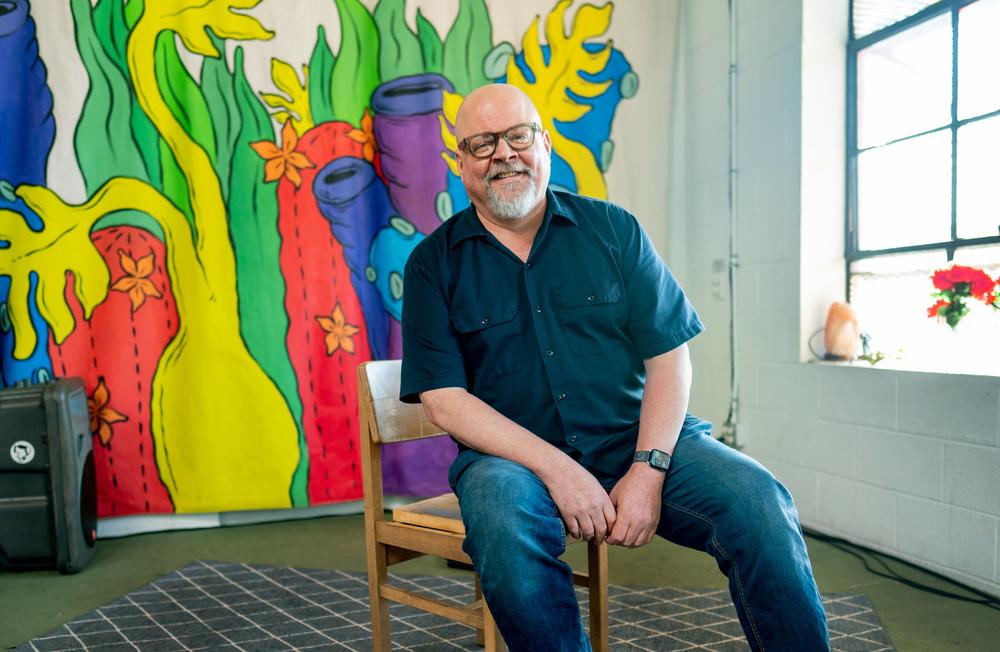 This year, for the first time, Macon Pride features a bit of theater, a performance of Friend of the Groom. It's the story of a wedding between a gay white man and a Japanese woman who needs to marry an American to stay in the U.S. What is supposed to be a small wedding turns into an elaborate event. Starring in this one-man performance is Mark Mobley, a writer and director of marketing and communications at the University of Georgia Performing Arts Center. Mobley spoke with GPB's Peter Biello.
Peter Biello: So tell us more about this play. What makes it a good fit for Macon Pride Week?
Mark Mobley: It's a story of a young gay man and his friends in the early '90s at a time where gay people could not get married. But this friend of mine, he was about, I don't know, 10 years older than me, decided to marry this Japanese dancer so she could stay in the country. And everything that could possibly go wrong went wrong. So the story of the creation of the monologue is actually in the monologue because I come home from Miami at the end of this long weekend, go to dinner with some friends. And I'm the only one who talks. Talking about what happened over the course of the weekend at this wedding. And I'm such a huge fan of Spalding Gray, the great late autobiographical monologuist, just that I decided an autobiographical monologue was the right way to go, where I could tell my story directly to an audience.
Peter Biello: And the culture has shifted somewhat since the 1990s. What major differences would stand out to audiences who may remember what it was like back then?
Mark Mobley: The issue of marriage is not so front and center now. Back then there was more than one person doing this sort of thing, marrying people, you know, fake weddings so they can stay in the country. So an old boyfriend of mine who I referenced in the show knew this lesbian couple who married to two Brazilian dudes so they could both stay in the country. So now with a much more inclusive society, it's interesting to sort of look back at the social lives and the way people behaved back then, you know, I mean, it's also it's not just about this one wedding. It's about other weddings in my orbit. I collect wedding stories.
Peter Biello: You collect wedding stories? Why?
Mark Mobley: I'll tell you my unified field theory of weddings. The reason weddings are so fraught with tension is that 99.9997% of people have never produced theater. And all of a sudden, on the most important day of their lives, they're involved in costuming, lighting, music, food, flowers, you know, blocking a rehearsal, a performance. All that stuff. And it's it's up to 11. Everything has to be absolutely perfect. And, you know, maybe there's a consultant there, a coordinator who's sort of a stage manager. But it's just all terrifying and wonderful at the same time. I've officiated a lot of weddings. Did one in Athens here over Memorial Day weekend. And I love it. It's really fun to be involved with. But I also collect wedding disaster stories.
Peter Biello: Wedding disaster stories. So this would count among those.
Mark Mobley: Oh yeah. When the groom's new boyfriend trips on ecstasy through the rehearsal dinner. And the only thing you can't hear during the ceremony is the groom's vows, because a train goes by at that exact time.
Peter Biello: Well, some of the descriptions of Friend of the Groom has this wedding as "ill-fated." But we should say that we don't know if it's ill-fated, at least not until the very end of this performance, yes?
Mark Mobley: Exactly.
Peter Biello: Okay, so you'll leave us hanging on how this turns out, but what do you hope audiences take away from this performance?
Mark Mobley: I know there's going to be a lot of LGBT people in the audience. I'm hoping that a lot of straight people, too, and pansexual or whatever it is, all kinds of people. Because it's not just a story about the fake wedding involving a gay man. It's a larger story about how we go through life and we encounter all these situations and somehow it all fits together into just a wild, wild life.
Secondary Content
Bottom Content