Section Branding
Header Content
Savannah singer-songwriter takes TikTok by storm with her live streams from Forsyth Park
Primary Content
LISTEN: GPB's Benjamin Payne takes a trip to Savannah's Forsyth Park, where singer-songwriter Clara Waidley was busking at the farmers' market — all the while live-streaming to her TikTok fanbase.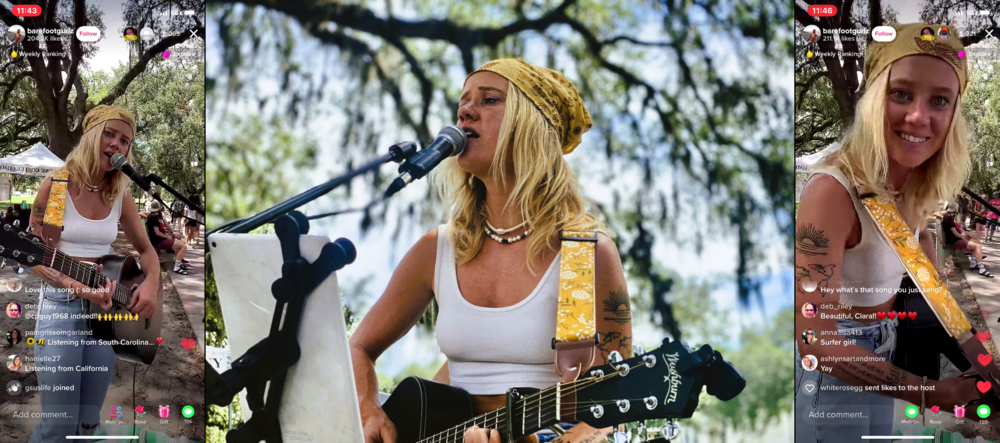 Viral memes. Funny cat videos. Gen Z dancers. Auto-Tune remixes.
Those are some of the things that might come to mind when you think of TikTok.
But the app is also transporting viewers to Forsyth Park in Savannah — specifically, to a new vendor of sorts at the weekly farmers' market: 25-year-old singer-songwriter Clara Waidley, whose sidewalk performances have taken TikTok by storm.
Her latest composition is an autobiographical folk-pop tune called "25," but she also live-streams heartfelt ruminations about her family and travel experiences, and recommends thrift-store finds to her more than 118,000 followers on TikTok.
"I would say I've had up to 5,000 people on a stream before and then as little as 100 sometimes," Waidley said. "But it's always great no matter what."
Some of those viewers will open the app just to hear Waidley (aka @barefootgurlz) perform in her distinctive acoustic style, like her winsome remakes of the Beach Boys' 1963 hit "Surfer Girl" and Mazzy Star's 1993 shoegaze classic "Fade Into You."
But many others will discover her by accident — in fact, that was the case with me: One Saturday morning I was on TikTok, getting my usual fix of cat videos. Then the app's algorithm recommended I take a break from the fur babies and watch Waidley jam out.
"The support from everyone on TikTok has been so, so awesome and really encouraging for me," Waidley said. "It's been a way for me to reach more people that also enjoy my music."
Although the virtual viewers are unseen (aside from their many glowing comments), playing before such a big audience has helped Waidley develop her stage presence.
"I feel like it helps me sometimes with some performance things just because I feel like there's more than just the people around me right now that are watching. I want to make sure I look like I know what I'm doing," Waidley said with a laugh.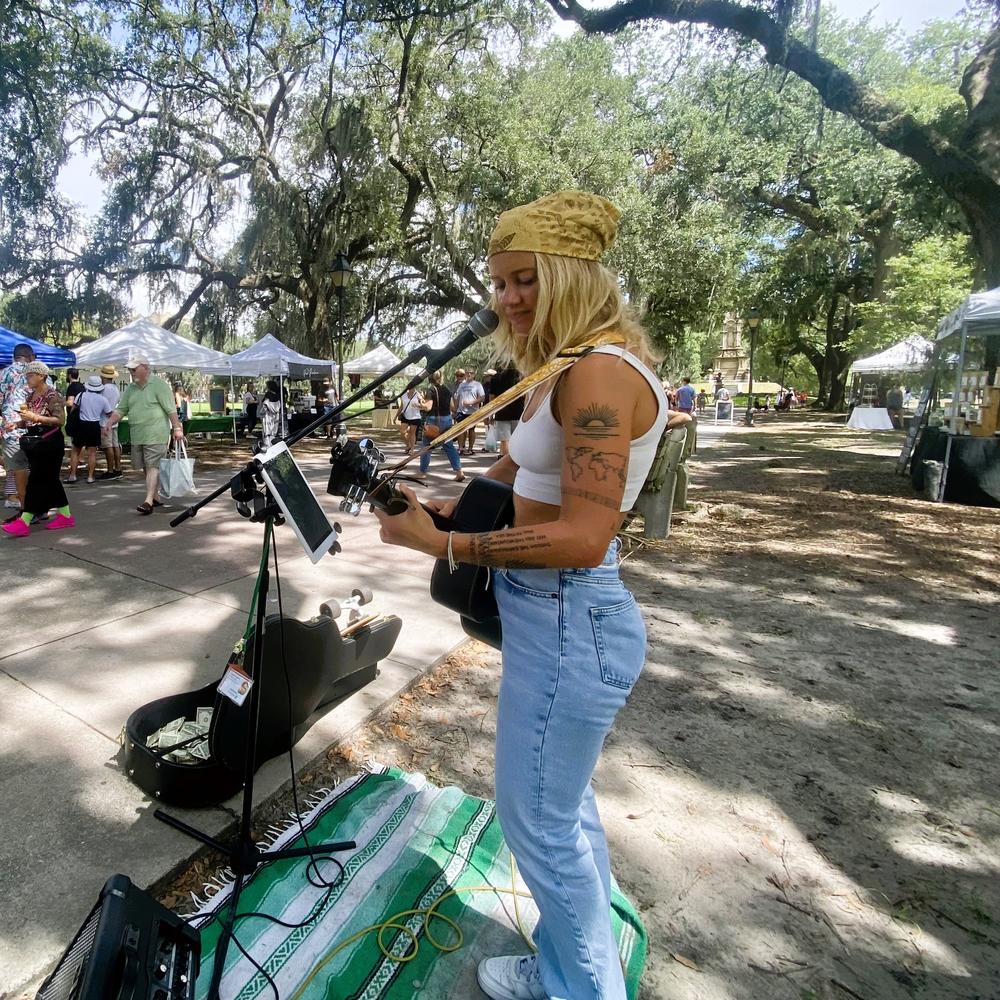 All the online exposure has led to some offline opportunities as well.
"Show-wise, people invite [me to play gigs]; I've played a few weddings because of TikTok," said Waidley, who originally hails from Michigan. "I've met the people who have helped me record my album that's coming up. TikTok has been a part of that. So, it kind of broadens the opportunities I have."
Because her live streams often take place at the busy Forsyth Farmers' Market, Waidley is not only live-streaming to the masses online, but simultaneously busking for whoever happens to walk by — or, toddle by.
The morning I went to the market, a little boy had a lot of words for Waidley — and proudly informed her that he, in fact, knows what that thing she's singing into is called.
"Microphone!" the boy shouted.
"That's right — microphone!" Waidley replied, all the while live-streaming to a couple hundred viewers at the end of her performance.
Before it ended, the boy put in a mumbled request, clarified by his mother: "You want her to sing a song about dinosaurs?"
Erupting in laughter, Waidley admitted that, for all her songwriting prowess and palette of musical covers, such a song was not on her repertoire — at least not yet, as she told her TikTok audience: "All right! Guess that will be on my list of songs to learn."
In the meantime, on this late summer morning, he'll have to settle for a song Waidley wrote called "Summer Forever."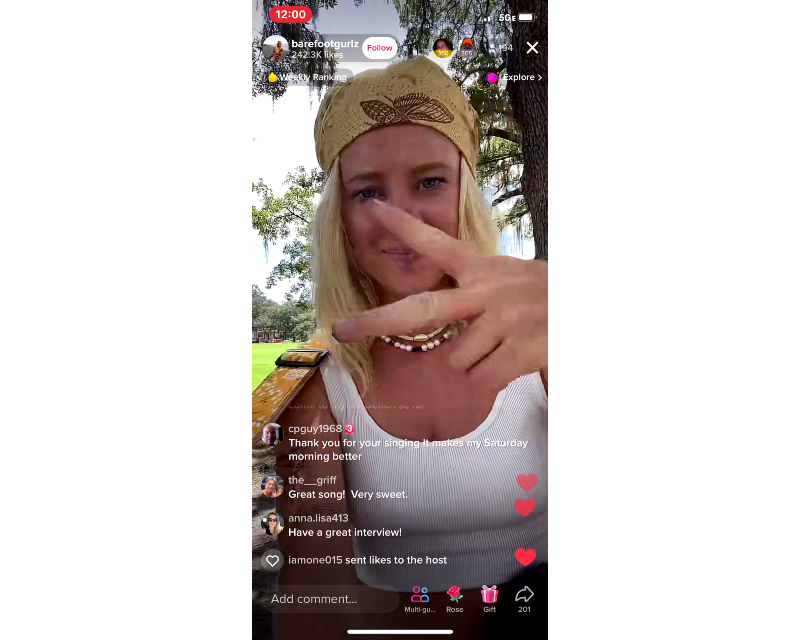 Secondary Content
Bottom Content