Section Branding
Header Content
GA Today: Kemp allocates millions to address homelessness
Primary Content

You've arrived at the online edition of the Aug. 30 Georgia Today newsletter, a twice-weekly publication featuring original stories from GPB News reporters and the latest headlines from around the state.
Prefer to receive the news fresh to your inbox so you don't miss any important headlines? 
Sign up here to receive the newsletter on Tuesdays and Thursdays.
Now, the news:
Kemp allocates $62M to address homelessness, housing insecurity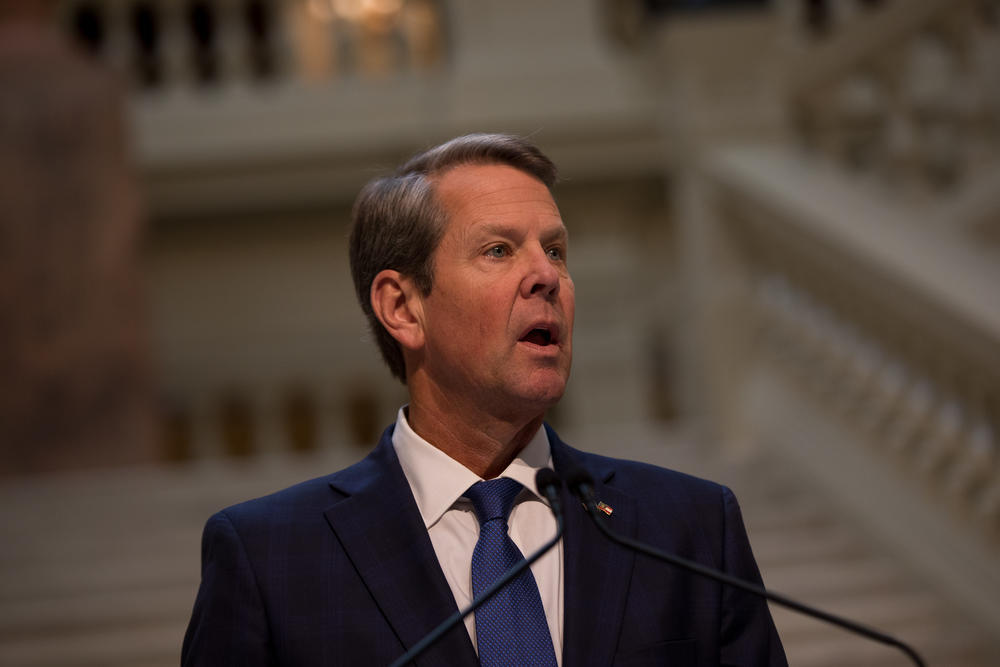 Gov. Brian Kemp. (File)
Gov. Brian Kemp announced Monday that his office will provide $62 million to help Georgia communities address homelessness and housing insecurity.
The governor's office will award the federal funds to 20 organizations who applied via a competitive process. The money will be used to build affordable housing, improve existing housing, and provide mental health services to people who are experiencing homelessness.
"As Georgians faced the unprecedented challenges and economic downturn of the pandemic, COVID-19 robbed some of their financial stability, expanding the homeless population in vulnerable communities," Kemp said. "Those who were already homeless faced even greater difficulties, with many already struggling with mental health or substance abuse issues."

 
Behind in the polls, Stacey Abrams is looking to abortion rights to help her win
Stacey Abrams didn't always support abortion rights. The high-profile Democratic candidate for governor in Georgia, the daughter of two retired United Methodist pastors, grew up opposing abortion because of her religious beliefs at the time.
"I evolved on this issue because I learned more," she said during a press conference in July. "And what I understand is that abortion is not a political decision. It is a medical choice."
Polling shows Abrams trailing slightly behind her opponent, incumbent Republican Gov. Brian Kemp, with a little more than two months until the November election.
But the party eyes a new opportunity for a boost in turnout in their favor: hopes that anger over anti-abortion laws will mobilize the base and even win over some swing voters.
Carter Center launches Georgia-focused election program
The Carter Center has long been known for its work fostering democracy overseas. But two years ago, it turned its attention to the United States.
Now it's launching the Georgia Democracy Resilience Network, a program aimed at getting people in Jimmy Carter's home state to avoid conflict and gain confidence in elections.
The program's co-lead, veteran Republican strategist Leo Smith, says it's less about election monitoring and more about events and discussions with a wide range of Georgians.
"We're talking about not the machinations of elections," Smith said. "But we're talking about the normative expectations of rhetoric and physical behaviors when we're engaging in civic and political action."
Georgia is the last state to take the hassle out of food benefits for millions of women and children
Think back to the last time you used a paper check at the grocery store. Now imagine using five, maybe 10 checks every time you shop for food. 
That's how WIC, the federally funded nutrition program which helps feed millions of low-income women and children every month, had always worked. 
In 49 states, that's changed. Georgia is the last state to get on board.   
A 2021 nationwide study in the Journal of the American Medical Association saw WIC participation increase 8% over three years in places with electronic benefits. 
So what took Georgia so long? GPB's Sofi Gratas has more.
California governor says the film industry should leave Georgia. But film workers disagree
Georgia's film industry is once again in the spotlight, against the backdrop of an increasingly politicized climate in the state.
Now, California Gov. Gavin Newsom is joining calls for film productions to leave states like Georgia altogether, saying their legislatures are waging "a cruel assault on essential rights" — and calling California "a freedom state."
Glen Peison, a Georgian who has worked as a prop designer on Netflix productions in the state, is familiar with the modus operandi. He's spoken to GPB News before about calls to leave Georgia:
"Why does any same ole narrative pop up about anything? It's easy. It's convenient," he said. "And for the most part, politicians tend to be lazy and unimaginative."
Atlanta civil rights icon Xernona Clayton turns 92 
Happy 92nd birthday to civil rights icon Xernona Clayton. 
This legendary Georgian says the secret to her longevity is seeing every day as an opportunity for doing good and helping others.
A key aide to the Rev. Martin Luther King Jr. who helped sustain the civil rights movement in the 1960s, Clayton has been working for racial harmony since the movement began.
"We're having too many racial conflicts," Clayton told The Associated Press during an interview in her office in Atlanta. "It's so idiotic that we've had that racism in the first place. Because none of us had any say-so about how we got here."
 
"My mind always goes back to what Martin Luther King would have said," she said. "He always said, 'You know, we CAN love each other.' He said, 'There's just no reason why we can't.' And it was hard for him to understand why we don't."
Headlines around the state
The Atlanta Journal-Constitution:
Decaturish: 
Red and Black:
Secondary Content
Bottom Content