Section Branding
Header Content
Though Hurricane Fiona remains distant, there's a heightened risk of rip currents off Georgia shores
Primary Content
LISTEN: More intense and frequent rip currents are forecast for Coastal Georgia this week, as the ripple effects of Hurricane Fiona are felt along the East Coast. GPB's Benjamin Payne reports.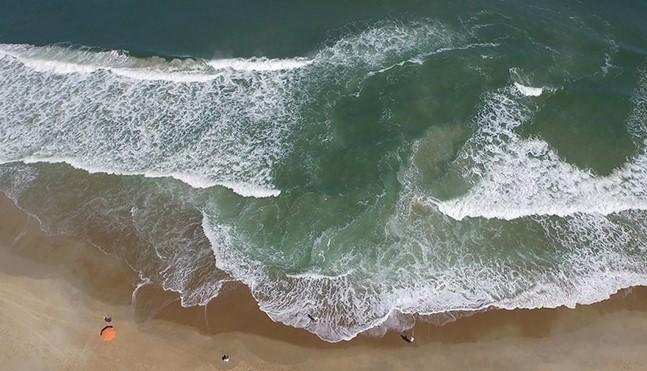 The National Weather Service is warning beachgoers in Coastal Georgia and South Carolina to be on high alert for rip currents this week, as Hurricane Fiona travels north across the Atlantic Ocean.
Even though Fiona is forecast by the National Hurricane Center to get no closer to Georgia than about 600 miles, officials warn that's still close enough to bring Fiona's ripple effects to shore, in the form of life-threatening rip currents.
"One of the things that tropical systems can do — especially large tropical systems like Fiona — is they can generate some really impressive swells that actually radiate away from the tropical system themselves, and they can travel very long distances," NWS forecaster Blair Holloway said. "So, even though Fiona is going to stay really far away from the southeast coastline, we do expect those swells to arrive. And with increasing swell energy, the potential for rip currents increases as well."
These small but deadly channels of water can be difficult to spot, so the NWS advises beachgoers to always swim near a lifeguard.
But if you do find yourself in a rip current, the National Ocean Service said the best way to escape is by swimming parallel to the shore instead of towards the shore, since most rip currents are less than 80 feet wide.
"If you get caught up in one, they can pretty quickly pull you back away from the beach, and that can be can be quite troublesome for folks," Holloway said.
According to preliminary data from the NWS, 61 fatalities have occurred in surf zones across the U.S. this year, 40 of which were attributed to rip currents.
Secondary Content
Bottom Content