WATCH LIVE | Former First Lady Rosalynn Carter's Funeral Service And Internment At 10:55 A.M.
Section Branding
Header Content
Georgia advocates, Democrats hail long-sought climate bill as pivotal
Primary Content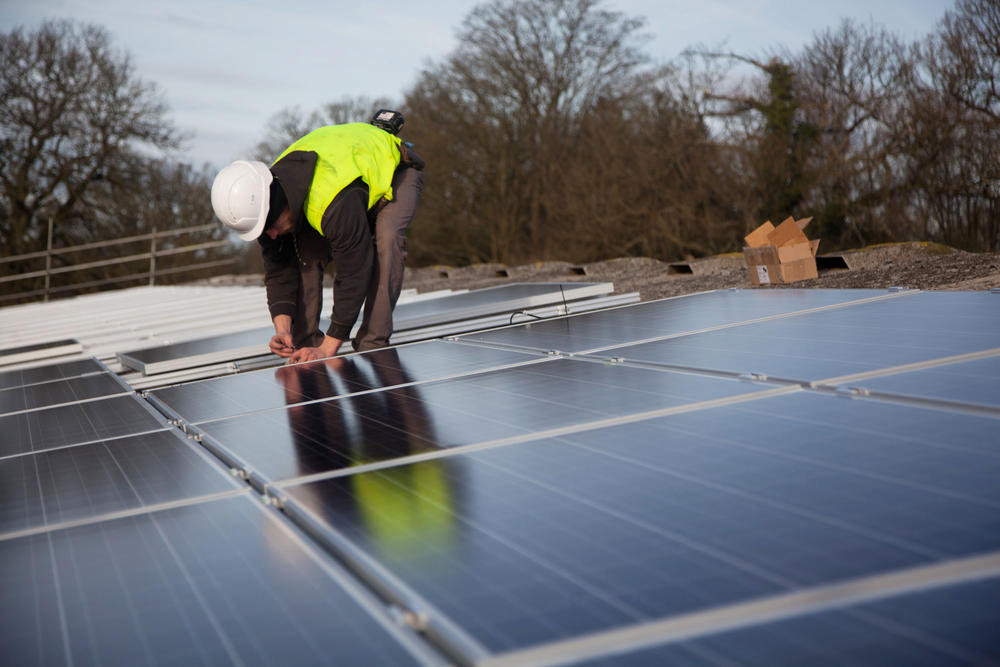 The U.S. House of Representatives is set to take up a bill Friday that many environmental groups and Democratic legislators say represents a historic investment in clean energy that will create jobs and make solar panels and electric vehicles more affordable for years to come.
The Democrats' climate, health and tax bill, dubbed the Inflation Reduction Act, aims to reduce greenhouse gas emissions with tax incentives designed to boost solar and wind energy production, speed electric vehicle adoption and help Americans improve their household's energy efficiency.
The bill's supporters say it will increase the number of electric vehicles on the road, clean up dirty power plants, and reduce reliance on fossil fuels while also lowering the cost of prescription drugs for seniors and ensuring corporations pay their fair share as a way to raise revenues.
"The (bill) passed by the Senate makes our tax code fairer by ensuring profitable corporations and high-income households pay what they owe, and use the revenue to pay for health care, clean-energy jobs, and programs to reduce pollution and emissions that cause climate change and hurt low-income communities. This is a good deal for Georgians," said Staci Fox, president and CEO of the Georgia Budget and Policy Institute.
However, congressional Republicans and other opponents argue that the sweeping climate, health, and tax package that passed through the Senate on Sunday is too generous with tax credits and say the measure will not help curb rising prices at the pump and in the grocery store.
The measure is expected to advance through the House, where Democrats hold a slight advantage over Republicans.
Georgia Democratic U.S. Rep. Lucy McBath, for one, said she'll vote in favor of a bill that provides hard-working American families a chance for their children to live in a healthier environment. 
"This bill helps them do that — it makes health care more affordable, tackles climate change, creates new, good paying jobs, and brings down the costs of prescriptions and household items for every single American," she said in a statement.
The Southern Alliance for Clean Energy and a host of other environmental advocates say that the bill will create well-paying jobs in clean energy while also reducing costs for wind, solar, and battery-powered renewable energy.
Additionally, environmentalists say the bill offers rebates and tax credits that will lower household utility bills and further entice Georgians to drive electric trucks and cars while also providing more resources to disadvantaged communities that have been hit hardest by fossil fuel costs.
The bill is projected to include the country's single largest ever clean energy investment of $370 billion, helping to pave the way for lowering carbon emissions by 40% from 2005 to 2030.
DeKalb County Commissioner Ted Terry, who is a Democrat, said the legislation is a win-win for governments looking to save money and slow global warming, which could stave off disasters and make communities become more resilient.
In DeKalb, the bill will help further local efforts that have included applying for a portion of the $18 million for elective vehicle infrastructure provided through a Georgia Power program. Meanwhile, other incentives for governments will save millions of dollars in stormwater and other utility costs in DeKalb, Terry said.
A study by the Rhodium Group estimates that the bill and other factors will also save households an average of $1,025 per year by 2030.
"The Inflation Reduction Act is by far the most consequential legislation for climate action that has ever passed," said Maggie Shober, research director at the Southern Alliance for Clean Energy. "I think it will take some time to be able to process the scale and positive effects this will have on our collective future.
"But the fight is not over, we'll need to keep up momentum across the country and here in the Southeast. Paired with more federal, state, and local actions, we will be more equipped to face the most existential threat of our time: climate change," Shober added.
While the bill offers substantial changes in drug price policy and corporate taxes, the provisions for climate change stand out, including a production credit meant to induce manufacturers to make more renewable components like batteries and wind blades.
The measure also includes Georgia Democratic Sen. Jon Ossoff's Solar Energy Manufacturing for America Act, which extends a 10-year tax credit at 30%. The tax incentive has been credited with helping to stimulate the industry at places like Dalton's Qcells, which recently announced 470 new jobs as part of a $171 million expansion.
And the bill expands the existing tax credit program for electric vehicles, providing $7,500 in tax credits for new zero-emission vehicles and $4,000 for used ones. The high-end trucks built at the future Rivian electric vehicle plant would likely not be eligible for the $80,000 cap for trucks and SUVs, and new sedans must cost less than $55,000. There is also a cap on income that limits the tax credit to individuals earning less than $150,000 a year and married couples who make less than $300,000.
A few automakers have expressed concern about being able to meet the initial demand while Republican lawmakers have panned the measure's tax credits as a give-away.
Terry argues that more than money is at stake, although he says DeKalb will save millions of dollars as it moves its fleet to electric vehicles and outfits more government buildings with solar panels and uses floating solar panels to provide electricity at a water treatment plant.
"Climate change is gonna not only affect us in our pocketbooks in terms of the budget, but also in our ability to live in our own county," Terry said.
But some advocates say Democrats have overstated how much the package would protect future Americans from some of the systemic environmental and health disparities disproportionately affecting minorities and lower-income families.
Only $47.5 billion is dedicated to areas that benefit low-income families and communities of color, according to a preliminary analysis from the Just Solutions Collective, a nonpartisan think tank that advocates for environmental justice and equitable climate policies.
Brionté McCorkle, executive director of Georgia Conservation Voters, said the bill is helping build for the future while tackling some of the systemic problems that have plagued communities of color. The new job opportunities should also bring about much-needed change, she said.
"There's are a lot of dollars in manufacturing and other things that could create opportunities for new technologies, new companies, new investors," she said. "If you want to get in the business now, it's a pretty dominant industry. The industry is changing and with the equity angle, people of color are in a better position now."
This story comes to GPB through a reporting partnership with Georgia Recorder.
Secondary Content
Bottom Content