Section Branding
Header Content
Farmers have silently struggled with their mental health for years. Are they ready to talk?
Primary Content
Drew Echols doesn't remember ever talking with his father about mental health. Or his grandfather. In fact, he doesn't remember the last time he talked about his mental health at all.
"We talked about work a whole lot more than we should, and talked about our physical or mental well-being, probably a whole lot less than we should," he said.
Echols is the general manager of Jaemor Farms in Alto, Ga., which has been in his family since 1912. Sitting on the side of the Old Cornelia Highway, the farm's market location at its peak serves about 13,000 visitors a day — shoppers filling their carts with fresh produce and baked goods.
But while customers peruse items in the market aisle, Echols' phone rings nonstop. There's a call from a broker about a shipment. A staff member with questions. His wife wonders who's picking up their son, who has Down syndrome.
Echols lives under a pressure that has been passed down for generations — the high-stress job of running a farm.
"I think probably one of the biggest stressors is that you just ultimately want to be successful because it has been in the family for five generations," he said. "Do I want to be the one that screws it up?"
Compounding stress
The fallout of Hurricane Michael in 2018 and the chaos caused by the pandemic shed light on a problem that, until recently, has only been discussed in hushed tones behind doors: the deteriorating mental health of Georgia's farming community.
More than 40,000 farms contribute to Georgia's $69 billion farm industry — the largest economic driver in the state.
But with uncontrollable variables like inflation and extreme weather, things can quickly go wrong. Georgia farmers shoulder the pressure of fluctuating prices and the chance that their crop could be lost in an instant.
"We've lost 54 million pounds of blueberries this year due to, really, one freeze," said Gary Black, Georgia's Agricultural Commissioner. "There will be 54 million pounds of Georgia blueberries that will not be on the shelves of America just because of one night."
Little is known about the level of stress farmers and producers carry and how they cope with it. Anecdotal evidence suggests it strains family relationships, contributes to a reliance on drugs and alcohol and a rising number of suicides.
Startling new research from Mercer University depicts near crisis levels of stress. A statewide survey showed that 29% of farmers in Georgia report thinking of dying by suicide at least once per month and 42% of all farmers have thought about dying by suicide at least once in the past 12 months.
Those in the industry describe a pervasive stigma that keeps farmers and producers from seeking out help coupled with the isolation that comes with the job. Even for individuals who do voice a need for support, access to mental health care in rural areas falls far short.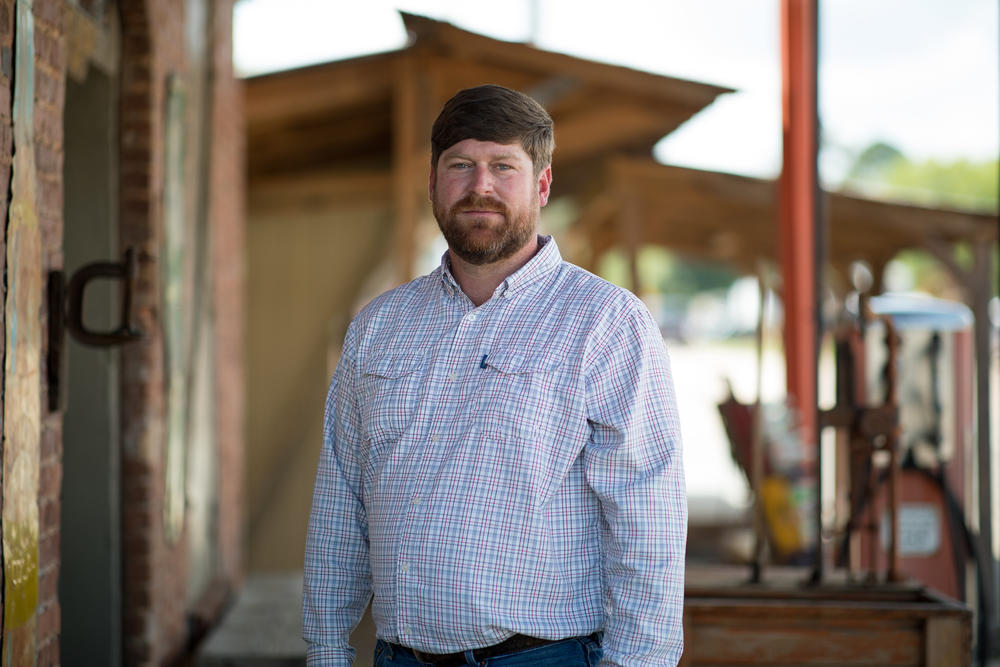 On his family cattle farm in Upson County on Yatesville Highway, Will Bentley spent his childhood getting up early and going to bed late. The farm was founded in 1823 and has since been passed from generation to generation.
"There's nothing that means more to me than our family farm," he said. "It's something that we take great pride in."
But the love for the profession comes with a level of uncertainty. Agriculture is one of the few industries where the prices depend heavily on factors like trade deals and supply and demand, said Bentley, who is also the president of the Georgia Agribusiness Council. 
"That's very stressful on a day-to-day basis, to know that you have no control over what you make that year," he said. "But you've got to get up every single day and go to work and try to dig it out of the dirt. That puts a lot of pressure on people. And sometimes we've seen really, really heartbreaking results from that stress."
Inflation and supply chain issues that have hit Georgians' budgets hard have also created increasing costs for farmers struggling to get their product from the ground to grocery store shelves.
Chris Butts, executive vice president of the Georgia Fruit and Vegetable Growers Association, said costs for things like fertilizer and pesticides in some cases have doubled. At one point, wooden pallets went from $4 to $25 apiece, he said.
"A farmer is trained and knowledgeable in how to deal with weeds or a pest and how to market their product; those are things that they can control," Butts said. "The things they can't control, like trade wars, the pandemic and rising input cost— that's what gives me the greatest fear, because it just seems to be one thing after another."
Even Bentley's father worked several off-farm jobs to keep things up and running during down years. 
But "that's just what Dad did," he said.
"We certainly knew that there's always pressure and stress on my father growing up to keep the farm going," Bentley remembered. "A lot of times these are generational-type operations and nobody wants to be the generation that has to sell the family farm."
At the University of Georgia Tifton campus in May, agriculture leaders, health care workers and mental health specialists gathered in hopes of finding solutions to the problem plaguing the community.
"I don't have to tell you why we're all here," said keynote speaker Ray Atkinson, director of communications with the American Farm Bureau Federation. Atkinson rattled off a familiar list: high prices, labor issues, weather, COVID-19 and the war in Ukraine.
"You add up all these pressures over and over — piling on top of each other," he said. "I like to say that farm stress is compounded with interest. It just keeps growing and multiplying exponentially."
But those involved in the effort to address the mental health needs of farmers face one big initial obstacle: getting farmers to talk about mental health in the first place.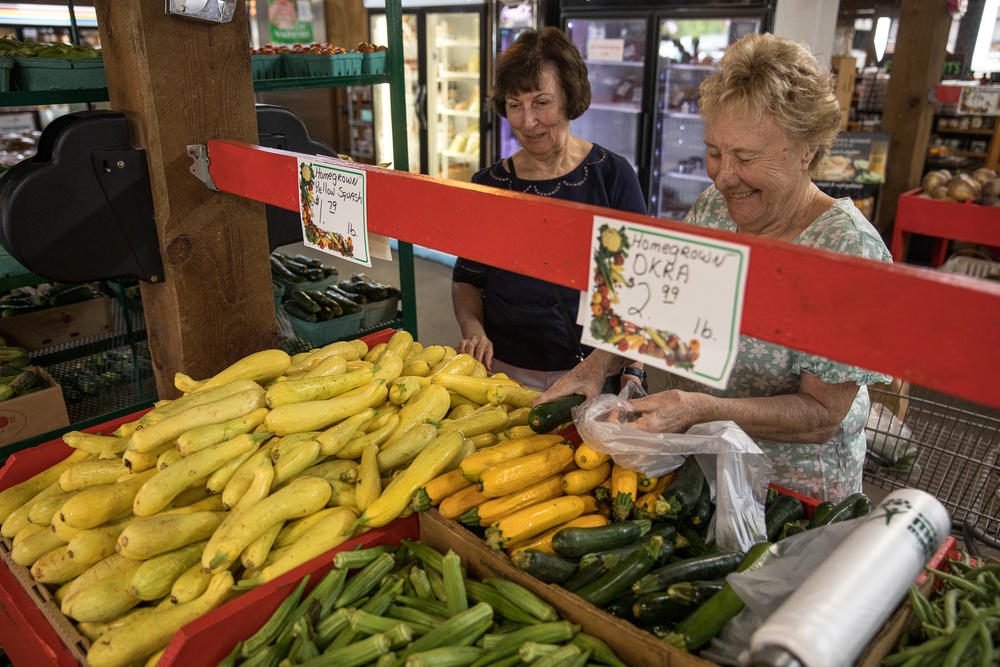 'No idea where to turn'
Georgia farmers say that conversations around mental health didn't take place at the kitchen table growing up. But that's something that mental health experts and industry leaders are working hard to change.
So who do farmers confide in? Research suggests faith leaders. 
The Rev. Hugh Ward was late that day to the Farm Stress Summit in Tifton. The retired Presbyterian minister is now the chaplain at Colquitt Regional Medical Center and on that particular morning he was consoling the wife of a local farmer who had fallen ill.
While her husband slept, she wept about the possibility of losing their farm to extreme weather that had damaged their crops. Ward is familiar with these conversations after spending more than 50 years serving the rural Georgia community — farmers are a bulk of his congregation.
"The more time you spend with them, the freer they are to share their innermost feelings with you," Ward said. 
Researchers and industry leaders are trying the same tactic to get farmers to open up about their mental health needs: meeting them where they are, whether that be on the farm, a local farm bureau or weekend market.
Agriculture Commissioner Gary Black said the Georgia Department of Agriculture uses its biweekly market bulletin, which has a circulation of about 40,000, to subtly extend resources.
"We're going to make sure that in every one of our issues, somewhere is the 800 number for people because they're not going to wear it on their sleeve," he said.
Lily Baucom, executive director of the Georgia Foundation for Agriculture, agreed that to reach farmers you have to get creative.
"What are ways that farmers are willing to accept information and resources? Because it may not be in a very public way," she said. "It's reaching farmers at home or with more personal touches."
The team at Mercer University studying farmers' mental health challenges found that a surprising amount of the 1,600 individuals surveyed wanted mental health support but didn't know where to find it.
RELATED: How researchers are getting farmers to talk about mental health
About 60% of the farmers, their spouses and farmworkers polled don't have access to basic medical care. More than half didn't have insurance of any kind. 
"If a grower in a rural area says, 'I have no idea where to turn,' then that tells me we've got work to do," Butts said.
He and other industry leaders worry about isolation leading to the worst possible outcomes: a reliance on drugs or alcohol to cope with the stress and even the possibility of suicide.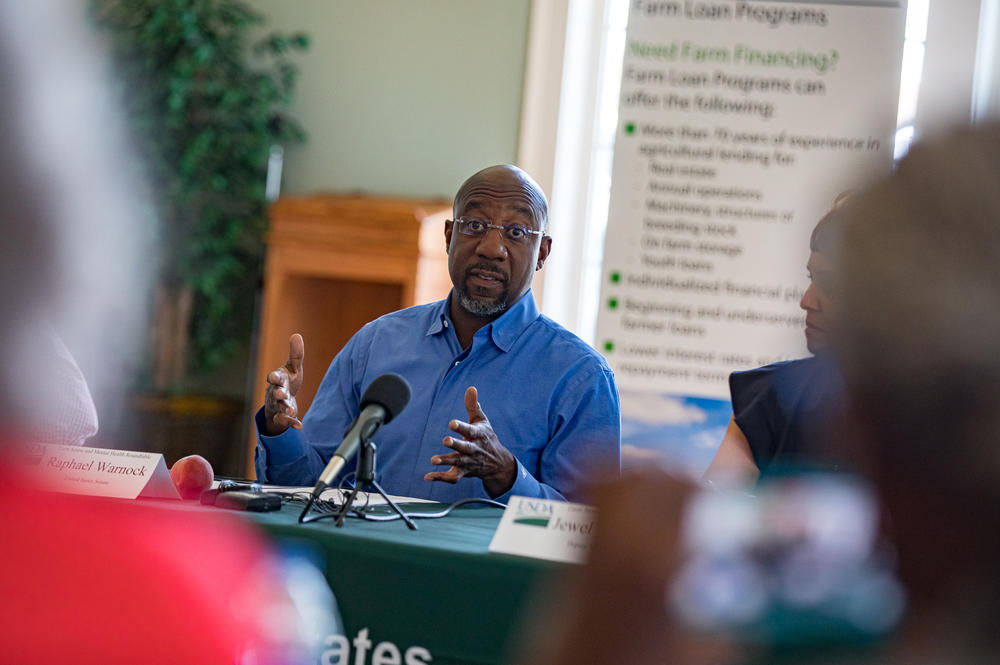 A federal focus
Georgia's federal politicians are also working to start potentially life-saving conversations with farmers about their mental well-being.
At Dickey Farms in Musella, a strange cast of characters gathered. Republican state lawmakers waited for the arrival of U.S. Sen. Raphael Warnock, a Democrat.
Legislators pledged a renewed focus on the mental health system last session and state Rep. Robert Dickey, a peach grower and Republican chairman of the House Agriculture Committee, said that extends to Georgia's agriculture community.
"I'm just proud that our state and our country is really recognizing the importance of good mental health," he said. "I think it's something that's been hidden and people tried to deal with on their own in the past."
Warnock, who sits on the Senate Agriculture Committee in Congress, said stakeholders need to "chip away at the stigma."
"We don't stigmatize someone if they're having trouble with their heart or their liver or if you're stomach's upset; you take some medicine and bring it back into balance," he told the room. "The brain is an organ. And so we have to think about it in those terms."
The senator from Georgia brought with him U.S. Department of Agriculture Deputy Secretary Jewel Bronaugh, who said she's been worried about farmers' well-being since 2016. 
At the time, the Centers for Disease Control and Prevention released a study that showed that individuals in farming, fishing and forestry occupations have a suicide rate five times higher than the general population. 
"We don't need to lose another person to mental health and to stress and suicide," she said.
Congress recently allocated $10 million to the Farm and Ranch Stress Assistance Network, which connects farmers to local mental health supports. 
Industry leaders are working on how best to get the agriculture community connected to resources on the ground. But for now, stakeholders say just getting farmers like Drew Echols to start reflecting on their mental health is a step in the right direction.
Echols' grandmother passed away in 2020. He said physically, farmers often "work themselves to death." But the 43-year-old has started to notice the impact of the time working on the farm on his body, too — and not just physically.
"Some of that physical starts playing over into that mental," he said. "And that's probably only going to get worse as you age."
GPB News is part of the Mental Health Parity Collaborative, a group of newsrooms that are covering challenges and solutions to accessing mental health care in the U.S. The partners include The Carter Center, The Center for Public Integrity, and newsrooms in Arizona, California, Georgia, Illinois, Pennsylvania and Texas.
Secondary Content
Bottom Content