Section Branding
Header Content
Monkeypox testing and vaccination available in all Georgia health districts
Primary Content
The federal government is ramping up its supply of monkeypox vaccine. Georgia expects to receive more than 34,000 doses over the next month and a half. GPB's Ellen Eldridge reports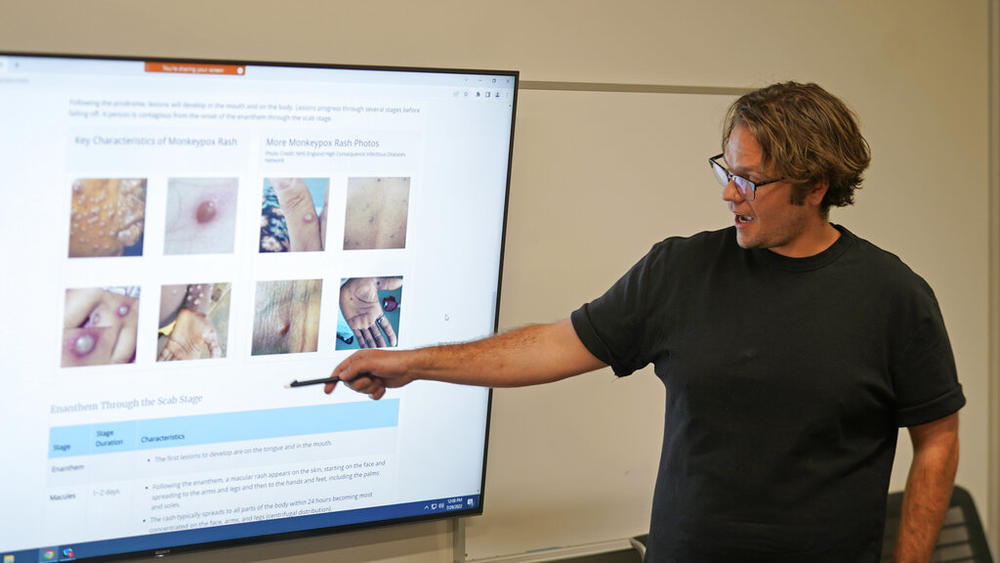 Testing and vaccination for monkeypox will be available in all health districts starting this week, according to the state health department.
Demand is high as the Centers for Disease Control and Prevention report the number of Georgia cases of the disease has risen to 430 as of Tuesday, Aug. 2. The first case of monkeypox in Georgia was confirmed by public health officials in early June.
There are now nearly 6,000 confirmed monkeypox cases nationwide, according to the CDC.
Julie Swann, a public health supply chain expert with the Institute for Operations Research in the Management Sciences, said she believes that reported cases are probably an undercount of what true cases are in the U.S. as well as in other countries.
Currently, men who have sex with men are at highest risk of contracting the disease, but monkeypox is not considered a sexually transmitted infection.
"I do expect us to start detecting more and more cases outside of that community, especially if monkeypox becomes endemic," Swann said. "We have a limited amount of time to do additional testing and prevention of transmission to try to reduce the impact of both the current monkeypox outbreak, as well as the spread that could occur well beyond the current time period."
A woman in Georgia has been diagnosed with monkeypox, according to the Atlanta Journal-Constitution.
What is monkeypox?
Monkeypox was first discovered in 1958 when two outbreaks of a pox-like disease occurred in colonies of monkeys kept for research, thus leading to the naming of the disease.
It originates in various wild animals, not only monkeys, and can be transmitted if a person comes into contact with the virus from an animal, a human or contaminated materials such as bed sheets.
In 2003, the U.S. experienced an outbreak of monkeypox, which was the first time human monkeypox was reported outside of Africa.
"But this year we have seen a spread of monkeypox that is unusual in size and scope," Swann said.
The virus enters the body through broken skin, the respiratory tract, or mucous membranes in the eyes, nose or mouth.
Human-to-human transmission is thought to occur through prolonged physical contact including but not limited to sex.
Monkeypox, which does not occur naturally in the United States, is a rare disease with symptoms similar to but milder than smallpox.
"Most doctors may have never expected to see a case of monkeypox in their clinic in their lifetime," Swann said. "And now many providers are faced with potential cases and may not necessarily be familiar with the symptoms and how they're being realized or with the testing procedures."
RELATED: Rising monkeypox cases expose the nation's need for public health funding
Recognizing the symptoms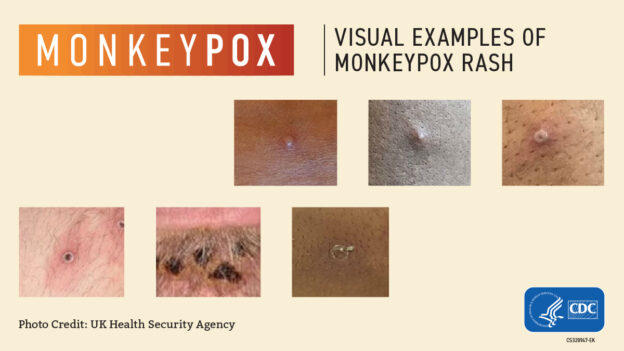 You can recognize potential monkeypox infection based on the similarity of its clinical course to that of ordinary discrete smallpox, the CDC says.
After infection, there is an incubation period of roughly one to two weeks, before the development of symptoms such as fever, malaise, headache, weakness, etc. Shortly afterward, lesions and a rash appears develop and evolve together on any given part of the body. The evolution of lesions progresses through four stages — macular, papular, vesicular, to pustular — before scabbing over and resolving.
The illness typically lasts two to four weeks.
Monkeypox begins with fever, headache, muscle aches and exhaustion and can be fatal, even though it is typically milder than smallpox. It is transmitted to people from various wild animals, such as rodents and primates.
Though, traditionally, swollen lymph nodes are a defining feature of monkeypox infection, Georgia DPH epidemiologist Dr. Cherie Drenzek said many of the state's cases are occurring in people who are not extremely sick.
The infected people have neither had a fever nor swollen lymph nodes, and the number of lesions in the monkeypox rash is very minimal.
"Some of them have very few lesions, maybe even one or two, and they often are located in the genital area," Drenzek said. "And they also can progress pretty rapidly through the stages of the rash."
Drenzek said she believes the symptoms could have been overlooked because, in some patients, the rash doesn't look the same as in previously documented cases.
Those who are aware of monkeypox, their own symptoms or own potential exposure are asking to be tested, but people who do not know as much about the disease may not know that they have been exposed, and may not have much access to health care or to testing, Swann said.
"What I am anticipating is that over the next few weeks, we'll likely find that there is a greater burden of disease that is unknown in communities of color or in lower income communities, or even in populations that are both affiliated with the population of men who have sex with men and affiliated with other groups," Swann said.
The vaccine is only manufactured by one company

The U.S. Food and Drug Administration approved in 2019 the Jynneos vaccine for the prevention of smallpox and monkeypox disease in adults 18 years of age and older who are determined to be at high risk for smallpox or monkeypox infection.
This is the only currently FDA-approved vaccine for the prevention of monkeypox disease, and it is manufactured only by Bavarian Nordic.
The federal government allocated nearly 50,000 doses to Georgia, of which 13,876 arrived in Phase 1.
"We have drawn down all of that vaccine," Georgia Department of Public Health spokeswoman Nancy Nydam said Monday, Aug. 1 in an email. "Our next allocation is 34,120, which will be available over the next four to six weeks."
Individuals should contact their local health department for information about appointments, events and vaccine availability.
"I would encourage people to be patient," Swann said. "It will take time to get tests and vaccines fully deployed and distributed and administered."
Swann encourages people to take precautions, and consider behavioral modifications while they're waiting for testing or vaccines.
"And I encourage people to learn about the disease so that they can help their providers and communities be aware of the resources that are available as well," Swann said.
Secondary Content
Bottom Content