Section Branding
Header Content
Some Georgia cities have plans for rehousing instead of pushing the homeless out of sight
Primary Content
It's early in the morning and commuter traffic is just starting to stream past the camp Tiffany and about half a dozen other people share a few feet away from Spring Street in Macon. 
On one side of the tents squished together in an ad hoc compound is a fast food restaurant. On other sides are a gas station, the four-lane road with a turn lane and, just feet away, the empty lot which, until the week before, had been home to the campsite. 
Tiffany (she only wanted to give a first name) was one of a number of unhoused people who had been forced to move her home when Macon-Bibb County came to one of these camps strung like beads up and down the riverfront just off of downtown days before with a bulldozer and an ultimatum: Move it or lose it. 
Representatives from the Salvation Army shelter and the Brookdale Warming Center (a kind of wraparound service center for the housing insecure) had offered brick-and-mortar shelter space for a week. In fact, the groups were still cajoling people to use the shelters right up to the moment the tent sites that didn't move were scooped up and crushed. 
No one said "yes" to a shelter. In fact, most hardly moved at all, including Tiffany. Her new tent site is literally feet from where she'd been staying before the demolition. 
Tiffany said of course there are places she and her neighbors would rather be. 
"Normally in a hotel room," she said. "Or a house. Apartment." 
What would it take to get there?
"Get myself together," Tiffany said.
The number of chronically unhoused people in the country is rising. It's a trend which has been growing through the pandemic following years during which homelessness actually dropped. That's true in Georgia, too.
As the unhoused become more and more a part of our daily lives, some communities are starting to take action. Sometimes, like in Macon, that means simply pushing the unhoused out of the way. But in other cities, it can mean creating plans to get people off the street so they have the headspace to, as Tiffany said, get themselves together. 
Charles Hardy, who works with the unhoused in Athens, is not at all surprised to hear people say "no" to what we think of as a "homeless shelter."
"Even here we got probably nine or 10 individuals that have been living in the woods for 13, 14 years," Hardy said.  "So that's like telling a 3-year-old baby to go drive a car, when you take them out of the woods and try and put them in a shelter."
Hardy leads the 1st Step shelter. 1st Step has only been up and running for a few months. It was created when Athens residents decided their long-standing tent city, known locally as "Cooterville," had to go. 
Hardy said he and his colleagues asked the people in Cooterville: If you can't be here, where do you want to be?
"And like 99.9% of them said, 'Outside in the tent,'" Hardy said. 
That's why 1st Step is a tent shelter. 
It has running water, portable toilets, an outdoor kitchen and some recreational rooms, but the personal spaces are all family-sized tents on their own platforms. There's enough room for 55 people and Hardy said there's a waiting list to get in.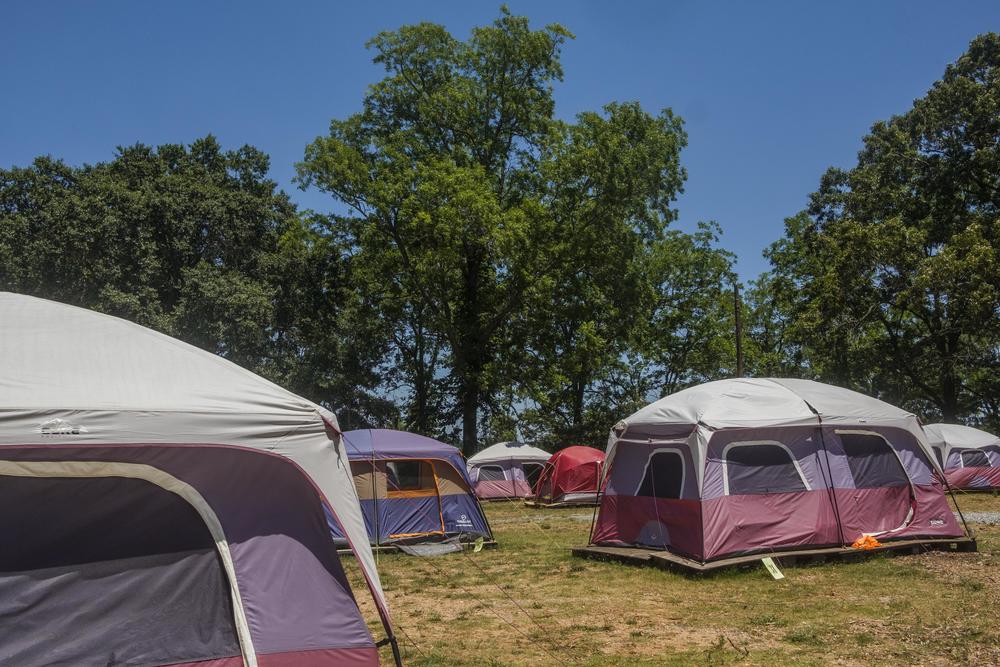 In a garage converted into a TV room, resident James Byrd explained a key rule is different, too.
"Like, the other shelter, you got to come in at a certain time. Like you got to come in like at 6," Byrd said. 
He meant 6 p.m. Traditional shelters usually make people leave in the middle of the day and come back in the evening. Get back too late and you run the risk of someone else taking your bed, leaving you to sleep on the street. 
"But here you come in when you get ready," Byrd said. 
And once you get a bed at 1st Step, it's yours until you are ready to move on. Charles Hardy said the other rules are simple. 
"No drugs, no alcohol, no weapons and no disrespecting the staff," Hardy said.  
There's an unarmed security guard 24-7 to make sure things stay calm and there are regular visits from the local mental health care provider so people can access those services, too. 
"It's like your own home, just tent-wise," said Gayshena Coleman, a resident who is disabled. 
Coleman and James Byrd agreed: Without the daily anxiety of where to sleep, you have time to work on yourself. 
"And I just been doing better," Byrd said. "My next step is to try to get my own place."
That's the other aim of !st Step where they work to move people from emergency shelter to what is called rapid or supported housing in local apartments. They have rehoused seven people and given them rent support in the first five months they have been open.  
1st Step is not alone in that work in Athens. In fact, they are part of a constellation of organizations working to rehouse people in the city. 
"I mean, that's the critical element of the Housing First approach, which is to say, we want you stabilized, meaning you have a roof over your head," Athens-Clarke Mayor Kelly Girtz said. 
Girtz cast the tie-breaking vote in the Athens-Clarke Commission to push $2.6 million to Charles Hardy's tent shelter. A vocal bloc of Athens residents still raise "not in my back yard" objections to the facility, even though you really have to look for 1st Step to find it, as it's hemmed in by the perimeter highway and a chicken processing plant. 
Regardless of the objections, Girtz said the city had to do something. 
"In Athens, we really didn't have a brick-and-mortar option," he said. The red-hot real estate market in Athens saw to that. A tent shelter was the best thing at hand."
But really, Girtz said, arguing over a tent shelter or a brick-and-mortar shelter is really beside the point. The point is for a city to have an executable plan to get people off the streets. 
"That's exactly right, because you're always going to have a continuum of human need," Girtz said. 
Which, some cities have found, requires a Continuum of Care.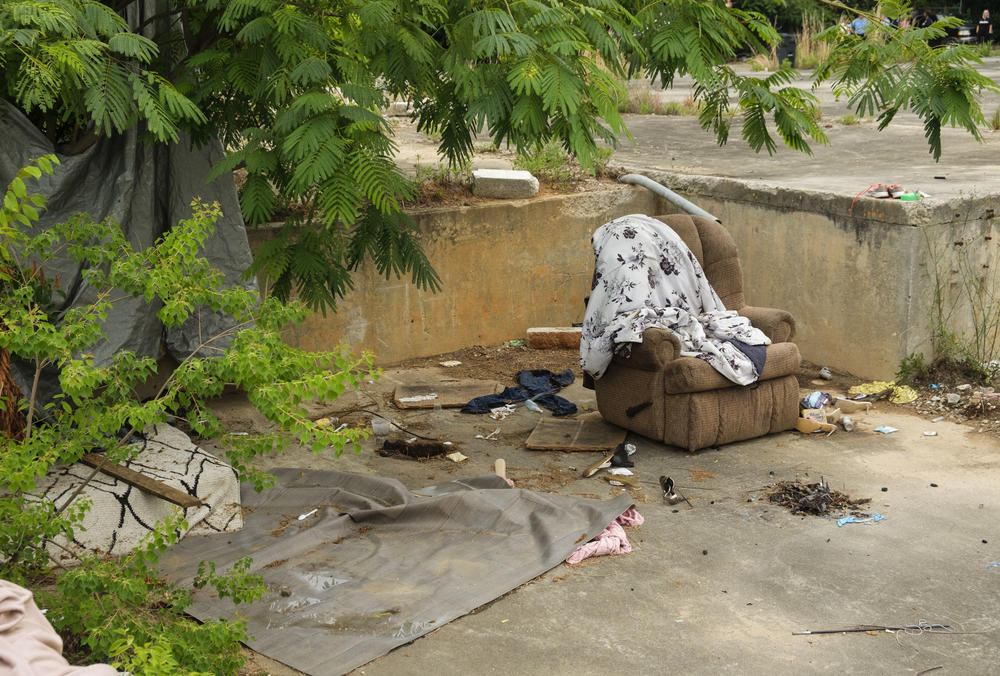 Continuum of Care, or CoC, is the official name for the rehousing plans cities file with the federal department of Housing and Urban development. Athens, Atlanta, Columbus, Savannah and Augusta and others in Georgia have CoC plans, which means they get HUD money for rehousing. They have to explain how they spend it, too. 
1st Step is literally the first step in the Athens CoC. 
In the 2021 fiscal year,  the Athens Continuum of Care plan describes some 291 beds, supported by $877,142 in HUD money, available for either rapid rehousing or permanent supportive housing. 
That quick move to supportive housing is what people like James Byrd at 1st Step are looking for and what Girtz hopes they can expect: a place to call their own, with rent support for at least a while, where they can continue getting back on their feet. It's an approach that has been very successful in places like Houston, Texas, in reducing absolute numbers of people living on the streets. 
Hardy would like to see his vision of supported tent sites as emergency shelters expand, even exported to Atlanta. Girtz said he's not sure what Athens may do with the tents after the initial two-year financial commitment to them ends. 1st Step is an experiment in the city's commitment to the unhoused.
"It's clear that we're going to have to work overtime between now and 18 months from now to make sure that Steps 2, 3 and 4 are in place," Girtz said. "And that's what I feel immense pressure to get underway."
Back in Macon, where the homeless encampment was bulldozed, there is no Continuum of Care plan on file with HUD. 
The private nonprofit Macon-Bibb County Economic Opportunity Council receives a little over $250,000 in CoC money annually, earmarked for rapid rehousing. It's part of the leftovers disbursed by the state after more complicated and competitive plans are funded and only about 30% of what Athens receives.
But documents show that the Macon money is rarely spent for the chronically unhoused, instead paying for emergency shelter for people right after they've lost their homes. It works out to a couple months' rent for recipients in peak years and is a reflection of the severity in Macon of another vexing problem for cities: housing insecurity. 
Still, with a Continuum of Care plan, Macon would probably have more money to help both the housing insecure and the chronically unhoused who, for now, are still likely to be pushed around on the map. 
Secondary Content
Bottom Content