Section Branding
Header Content
Two of Macon's Confederate monuments begin moving this week
Primary Content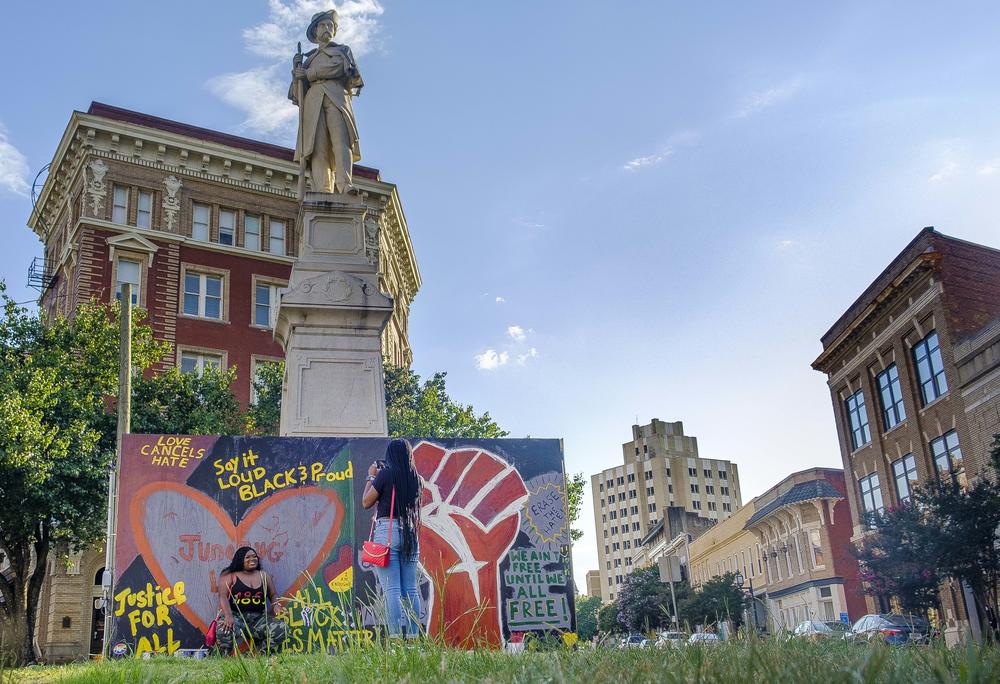 A pair of monuments to the Confederacy in downtown Macon will be moved starting Wednesday morning.  
The first to go will be the soldier in the triangle where Macon's Cotton Avenue slants into Second Street. It was the subject of a 2020 protest where a box built at the statue's base was decked out in art inspired by the Movement for Black lives.
The second is a monument to the mothers of Confederate war dead a few blocks away in a park on Poplar Street in view of Macon's City Hall. 
Both monuments are being moved with the support of the Sons of Confederate Veterans and the Daughters of the Confederacy. No public money will be spent to move the monuments.
Alex Morrison heads Macon's Urban Development Authority which will guide the next step: turning the Cotton Avenue statue's home into a public plaza.
"We think this is a signature location to have a green space that really speaks to human connectivity and the community that Macon has become," Morrison said.
Trey Wood has had a view of the back of the Confederate soldier's head from the building and office he has owned for 37 years. He's ready to see the monument go. 
"I recognize that this could be a contentious issue for some folks and it shouldn't be," Wood said. "And besides that, it is affording an improvement right here in my front yard. So yeah, I'm all about it, man."
Both statues will be moved just outside the entrance to Macon's historic Rose Hill Cemetery where hundreds of Confederate soldiers' graves are marked with headstones and where, in the Oakridge section of the cemetery, an untold number of the formerly enslaved rest unmarked.
Secondary Content
Bottom Content