Section Branding
Header Content
Law enforcement enlists mental health experts to help save lives — 'a paradigm shift in policing'
Primary Content
SAVANNAH, Georgia — Sometimes when Savannah Police Department officers are called to a scene of a crisis, those who respond may not look like police at all.
Officers arrive in an unmarked Ford Explorer, donning a simple blue polo and gray khaki pants. 
Their SUVs offer more comfort than the usual police police vehicle, with only a thin partition separating the front and back passengers. The seats are soft, not hard molded plastic.
No flashing lights line the top of the vehicles, and the department's logo isn't emblazoned on the side. 
It's part of an effort started in 2020 in the coastal city to respond to the growing mental health crisis — a way of de-escalating a tense situation without anyone getting hurt or the person being sent to jail, as was common in the past.
"We have a very subdued look because in Savannah, a lot of people don't want other people to see them with the police," said officer Julie Cavanaugh. "So the person doesn't feel like that they're going to jail or that they're encountering a police officer that's in a full uniform."
Cavanaugh and the behavioral health unit respond to community members in crises with the toned-down appearance. A key component is having a trained mental health professional with them.
Angela Spivy, a behavioral health clinician, rides with the team for 40 hours a week. They respond to anything from disorderly conduct calls to suicide attempts to overdoses. 
Spivy fills a role that traditional policing hasn't always included: an expert on scene who can diagnose individuals who may need mental health support. 
It's a change from previous tactics when people suffering from mental crises were often arrested, a strategy that only exacerbated their issues and resulted in jails filling up.  
Spivy provides a calm, professional presence, able to talk people down from a breaking point. It means providing help and saving lives and bringing a peaceful end to a potentially dangerous situation.
She referred to one recent call where a man was waving a gun in public. She and her team managed to calm him and he was taken to the local mental health services center.
It was a situation, she said, that could have gone a lot differently.
"I was able to evaluate him and determined that it was a mental health issue," she said. "Whereas any time before, that individual probably would have been arrested and taken to jail."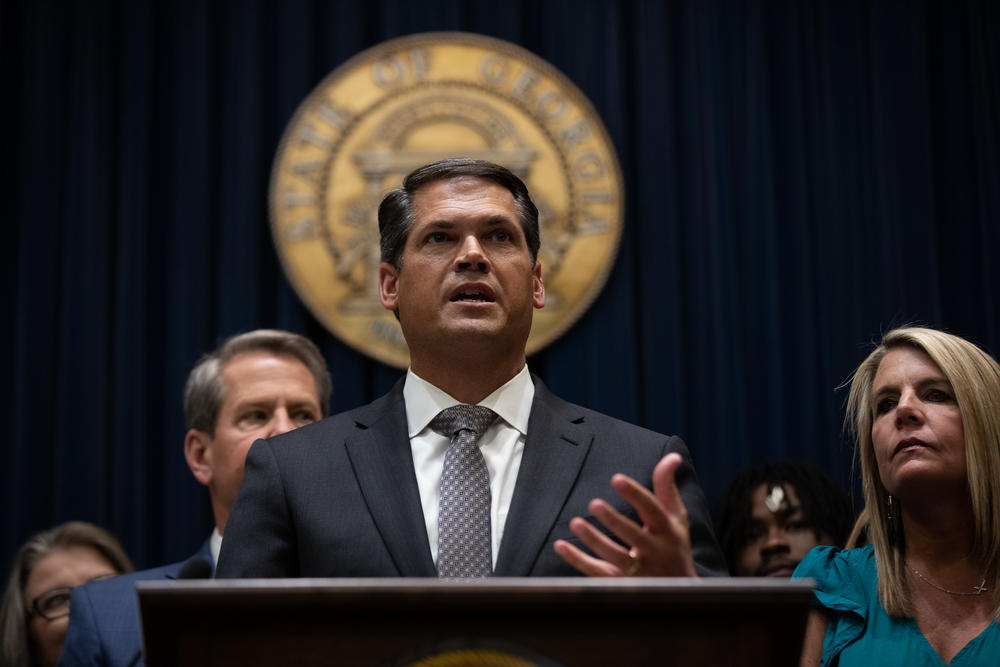 Renewed focus on mental health
Law enforcement officers say that they have long shouldered the heavy responsibility of fielding calls from Georgians who need mental health support. 
It creates strain across the system, they say, with officers responding to emergencies not related to crimes. And officers often are not trained extensively on how to deal with someone in mental crises like psychosis or severe depression. 
They are left with few options but to make arrests.
Georgia House Speaker David Ralston championed mental health reform during the 2022 legislative session.
Ralston, a Republican from the small North Georgia mountain town of Blue Ridge, made clear that a comprehensive mental health bill was his No. 1 priority. Georgia has consistently ranked the worst in the nation for mental health services.
Around the state, Ralston said he heard too many tragic stories from people with mental health issues who told him the easiest way to get help was to get arrested.
The sate Senate followed suit on the issue and created Senate Bill 403, which paves the way for the creation of "co-responder units," teams made up of officers and mental health professionals who are trained to help individuals in crisis.
Lt. Gov. Geoff Duncan said the initiative can yield "long-term" results.
"In my home county of Forsyth, I have seen firsthand the impact that behavioral health professionals can have on law enforcement response efforts," he said.
Only around a dozen such teams, like the one in Savannah, exist within Georgia today. 
Lawmakers, policy experts and advocates hope that with the new law and a renewed focus on mental health, the state can break the cycle of repeated arrests of people in need of services.
"The need for this is a paradigm shift in policing," said Maj. Robert Gavin, who oversees the Savannah co-responder unit. Gavin said the stress and isolation of the pandemic added urgency to implement a change.
Members of the specialized teams connect people with mental health services on scene, schedule doctors appointments and even conduct follow-up visits.
Out of the approximate 270 individuals they've encountered since the Savannah team began working in the community, only three were arrested who didn't have outstanding warrants, according to the department. All others were directly connected to help.
The unit has also conducted nearly 100 follow-up visits to check in with the individuals they've met.
During the pandemic, Georgia's top health officials raised the red flag on the increased number of opioid deaths as individuals with substance abuse disorders struggled through nationwide lockdowns.
Advocates in the mental health and substance abuse community said that the drug epidemic has also forced states to take a hard look at where they start to curb the startling statistics.
"Finally, people in communities across Georgia will get a chance to get the medical help that they need and deserve, as opposed to being another statistic in the crime system," said Jeff Breedlove, with the Georgia Council on Substance Abuse.
'Familiar faces'
In the 15 years that Senior Judge David Sweat sat on the bench as a superior court judge for Athens-Clarke County, he said he saw the same faces over and over again. 
All too often, he said, those before him were not career criminals, but people in need of mental health treatment.
"Their legal problems were just a small part of the challenges that they had in their life," Sweat said. "Many had substance use disorders. Many had mental health or behavioral health diagnosis. And most often, they had a combination of both."
The phenomenon is known in the criminal justice system as a cycle of "familiar faces." 
And the same individuals were taking up a majority of the space in local jails.
Sweat said that a review of the Clarke County jail found that 38% of individuals behind bars were diagnosed with a behavioral health disorder. 
"Those individuals were likely to remain in jail three times longer than those who did not have a behavioral health disorder," he said. "They were more likely to be convicted, and they were more likely to be rearrested within 12 months."
Leaders in the criminal justice community like Sweat want people to get treatment, not jail time, as part of a growing effort to decriminalize mental health issues.
Terry Norris, executive director of the Georgia Sheriff's Association, said the state's 143 jails and those across the country have become "de facto mental institutions nationwide."
"We in law enforcement have been the first responders for all types of mental and other types of issues with people in our community," he said.
Sgt. Robie Cochran, with the Athens-Clarke County Police Department, tracks individuals whom police encounter on a regular basis. Over one three-month period, he said, police responded to calls regarding one individual 49 times.
The northeastern Georgia law enforcement office has three co-responder teams, after receiving funding from a federal grant in 2017 to kick-start the program.
"We're linking people up to the resources that they need instead of taking them to jail because it used to be that jail was the only option," said Cochran, a crisis team supervising officer. "Now it's 'Hey, there's resources out in our community that we can connect you to.'"
Cochran, who's trained in crisis negotiation, works with mental health professional Katie McFarland, who is also a director at the regional behavioral health service provider.
Not long ago, the pair responded to a frantic woman who had taken a butcher knife to her ears.
"She was hearing voices," Cochran recalled.
The situation previously may have ended with the woman involuntarily committed to a hospital, but after talking her down from the point of crisis, McFarland was able to organize almost immediate treatment — before the woman's children arrived back from school that day.
"We got her in, we assessed her, we safety-planned with her," McFarland said. "We got her set up with a doctor's appointment for, like, the following day. Robie got her something to eat, and she was home before those kids got off the bus."
"And we haven't seen or heard from her since," she added. "So that's a beautiful story when we don't have to see them over and over again."
Breedlove knows all too well how things can play out differently. 
In 2016, Breedlove was arrested by DeKalb County Police while holding the position of chief of staff to a county commissioner. The veteran political strategist had been battling drug addiction for years.
"I needed medical help for a disease I have," he said. "But their only option was to take me to jail."
Now he serves as a top communications and policy staffer for the Georgia Council on Substance Abuse and shares his story frequently with lawmakers at the Georgia Capitol while advocating for change.
For people in need of substance abuse help, he said, "Now they're going to get a chance, instead of going to jail, to get the medical help that they need to get better."
Such an approach can also mitigate otherwise fatal interactions.
Mental health crisis calls have been linked to officer-involved shootings. Since 2015, about 1 in 5 individuals fatally shot by police nationwide had a previous mental health diagnosis, according to a Washington Post database.
Of the 277 individuals killed by police in Georgia since 2015, 53 had mental health illnesses.
Sweat hopes the presence of a behavioral health specialist in law enforcement offices statewide will result in less dire outcomes.
"We know that these cases — thankfully, rarely — but significant numbers result in tragedies," Sweat said. "They often can result in injuries to officers and they are often difficult. I think there's become a greater recognition that individuals are not necessarily having these problems because of a criminal nature, but because of their behavioral health issues."
Nowhere to go
The law passed by the General Assembly does not mandate that law enforcement departments set up their own co-responder units for multiple reasons.
As with the law enforcement profession, hiring mental health professionals is a tall task as the need for services skyrocket.
The Athens-Clarke County Police Department has funding from the local government for seven crisis unit teams, but it has only been able to staff three.
"That is a huge challenge to find behavioral health providers — Georgia has a shortage," McFarland said. "Additionally, this is just a different type of job that they don't talk about in school. I didn't go to school for this. I didn't know about this. This is so new."
Members of the teams agree: It takes the right kind of person to hop in a police car and de-escalate a crisis situation with an individual they don't know. But they also say the payoff is worth it, when a person gets treatment before tragedy.
According to the Rural Health Information Hub, 152 of Georgia's 159 counties have a shortage of mental health professionals. The counties not facing the problem are in metro areas.
A small, rural police department, already stretched thin, likely wouldn't be able to form their own crisis teams, said Norris with the Sheriffs Association.
"Parts of the state where there are not many officers — really, not many people in general — and there are fewer mental health professionals, it's just very difficult to insist that they implement a co-response team," he said.
Sweat said they're working on crafting solutions. 
He's trying to push the idea even further to offset staffing issues by creating a "civilian response team" in Athens-Clarke County, where no law enforcement officers would show up, at all — just a clinician, a peer specialist and an emergency medical technician (EMT).
Georgia's omnibus mental health bill also passed last session, House Bill 1013, creates stringent parity laws for insurance providers when it comes to covering mental health treatment the same as physical health.
It also creates incentives for people to get into the mental health field through cancelable educational loans. 
But the challenges don't stop by filling the positions needed to create successful co-responder teams throughout the state.
Julie Zemke, the behavioral health specialist on the co-responder team in the Forsyth County Sheriff's Department, said the program doesn't work if they don't have anywhere for people to go.
Across the state, officials say, there is a lack of beds at mental treatment facilities — and the pandemic has only magnified the problem, with more and more people needing help with no facilities readily available.
"It's even more evident the lack of resources, certainly housing and transportation and access to mental health and substance use programs," she said. "So we could be responding to a lot of things, but where we are routing people to is a major dilemma."
Josh Bell, who works alongside Zemke, knows far too well how hard it is to get the help you need. He is the only co-responder peer support specialist in the state and does follow-up visits and outreach in local jails.
"I've been in the shoes of a lot of these folks that we come across, whether they're in jail or homeless or struggling to get into services," he said. "I've been there."
Bell also fills an important role: trying to prevent another crisis from happening again. But, he said, it takes every member of the team to make the program work.
"They have saved lives," he said. "I'm confident that Julie [Zemke] here saves lives every week."
Advocates are confident that the Georgia General Assembly's focus on mental health parity and support this session is only the beginning. Stakeholders anticipate more omnibus bills that deal with issues like lack of resources to be introduced in the coming years.
GPB News is part of the Mental Health Parity Collaborative, a group of newsrooms that are covering challenges and solutions to accessing mental health care in the U.S. The partners include The Carter Center, The Center for Public Integrity, and newsrooms in Arizona, California, Georgia, Illinois, Pennsylvania and Texas.
Secondary Content
Bottom Content