Section Branding
Header Content
Marjorie Taylor Greene clinches Republican primary despite controversial first term
Primary Content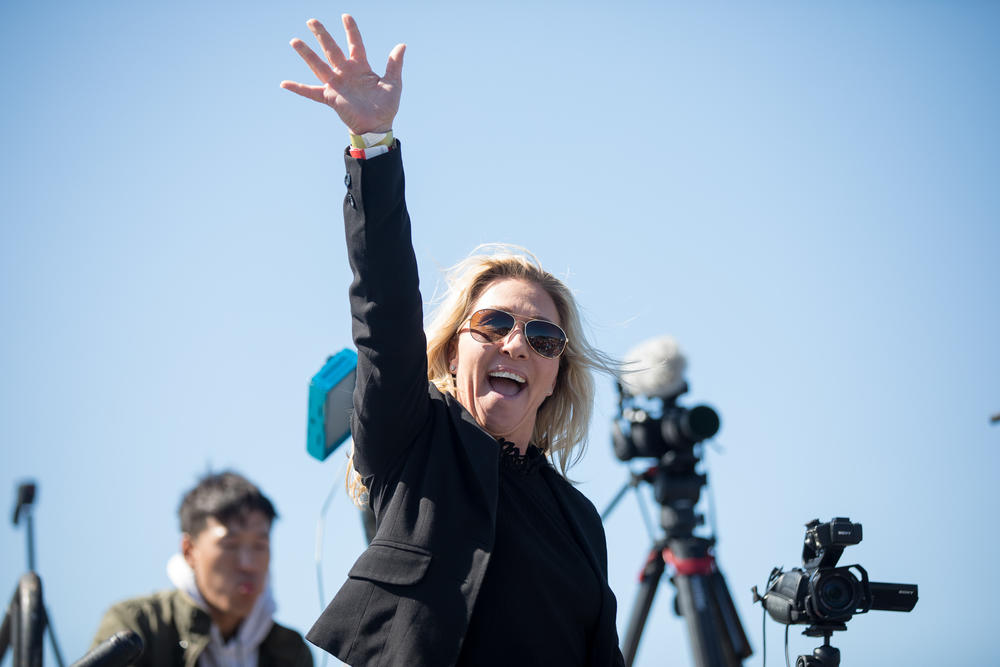 Freshman U.S. Rep. Marjorie Taylor Greene clinched the Republican nomination to run for reelection for her U.S. House seat despite facing a handful of primary challengers and a scandal-ridden first term.
The Associated Press called the race for Greene just past 9 p.m. on Tuesday night. By 11 p.m. she had earned nearly 70% of votes in the 14th Congressional District.
Greene's time in office has been checkered with controversy for her actions as both a politician and remnants of her QAnon-supporting social media past. She became a national figure for promoting false claims that the 2020 election was stolen and conspiracy theories about the pandemic.
Most recently, Greene faced scrutiny for her role in the Jan. 6 insurrection, including text messages where she encouraged the White House to institute martial law to prevent President Joe Biden from taking office.
Greene has denied text messages, saying she doesn't recall the conversations..
The congresswoman's eligibility for the ballot was challenged in court by a group of voters in her Northwest Georgia district for allegedly violating the Constitution, but a judge ultimately struck down the case. 
Her primary win suggests her popularity hasn't decreased enough to create an opening for another Republican to jump on — including health care executive Jennifer Strahan, who earned 17% of the vote.
It also indicates the deep-red district hasn't fallen out of lockstep with former President Donald Trump.
Greene was stripped of her committee assignments by House Democrats after past videos of resurfaced where she made racist and anti-Semitic remarks and spread baseless conspiracy theories about mass school shootings — which she has since renounced.
Some Republicans even broke ranks and also voted to remove her from the House Education and Labor Committee and Budget Committee.
Five Republican primary challengers made the case that residents of the 14th want a representative in office who will focus more on the region's needs and less on extreme far-right stunts.
During an Atlanta Press Club debate, they pointed to her lack of influence in Congress after being pulled from committees.
Greene easily fueled her reelection campaign by raising more than $8.6 million — no other Republican challenger even came close.
But Democrats are also pumping dollars toward an opponent eyeing to unseat her in the general election. 
Marcus Flowers, a charismatic Army veteran, won the Democratic primary on Tuesday night — solidifying his spot to take on Greene in November. 
Just before 11 p.m., the Associated Press called the Democratic primary for Flowers, who earned nearly 75% of the vote.  The political newcomer raised more than $7 million throughout his primary campaign but spent almost just as much.
Secondary Content
Bottom Content