Section Branding
Header Content
Pence stumps for Kemp in primary campaign finale
Primary Content
Under a hangar at the Cobb County International Airport, former Vice President Mike Pence underscored the national importance of the governor's race in Georgia.
Peach State voters have a unique opportunity, he said, to "set the course for America."
"When you say 'yes' to Gov. Brian Kemp tomorrow, you will send a deafening message all across America that the Republican Party is the party of the future."
Pence was in town Monday to stump for Kemp ahead of the primary election on Tuesday where the incumbent faces a handful of challengers — most notably former U.S. Sen. David Perdue.
Pence's visit highlights a sharp divide in Republican party politics in Georgia and across the country — those who are still in the good graces of former President Donald Trump and those who are not.
Nearly 860,000 Georgia voters already cast ballots ahead of election day — more than half of those Republicans. The winner of the gubernatorial primary will  face Democrat Stacey Abrams, who is running unopposed.
Recent polls show Kemp with a substantial lead over his GOP opponents — including a Fox News poll that shows him 32 points ahead reported last week. 
A Landmark Communications survey released Monday shows Kemp with a similar lead, suggesting that the governor has a chance to win outright and avoid a runoff.
Since being elected four years ago, Kemp has faced significant challenges, including navigating the state's response to the COVID-19 pandemic.
"People ask me all the time, 'What is your proudest accomplishment? What do you feel like has been a keymark of your administration?'" Kemp said. "What I'm proud of is that I'm the governor of a state of resilient people."
The relative political newcomer was propelled in 2018 to victory with Trump's endorsement. But four years later, the story could not be more different.
The incumbent governor has become a primary target of Trump's rage following the president's loss of the 2020 election. Trump pledged to unseat Kemp and other Georgia Republicans who rebuked his attempts to overturn Georgia's election results.
Despite Trump's efforts, polls show Kemp as the clear favorite among Georgia Republican voters.
On the campaign trail, Kemp touted his leadership during the pandemic and the state's strong economy, which he credited to his refusal to shut businesses down as COVID-19 cases surged.
Kemp also painted a picture of his first term in office as filled with legislative successes. 
Under his administration, Georgia lawmakers passed the controversial 'heartbeat bill' during the first legislative session after he was elected to office that effectively bans abortion around 6 weeks into pregnancy. 
He praised the passage of an omnibus election bill that Republicans say "makes it easier to vote and harder to cheat." 
To appeal to conservative voters ahead of the primary, he pushed an array of far-right bills — including education legislation that targeted "critical race theory" and expanded parental rights — across the finish line this year.
Pence labeled Kemp as "one of the most successful Republican governors in America."
"I was for Brian Kemp before it was cool," he joked on Monday. "I was here four years ago, in another primary, I heard him talk about doing just what he did the last four years."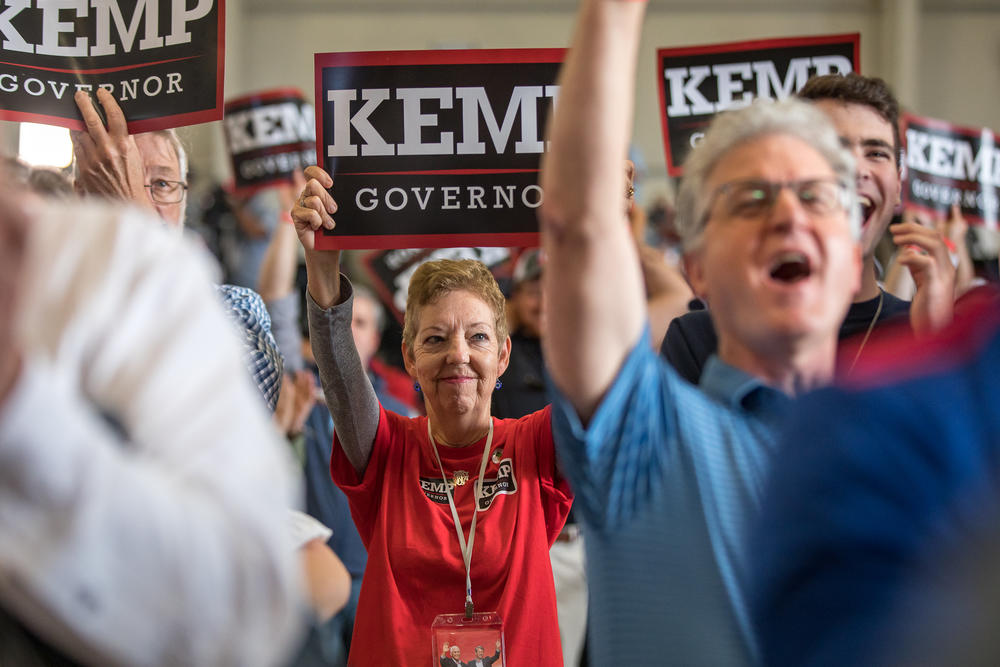 Just minutes after Kemp and Pence waved goodbye to a cheering crowd, Trump phoned in a last-ditch effort to bolster Perdue's bid and blasted Kemp.
"Brian Kemp is truly an embarrassment to the Republican Party because of what's taken place in your great state Georgia," he said during a tele-rally that lasted less than 10 minutes.
But Kemp has consistently refrained from pushing back against the former president's wrath.
"I had a great relationship with President Trump," he told reporters Monday. "I've never said anything bad about him. I don't plan on doing that. I'm not mad at him. I think he's just mad at me. And that's something that I can't control."
"But I know this," he added. "I'm inviting anybody out there that wants to help my campaign and help us defeat Stacey Abrams."
With Kemp dominating the polls, political pundits expect a rematch between the Republican incumbent and Abrams in November.
Kemp has spent much of his campaign ignoring his primary opponents casting his focus forward to the general election.
On stage during the Cobb rally, Pence also urged voters to think about the months to come.
"Tomorrow's primary election comes down to this: who is best positioned to defeat Stacey Abrams and the National Democrats that will descend on Georgia in this fall's election," he said. "You know the answer. Brian Kemp beat Stacey Abrams four years ago and with your support Brian Kemp will do it all."
Republicans took aim at comments Abrams made on Saturday during a Democratic event where she called Georgia "the worst state in the country to live," referencing issues like health care and incarceration.
Kemp jumped on the opportunity to further bolster the momentum of his campaign post-primary and reminded Republicans of the consequences of an embattled party costing the GOP the election.
"Tomorrow's what matters," he said. "And that's why we've got to get the vote out. And I'm encouraging people, 'Look, go vote for the person that has a record that can beat Stacey Abrams in November.' That is the ultimate goal here: is to make sure that she's not our governor."
Secondary Content
Bottom Content