Section Branding
Header Content
Without Herschel Walker, GOP Senate primary debate digs into policy issues
Primary Content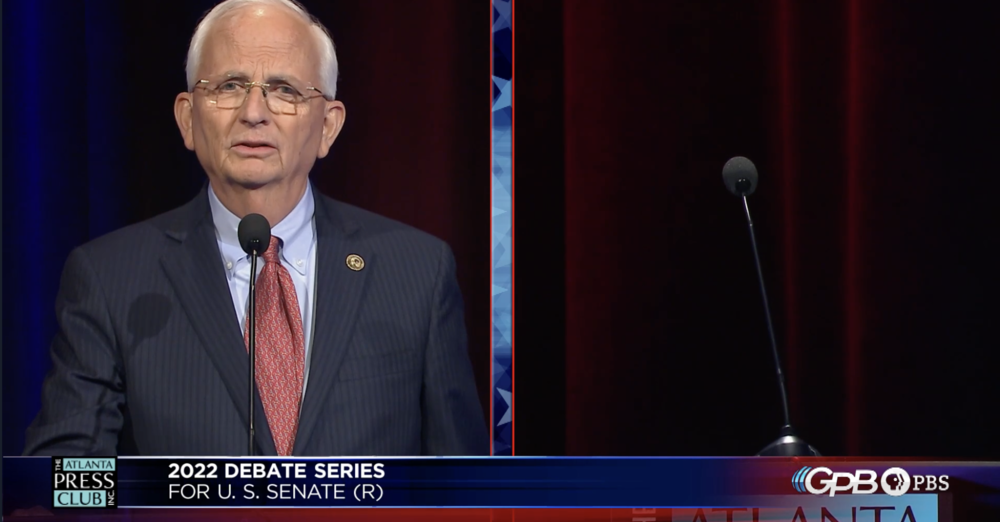 Republican U.S. Senate candidates not named Herschel Walker answered probing policy questions and shared their platforms in Atlanta Press Club primary debate, with abortion restrictions and Walker's viability dominating discussion Tuesday night.
The Trump-backed candidate is leading in polling and fundraising, and his campaign defensively said on social media he was at a fundraiser in east Georgia and is "focused on beating" incumbent Democratic Sen. Raphael Warnock.
After POLITICO reported on a leaked draft of a U.S. Supreme Court decision that would overturn the nearly 50-year-old Roe v. Wade decision, nearly every Republican at the debate said they would back a complete and total ban on abortions, even in cases of rape, incest or the health of the mother.
"I do not believe in exceptions for rape and incest," former state Rep. Josh Clark said, before adding that he would either raise a child or put it up for adoption if his daughter was impregnated by rape. "Why should the child be murdered for the sins of the father?"
Clark also repeated baseless claims about the 2020 election being "stolen," despite three separate counts of the results and more than a year of investigating allegations that failed to find widespread fraud.
Walker was represented by an empty lectern, and his two main opponents riffed on its appearance and the football star's absence.
"I'm just wondering if the podium's ever had a conversation with your candidate: Have you ever told your candidate how important it is to tell the truth?" state Agriculture Commissioner Gary Black asked. "And if you haven't, when are you going to start?"
Black said Walker is avoiding voters and fellow candidates and will not be successful against Warnock in November, a sentiment Latham Saddler also shared.
"Where the heck is Herschel Walker, and how on earth does he think that he can beat Raphael Warnock in a general election?" Saddler asked.
So far, Walker's campaign is big on celebrity status after winning the Heisman Trophy in 1982 while playing football at the University of Georgia, complete with fawning interviews on Fox News and few public, unscripted moments. Being endorsed by Donald Trump doesn't hurt, either — though Walker would likely lead the primary without it.
His fellow Republicans say Walker's current campaign strategy and lengthy political baggage (including recent reports of overstated business claims, deficient personal financial disclosures and a history of domestic violence) makes his challenge against Warnock likely to fail in an otherwise good election year for Republicans.
Even Trump has concerns about Walker's chances of victory in November, though he blames it on Gov. Brian Kemp and Kemp possibly winning his primary against Trump-backed former Sen. David Perdue.
In a tele-rally for Perdue on Monday, Trump said that supporting Kemp in the primary was a "vote for Stacey Abrams."
"If Brian Kemp gets in, I think it's going to be very, very hard for Herschel Walker to win," he said. "Because I don't believe that Republicans are going to go out and vote for Brian Kemp, and if they're not voting for Brian Kemp, they're not going to be able to vote for Herschel Walker."
The debate also featured questions about rural health care, Ukraine and the 2020 election.
Secondary Content
Bottom Content