Section Branding
Header Content
2020 dominates 2022 GOP primary debate for secretary of state race
Primary Content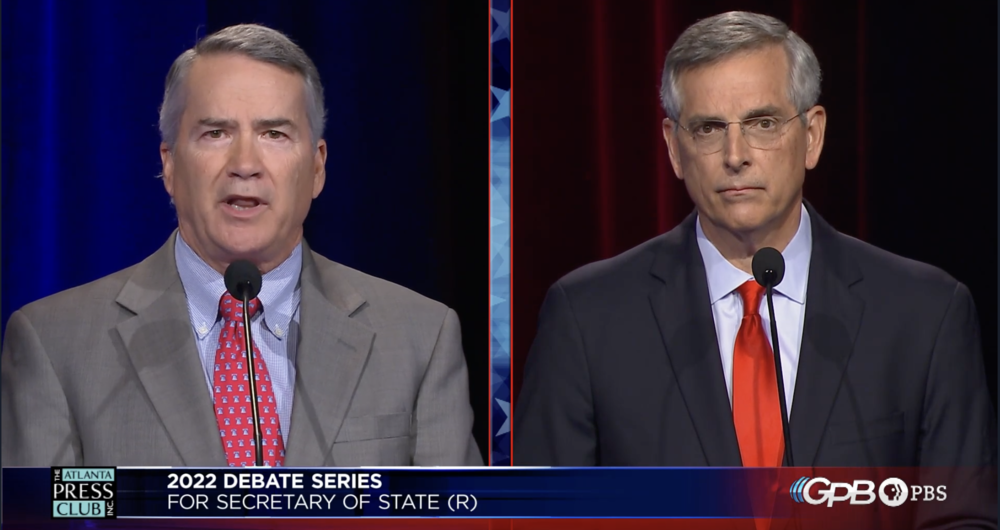 Secretary of State Brad Raffensperger defended the 2020 election just as much as his opponents attacked it during an Atlanta Press Club primary debate Monday.
Raffensperger faces three challengers, including Trump-backed U.S. Rep. Jody Hice, after Georgia's election results and administration became the center of controversies and conspiracies when the former president lost the election.
The mild-mannered engineer faced pressure from former President Donald Trump to "find" enough votes to overturn his defeat in Georgia in an infamous call that has helped lead to a special grand jury investigation into election interference in Fulton County, where jury selection was underway as the candidates took the stage.
RELATED: 'This Was A Scam': In Recorded Call, Trump Pushed Official To Overturn Georgia Vote
Hice, former Alpharetta mayor David Belle Isle and former Treutlen County probate judge TJ Hudson spent much of the debate making false claims about so-called "ballot harvesting" in absentee drop boxes, claiming Georgia's election system is insecure and that they would not have certified the 2020 election results, which were counted three separate times — including once by hand.
"The last election should not have been certified without proper investigation," Hice said. "They were all over the place and they still are."
Raffensperger responded later in the debate that Hice was lying about Georgia voting procedures and that his office investigated every claim and found nothing to support most of them.
"Jody Hice has just not been honest for the last 18 months, and he's been spreading misinformation, disinformation," Raffensperger said. "That's what destroys voter confidence. Every allegation, I checked out. I ran it down to the end of the line, because that's what engineers do. We've got to make sure we had the facts — and we had the facts."
 
For his part, Raffensperger was questioned about his prominent campaign platform to ban non-citizen voting — which is already illegal and does not happen — and used it to attack Hice for failing to address federal election law changes.
"Jody Hice has been in Congress for seven years now and has not done a single piece of election reform legislation," he said. 
Hice is Trump's pick to unseat Raffensperger in the GOP primary after Raffensperger pushed back on Trump's false claims about the 2020 election in Georgia, and one of many election deniers running to be a chief election official across the country.
Many of the claims made during the debate have no merit and have already been addressed by Raffensperger and other elections officials. Some conservatives have falsely claimed a so-called "consent decree" in a lawsuit dealing with prompt notification of absentee rejections eliminated signature matching to verify identities. But the rejection rates stayed the same as before, and the order in the lawsuit actually added more oversight to ballot signatures.
"Ballot harvesting" is illegal in Georgia, and is when absentee ballots are returned by people other than immediate family members or caregivers, with the implication that third-party groups could pressure, coerce or alter voters' choices. There is no evidence of widespread ballot harvesting with Georgia's drop boxes, and while the act of harvesting is illegal, the ballots themselves would still be legitimately counted if they were validated to be filled out by a voter.
Raffensperger revealed on the stage that one prominent accusation of a man in Gwinnett County that allegedly returned harvested ballots had been investigated and he dropped off five ballots of his family — which is not illegal.
All four men said Georgia should roll back its automatic voter registration law that updates your voter registration information when you interact with the Department of Driver Services, instead requiring voters to actively choose to update.
Recent polling shows Raffensperger leading Hice by a substantial margin but not clearing 50%, so a June runoff is likely for this race.
Early voting for the primary is underway. Election day is May 24.
Secondary Content
Bottom Content