Section Branding
Header Content
Democrats clash in primary debate for new 7th District
Primary Content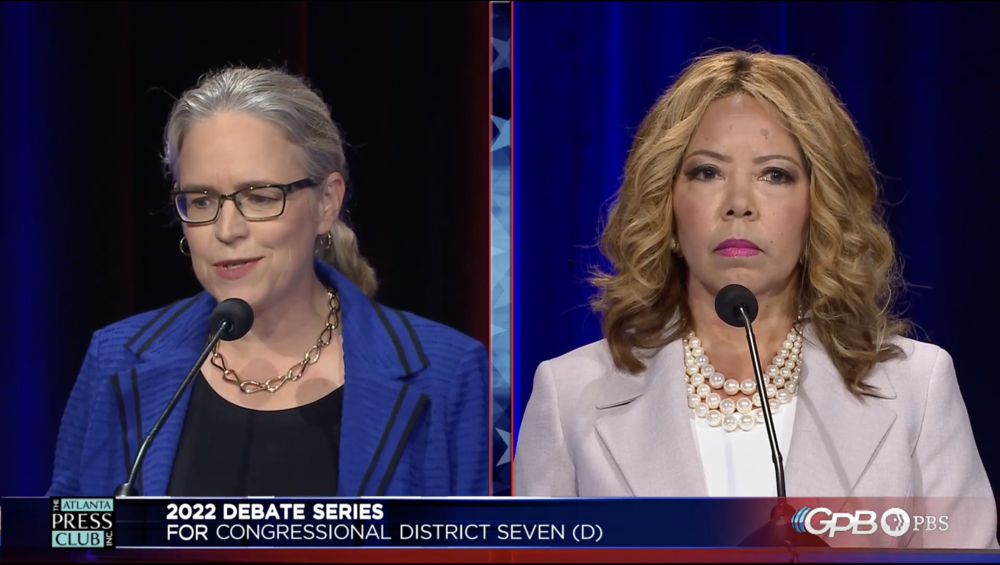 After Republicans drastically overhauled metro Atlanta's congressional boundaries, two sitting Democratic congresswomen are facing off in a primary to serve a growing segment of the party's core constituency in an important state for future elections.
Neither Rep. Lucy McBath nor Rep. Carolyn Bourdeaux technically live in the new 7th District, but in a debate Sunday they laid out their arguments for why they should represent most of Gwinnett and part of Fulton counties in Congress. State Rep. Donna McLeod is also running, and said her decades in the county makes her the most qualified.
"I've been doing the work in the district," McLeod said. "I'm not saying this because of these ladies, I'm doing this because I want to represent the district that I've lived in for 22 years, — because I know the district and the district knows me and I've been doing the work, period."
As Democrats face a bleak national outlook heading into the midterms, and as Republicans look to regain control of the U.S. House, McBath and Bourdeaux represent two different wings of the party and ideologies for motivating voters in an increasingly Democratic-leaning state.
McBath was elected in 2018 on a platform of gun control advocacy after her son Jordan was shot and killed by a stranger at a convenience store in 2012. In the debate, she touted support for the John Lewis Voting Rights Act, access to affordable health care and repeatedly positioned herself as the leader in the race.
"I'm really proud to be the frontrunner in this race because people know me; they know the work that I've done," she said. "They know I have worked diligently on their behalf in Washington, and I'm running in this race because I simply believe that we should not allow Gov. Kemp, the Republican Party or the NRA gun lobby to dictate who represents our communities in Washington."
Bourdeaux, a member of the Problem Solvers Caucus and the Blue Dog Coalition, has been criticized by progressive activists for her more moderate stances and role in slowing down President Joe Biden's "Build Back Better" spending bill in the chamber. But she defended her actions and touted her work on progressive causes like Medicaid expansion in Georgia and studying reparations.
"I ground everything in the needs of the people of this district, and we have a lot of them," she said. "We also need infrastructure and we need transit, we need wastewater. The infrastructure bill was very, very important to our community, because congestion is the No. 1 barrier to economic development."
Bourdeaux criticized McBath's decision to run in the 7th after Republicans made the 6th overwhelmingly Republican, touting the policies of 6th District frontrunner Rich McCormick.
"How can you say you're fighting for choice or gun safety reform when you're handing your seat in Congress to Republicans like him?" she asked.
The new district lines make the 7th District uncompetitive for Republicans, so the next representative is all but certain to be a Democrat. But with three candidates in the race, it is possible that a June runoff could be on the horizon.
Early voting begins May 2, election day is May 24.
Secondary Content
Bottom Content