Section Branding
Header Content
Candidates push false election claims in GOP debate for new 6th Congressional District
Primary Content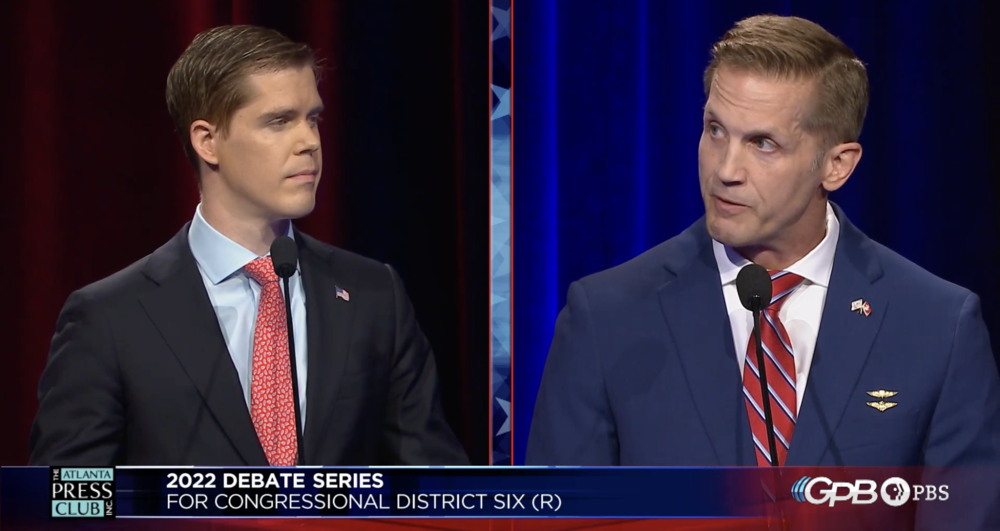 Two things are almost certain for Georgia's new 6th Congressional District: It will be represented by a Republican, and that Republican has pushed false claims about the 2020 election.
In a Sunday debate sponsored by the Atlanta Press Club, all nine candidates questioned Georgia's 2020 election results that saw former President Donald Trump narrowly lose his race but the GOP do well in other races up and down the ballot.
Nearly $1.8 million in personal money has been loaned to campaigns seeking to win the nomination in this district that runs from North Fulton up to Dawson County, led by financial frontrunners Rich McCormick and Jake Evans.
McCormick, who lost in the neighboring 7th District race in 2018, reiterated that he never conceded that election.
"No one was hurt by voter fraud more than myself," he said. "At the end of the night at the end of the election in 2020, I was told I won the election, that we were 5,000 votes up. And then we were eventually told we lost the election."
McCormick lost by more than 10,000 votes after all the votes were counted.
Evans, the former chair of the State Ethics Commission, repeated false claims about a so-called consent order in a lawsuit filed by the Democratic Party of Georgia over timely notice of absentee rejections and said he supports eliminating absentee drop boxes, roll back absentee ballot access, "immunity for lawyers," and require voter identification, which is already state law.
Evans and McCormick also faced the most attacks from fellow candidates seeking to paint them as not conservative enough for the new district or loyal enough to Trump, such as when Mallory Staples read previous statements made by Evans that called Trump "lesser of two evils" and polarizing.
"Should we believe your words in 2016 and 2018 when Trump was in office, or should we believe you now when it's politically convenient to use his name?" Staples asked.
Evans asked McCormick what "squishy commitments" he made to a more moderate Republican group that sought to endorse him.
"Most RINOs don't show their horns until after they get elected," Evans said, accusing McCormick of being a "Republican in name only."  
McCormick said he did not accept that group's endorsement and instead touted support from Sen. Ted Cruz and others in his bid.
The old iteration of the 6th Congressional District was the launching pad for former House Speaker Newt Gingrich and then a bastion of more moderate conservatism. But by the time 2020 rolled around, it was a reliably Democratic district thanks to the state's changing demographics and politics.
State lawmakers redrew the boundaries to make reelection virtually impossible for U.S. Rep. Lucy McBath, a Democrat who opted to run in the new, liberal-heavy 7th Congressional District based in Gwinnett County against fellow Democrat Rep. Carolyn Bourdeaux.
While Trump has weighed in on seven different races up and down the ballot in Georgia, his name is not tied to any candidate for the 7th so far and the race appears likely to go to a June runoff.
Early voting begins Monday, May 2 and election day is May 24.
Secondary Content
Bottom Content