Section Branding
Header Content
Candidates pitch alternatives to Marjorie Taylor Greene in 14th District GOP debate
Primary Content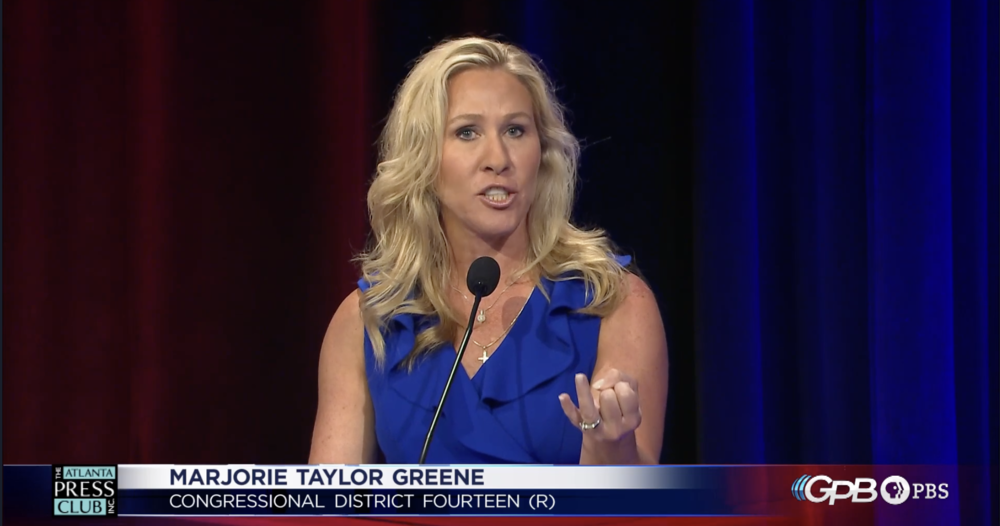 U.S. Rep. Marjorie Taylor Greene is one of the most infamous members of the House of Representatives, but a number of Republican challengers used a Sunday debate to make the case for a different type of lawmaker.
Greene is one of the House's top fundraisers, a die-hard supporter of former President Donald Trump and his false claims about the 2020 election and a controversial figure who was stripped of her committee assignments shortly after being sworn in last year after a string of inappropriate comments on social media and video came to light. 
For the other candidates running in the heavily conservative northwest Georgia district, the debate was an opportunity to tell voters they could have someone just as strong in their beliefs, but with less negativity and antagonistic behavior.
"I will maintain my conservative values and I will also get results, because you do not have to sacrifice effectiveness for conservative values," Jennifer Strahan said. 
James Haygood, a railroad professional and lifelong resident of the 14th District, said that both parties are forgetting about the middle class and most of the country by becoming more polarized.
"You don't have to give up your values, but at some point you're going to have to agree with the Democrats to get something done," he said. "We're living in a country now that you have the Marjorie Greenes and the AOCs, and the people in the middle, they've gotten lost."
For her part, Greene said there was a "civil war" within the party cause in part by Republicans working with Democrats.
On the topic of the 2020 election, which was counted three separate times including once by hand, the Republican candidates offered mixed answers when asked about the results.
Eric Cunningham said he would not have certified Georgia's election results and Greene falsely claimed there was "incredible amounts of voter fraud," while Charles Lutin said "Joe Biden won the election," Strahan said, "Joe Biden is our president" and Seth Synstelien said he believed Joe Biden won the election.
In a followup question, Greene said she would not trust the 2022 election process or the workers in her district that volunteer in elections, but told her supporters they should become poll workers and vote anyway. Greene's rhetoric around the 2020 election results and belief it was stolen contributed to a sharper dropoff in turnout across Northwest Georgia for January 2021's runoffs, and was one of many reasons two Democrats flipped both U.S. Senate seats in that race.
RELATED: Who Stayed Home More In Georgia's Senate Runoffs? Rural White Republicans
Greene is unlikely to face much of a serious challenge in the May 24 primary, and she enjoys a massive financial advantage over her fellow Republicans. But her opponents still spent much of the debate trying to make the case to voters that Greene's methods were not beneficial to the 14th District.
"No bill you've authored has passed and you have no committee power to advocate for this district without resorting to rhetoric about Democratic bogeymen, Biden and the woke left," Synstelien said. "Answer this: can you tell us one or two specific objectives that affect our wallets that you can actually pass, and explain how you plan to get it done, without being guaranteed a committee assignment?"
In a sign of the Republican infighting over the direction of the party moving forward, none of the candidates would commit to voting for House Minority Leader Kevin McCarthy of California if the GOP regains control of the House chamber.
Early voting begins Monday, May 2. Election day is May 24.
Secondary Content
Bottom Content