WATCH LIVE | Former First Lady Rosalynn Carter's Carter Center Departure Ceremony and Tribute Service at Glenn Memorial Church at Emory University at 11:30 A.M.
Section Branding
Header Content
Georgia elections officials optimistic and energized heading into 2022 cycle
Primary Content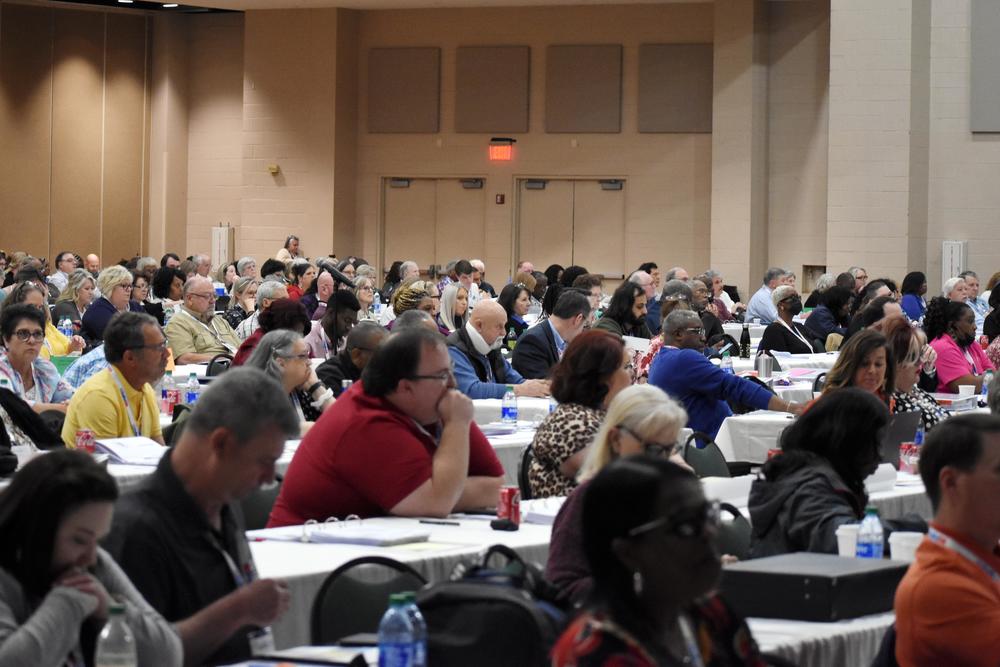 While Georgia's local elections officials spent most of 2021 feeling overworked and under attack from conspiracy theories, an annual gathering in Athens this week brought a spirit of optimism for those tasked with overseeing the voting process.
The Georgia Association of Voter Registration and Elections Officials conference saw more than 500 supervisors, clerks, board members and staff from across the state reiterate best practices for everything from absentee ballot verification to poll worker training, plus new procedures for post-election audits and voting changes working their way through the legislature.
More than a quarter of the conference were first-time attendees, including many who joined elections boards or were hired as county supervisors in the past few months. 
Republican Secretary of State Brad Raffensperger, who is facing a Trump-backed primary challenger after refusing to overturn the election results, thanked election workers for "standing in the gap" to run fair, accessible elections.
"Integrity is like glue, and that's what holds society together," he said. "And so when you run your elections with integrity, in effect what you're doing is reinforcing our social fabric."
New to the 2022 general election in November will be a change to the risk-limiting audit conducted to ensure that the correct winner won in the initial count. In 2020, the RLA involved a full hand count of five million ballots because of the closeness of the margin. This time, Joseph Kirk with Bartow County said it would be a batch-comparison audit, which would not require physically examining every single ballot cast.
Kirk said having good audit procedures in place will help members of the public trust the results more at a time when margins have been razor thin — and conspiracy theories and complaints have led some to question election outcomes.
"This is really a good thing, and the more we do it, I think we're all going to like this process," he said during his training session. "I know it's extra work, but it adds a lot to the confidence of our overall electorate. I have seen such a change in my community as a result of doing this."
Elections are always a year-round process, and since January 2020, when Georgia rolled out the largest-ever implementation of a new voting system, local elections officials have rarely caught a break. Setting up the new voting system was interrupted by the coronavirus pandemic, which upended the number of available polling places and poll workers, delayed the primary and drastically shifted voter behavior to absentee by mail.
After the presidential election was decided by around 12,000 votes, the state conducted a full hand count risk-limiting audit, then a machine recount before pivoting to a January 2021 runoff. Lawmakers then approved Senate Bill 202, a Republican-backed 98-page election law that altered virtually every aspect of voting in Georgia, including adding new reporting requirements for county elections offices and tougher penalties for those that failed to comply. The state also conducted its voter list maintenance to deactivate voter registrations of people that have died or moved away.
The pandemic delayed U.S. Census results, which led to a shorter window for elections officials to assign voters to their new precincts and districts for local, state and federal offices, then conduct qualifying for candidates seeking to run in those new races.
And now, in the final days of the 2022 legislative session, lawmakers are again considering an omnibus bill that would tweak voting rules, which was a hot topic at the conference.
House Bill 1464 would make a number of primarily behind-the-scenes changes for local officials, such as granting more flexibility in the number of voting machines set up on Election Day, rolling back some of the reporting requirements made in last year's SB 202 and further restricting outside gifts made to defray elections costs.
The GAVREO board successfully asked the state Senate Ethics committee to delay hearing public comment the bill until election supervisors could weigh in, after several officials said many proposed changes would negatively impact their ability to run elections.
Many expressed concerns about a provision that would require more chain-of-custody documentation any time someone touched ballots or ballot paper, adding that it was unnecessary and burdensome to add more tracking to steps taken in secure parts of election offices that would do very little to provide security. 
Elections officials are also concerned with wording that would require any "gift" to an election office be routed to the State Election Board for approval, since many counties use polling places that are donated free of charge from churches and other organizations.
The bill will be heard again on Monday afternoon at 4 p.m.
Secondary Content
Bottom Content