Section Branding
Header Content
UGA brain center to study genetic and environmental factors in developing Parkinson's disease
Primary Content
The University of Georgia is receiving millions in federal funding for its Johnny Isakson Center for Brain Science and Neurological Disorders. GPB's Ellen Eldridge has more on how they plan to use the money.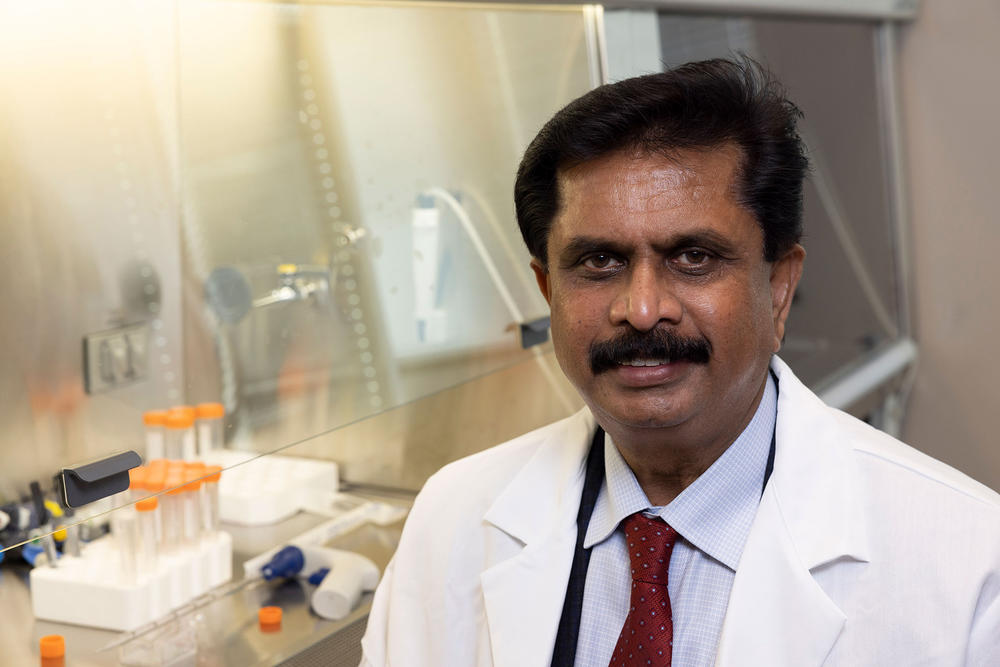 With Parkinson's disease, everything comes down to an early diagnosis.
That's because, as nerve damage worsens, so do the symptoms of Parkinson's, and the condition becomes harder to treat, according to Anumantha Kanthasamy, the lead researcher with the University of Georgia's new Johnny Isakson Center for Brain Science and Neurological Disorders. 
"Disease starts at least a decade before you can develop the symptoms," said Kanthasamy, an internationally renowned researcher of Parkinson's disease and related neurodegenerative disorders. "So that means we need to diagnose the disease early — and, in terms of the treatment, we are only treating the symptoms. We're not treating the the disease progression."
After about four or five years on levodopa, the most effective medication currently available, a condition called dyskinesia begins. Dyskinesias, which are involuntary, erratic, writhing movements of the face, arms. legs or trunk, are not a symptom of Parkinson's disease; they are a complication from some Parkinson's medications, Kanthasamy said.
"The drug itself can cause some dyskinesia or more symptoms, so you want to control those type of things and slow down the progression," he said. "That's (why) we want to do some very interdisciplinary, cutting edge work — to address that problem."
Kanthasamy is recruiting a team of researchers with expertise in neuroscience, epigenetics, pharmacology, neurotoxicology and bioinformatics experts.
His laboratory, housed at UGA's Center for Molecular Medicine, is in close proximity to the Complex Carbohydrate Research Center and Regenerative Bioscience Center, home to faculty with whom he and other brain science researchers will collaborate. 
A treatment that addresses or delays the dyskinesia that occurs following the levodopa treatment for Parkinson's would mean a higher quality of life for people living with this disease.
"We've been able to diagnose Parkinson's for more than 200 years, but we still don't have a treatment that can cure the disease or even stop its progression," Kanthasamy said. "Over the last two decades, we have identified mutations in a handful of genes that have been linked to Parkinson's, but that only accounts for about 10% of cases. For the other 90%, we don't know the cause."
Epidemiological studies indicate that exposure to certain pesticides, chemicals or heavy metals can increase risk, so Kanthasamy's team will try to understand how that exposure predisposes patients for Parkinson's.
Early symptoms vary from person to person, but Kanthasamy said people should pay attention to any combinations of sudden loss of smell that is not associated with a viral infection, constipation, a sleep disturbance and depression.
"A combination of those things tells you something is wrong in the brain," he said.
Kanthasamy joined UGA in fall 2021 as the first John H. "Johnny" Isakson Chair and Georgia Research Alliance Eminent Scholar in Parkinson's Research.
Prior to joining UGA, Kanthasamy served as director of the Iowa Center for Advanced Neurotoxicology, which he founded at Iowa State University in 2006. He is the principal investigator on multiple research grants from the National Institutes of Health, the U.S. Department of Agriculture, the Michael J. Fox Foundation and the U.S. Department of Defense.
The final funding for the center comes from the federal omnibus spending package passed just last week. 
U.S. Sen. Lindsey Graham introduced $5 million in funding for Parkinson's research as a tribute to former U.S. Sen. Johnny Isakson of Georgia, a widely respected public servant and UGA alumnus who was diagnosed with Parkinson's in 2015.
Isakson died in December 2021.
Secondary Content
Bottom Content