Section Branding
Header Content
Atlanta's Asian American community mourns spa shooting victims one year later
Primary Content
Speaking to a crowded room on the one-year anniversary of the Atlanta Asian spa shootings, Rob Peterson said he thought about what his mother would tell the world.
"My mother would want you to know that she was not only my mother, but one of my best friends," Peterson said.
Peterson's mother, 63-year-old Yong Ae Yue, was one of the Asian American women killed when a gunman went on a shooting spree in three spas across Atlanta.
Her son detailed her life — a Korean woman who married a Black U.S. soldier and moved to America to raise her children — an example of the "The American Story."
But her story ended as a victim of brutal violence, targeted for "who she was," he said.
"Mom would want you to see that she could have been your mother, your neighbor, your sister or friend," Peterson said. "And for many of you in the audience today, she could have been you."
Hundreds in Atlanta rallied on Wednesday on the anniversary of the tragic killings that shook Atlanta to its core and shocked the nation.
Yue was one of the victims along with seven others — Daoyou Feng, 44; Paul Michels, 54; Xiaojie "Emily" Tan, 49; Delaina Yaun, 33; Suncha Kim, 69; Soon Chung Park, 74; and Hyun Jung Grant, 51.
Community leaders, activists and high-profile politicians honored the eight victims while calling for increased awareness of hate against the Asian American and Pacific Islander (AAPI) community.
Experts said the shooting rampage happened in the midst of a spike in anti-Asian hate crimes seen throughout the COVID-19 pandemic — although the community has long been the target of violence and that Asian women are particularly at risk. 
Stop AAPI Hate, an organization that tracks anti-Asian hate crimes, recorded nearly 11,000 incidents from March 2020 to December 2021 — more than 60% reported by Asian women.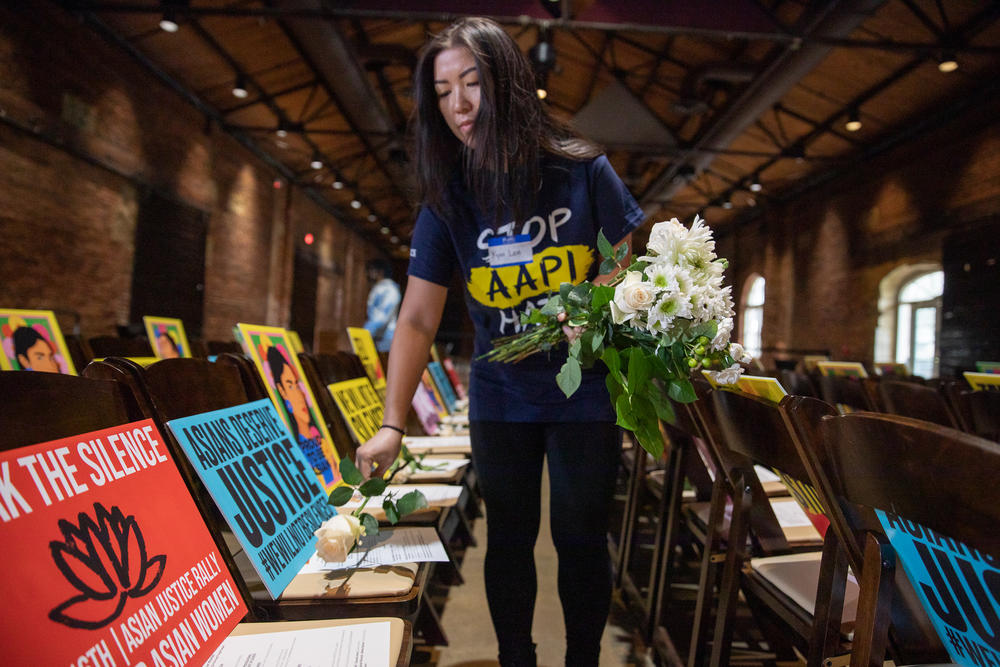 Atlanta State Rep. Bee Nguyen was the first Asian American Democratic woman elected to the Georgia legislature. 
Nguyen spoke at the rally on Wednesday about the leap of faith for Asian immigrants who came to America in search of a better future.
"For many of us it hit home, because the women who were killed could have easily been our grandmothers, our aunties or our mothers," she said. "And these women were exactly that — somebody's grandmother, auntie, mother, sister."
Nguyen said the brutal shooting that targeted three Asian spas across Atlanta highlighted the isolation and vulnerability of the community.
"Tragically, for these women, America did not safely harbor them," she said. "To die so brutally in the land of the free, to die so tragically at the hands of racism, xenophobia and gender-based violence — that is not the American dream."
Lawrenceville Democrat State Rep. Sam Park noted that the uproar caused by the killings sparked change at the federal level. In May of last year, President Joe Biden signed the "COVID-19 Hate Crimes Act" that addresses hate crimes driven by the pandemic, especially against Asian Americans.
"One year ago, we stood our ground in the face of terror and fear," Park said. "We stood united against hate and discrimination. Together we demanded justice for our communities and together we moved our nation to take action."
Recently elected Atlanta Mayor Andre Dickens also gathered with the grieving crowd at the Freight Depot, just blocks from the Georgia Capitol and City Hall.
Dickens said the city is still healing from that day
"In that very moment, we were no longer 'The City Too Busy to Hate," he said. "But I'm here today as a reminder that the City of Atlanta rejects hate and racism and sexism in all of its forms."
Stacey Abrams, the Democratic candidate for governor, drew the comparison of hate against the AAPI community to the experience of her father.
"He grew up in the Jim Crow South, where being Black was enough to justify the harm and hatred, to diminish who he was and to deny his humanity," she said. "And what happened a year ago today was an echo and a repeat of what has been too long the history of this nation."
She called for the Black Georgians to stand in solidarity with the AAPI community.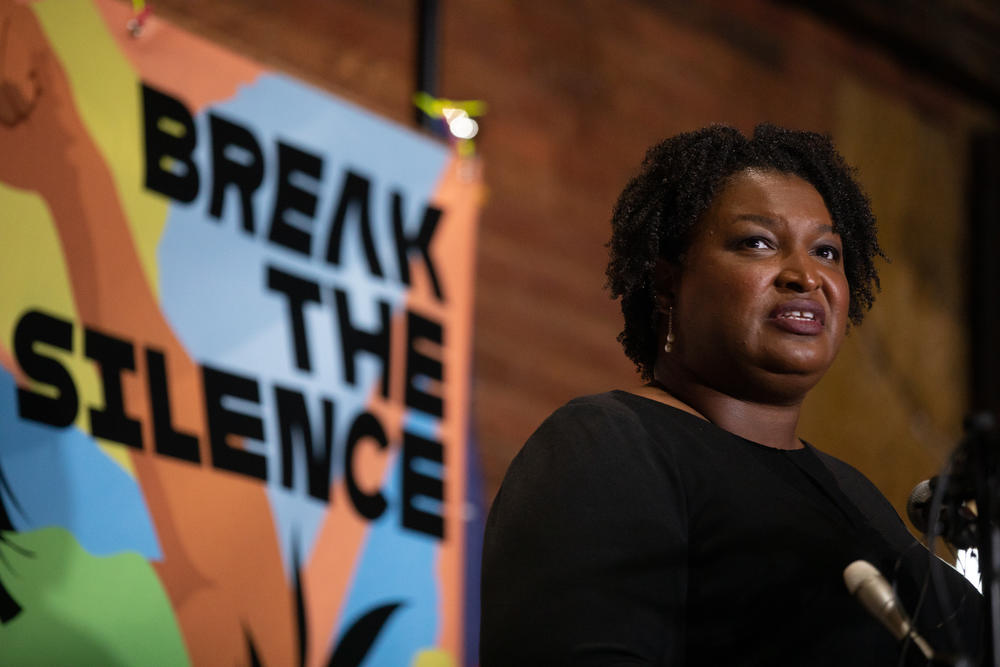 Atlanta wasn't the only major city remembering the victims of the Atlanta spa shootings on the one-year anniversary. 
Federal politicians lined the steps of the U.S. Capitol to commemorate the event and organizers in dozens of cities, including New York City, Chicago, Houston, San Francisco and Washington, D.C. 
Michael Webb, whose ex-wife Tan was one of the victims of the shootings, said Wednesday that when he heard about the shootings, he called his daughter who was already at the hospital. 
They stayed on the phone together for five hours, he said, until they were given earth-shattering news.
"Each hour, we heard of more and more casualties until we learned that there were eight dead, and there had only been one shooting victim that had survived," he said. "We held onto that spark of hope until finally, my daughter was told that her mother was among the dead."
Webb, a gun owner himself, advocated for stricter gun laws and referenced the ease at which the 21-year-old shooter, Robert Aaron Long, was able to purchase a firearm on the day of the shooting.
"How about we make it impossible for a 21-year-old kid to ever walk into the nearest gun store and in less than an hour walk out with a semiautomatic weapon?" Webb said.
"There is no reasonable, recreational reason for a gun to be so easily purchased." he said.
Secondary Content
Bottom Content