Section Branding
Header Content
A path toward reconciling history and slavery cuts through a cemetery
Primary Content
At the end of a long gravel road in the Oconee National Forest near Greensboro, Fannie Rowe popped the trunk of her car.
"OK, Nika, could you bring the pitchfork?" she asked as she unloaded hedge trimmers and other garden tools. They were for the briars and vines running underfoot in the stand of scraggly pines beyond the gravel.  
"OK, you guys, this is the entrance we are going to go out," she explained to the dozen or people she'd brought. Most were family. "It's about 50 yards or 100 yards straight forward."
Down the little path, Rowe led us down what she then knew was the first cemetery of historic Bethel Bara Missionary Baptist Church. 
Martin Luther King Jr.'s great grandparents may be buried there. The graves were hard to see at first, but once you trained your eyes to see past the trees, graves were everywhere. Fannie quickly found an uncle and her great-great-grandfather.
"That's your great-great-great-grandaddy right there," she said to one of the young people in the group before telling her to take a picture of the spot. Rowe knew some of her ancestor's story from archival research: He was born enslaved but died emancipated. 
"It meant a lot to me know he saw the other side of slavery before he died," she said. 
And so here was a place where she and her family could remember and make sense of that fact. For that, Rowe was grateful. 
"So I thank you guys for helping us," she said. "And definitely I have to speak about Mamie."
She meant Mamie Hillman.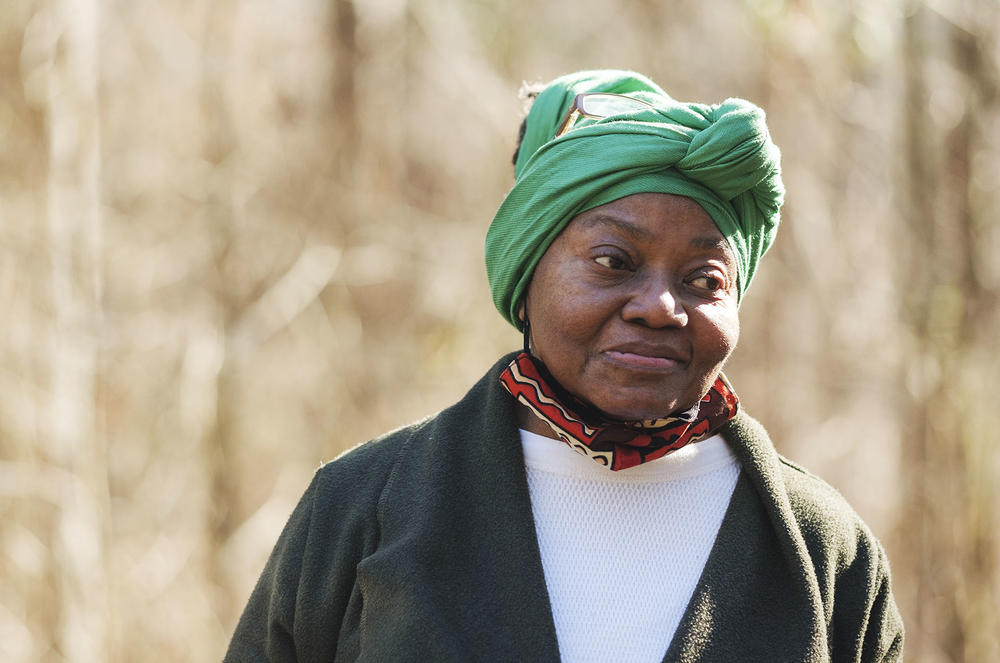 Mamie Hillman helped Rowe find this cemetery. By her own estimate, Hillman has found over 30 African American cemeteries similar to this one, near where she grew up in Greene County. 
About six miles from where Rowe found her many times great-grandfather, there's another cemetery which Hillman found with the help of a friend: a cemetery that led one of Georgia's oldest universities to join the ranks of others nationwide grappling with their relationship to slavery. 
Hillman said what might be considered her life's work began when she was still in school in Greene County. 
"I was a child just trying to find my niche, just trying to find where I fit in," she said. "Because I could not see it in the community."
There was an exception: the teacher who had Hillman and her classmates cut up old issues of Essence magazine in search of role models and people they wanted to be. Hillman decided to one day build a space for the things her school never gave her. 
"So I made it a point as I got older to seek out and become a sleuth of finding pieces that would tell the story of my community," she said recently, pointing to the mix of contemporary art, documentary photography and old newspapers on the walls of her Greene County Museum of African American History, which opened last year. 
"These pieces tell the story," she said.
A while back, Hillman was joined on her mission by someone else with deep roots in Greene County: New York-based documentary filmmaker Macky Alston. He, too, was looking for a way to make sense of his own history. 
"I love my family, but there's a shadow across our history, and that shadow is the history of of slavery and colonization," Alston said. 
Alston met Hillman by Googling for people living today back where his ancestors lived who, like him, were interested in what he calls "repair."
He's a direct descendant of a Greene County planter named Billington Sanders. 
"He was a reverend," Alston said. "Baptist pastor. In fact, he was instrumental in the foundation of the Southern Baptist Church in 1845, and he was an enslaver. And I have benefited in all kinds of ways from Penfield."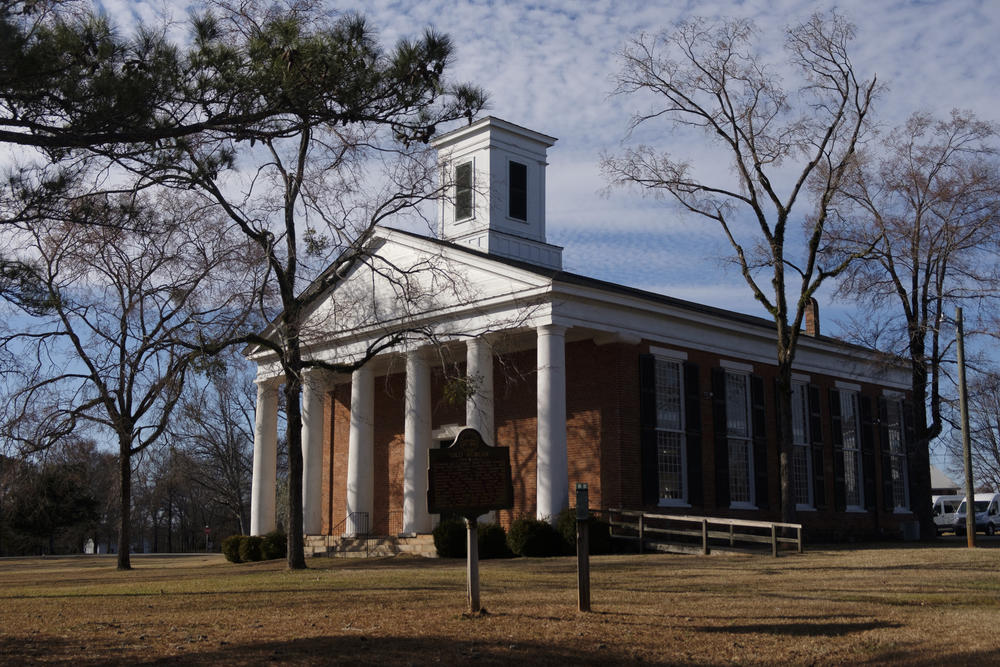 Penfield is the Greene County crossroads where Billington Sanders was the first president of what, in 1833, was Mercer Institute. Today, the institute is Mercer University, located 80 miles to the south in Macon. 
There's not much in Penfield today, but in the three decades between Indian Removal and the Civil War, Mercer Institute and Penfield were at the heart of an economic bubble fueled by forced labor: the cotton plantation. It was bigger than Athens, Ga., at the time. 
Penfield was surrounded by slaveholding planters, who today would be millionaires many times over. Mercer Institute is where some of their sons were educated. 
Pre-pandemic, Mercer University students were given the opportunity every year to make what the school calls the "Pilgrimage to Penfield." 
"We had heard of Old Master President Billington Sanders. We really eagerly looked forward to meeting him," read the words of a student journal from the 19th century. You can hear those words in a video made during the pandemic when the COVID pandemic meant students couldn't make the trip. 
On the trip, either virtually or in person, students see the old chapel with its columns, and they see the well-curated Mercer Cemetery where Sanders and others of the founding generation are buried. 
It was a few years ago that Macky Alston learned something new about the cemetery. 
"A guy named John Colclough said, 'You need to bring the boy over. I got some stuff to tell him before I pass out of this life,'" Alston recalled. Colclough was the cemetery caretaker and, like Alston, he was white. 
"'You know, there's a Black cemetery right on the other side of the wall," Colclough said, referring to a red brick wall that separates the Penfield cemetery from surrounding woods, which meant the Black cemetery was somewhere among those trees. "'Y'all need to go look at it.'"
Alston and Hillman were already close by then, him pitching in to move her dream of the museum forward. So when he told her about this other cemetery, they decided to check it out.
Carefully.

"You know, we're talking about a 60-year-old woman getting across a wall, OK?" Hillman quipped.
Once she'd clambered over the red brick wall at the edge of the Mercer cemetery, Hillman stood in a forested grove of magnolia and oak. 
"You couldn't walk because there was so many vines tangling your feet," she remembered. 
And a lot like at the Bethel Bara cemetery, the majority of the graves had no markers. 
"And the greatest point is that those people were not acknowledged or honored in life, nor death," Hillman said.

Around the same time Alston and Hillman were trying to understand the implications of this new-to-them cemetery, Mercer students were getting interested, too. 
Take Summer Perritt. She is in the video made during the pandemic when students couldn't travel to Penfield. 
"Located directly behind the cemetery that houses many of Mercer's first presidents and staff and teachers, is a graveyard dedicated solely to the enslaved populations and Black populations of Penfield," Perritt says in her section of the video.
She was in graduate studies at the University of Edinburgh where others were asking how Scotland benefited from the trans-Atlantic slave trade when she asked questions about her alma mater. 
At the end of her section of the video comes the bottom line. 
"Mercer Institute was founded on the donations of 26 original donors, 20 of whom were slaveholders."
And while Mercer Institute never enslaved people, it was largely built and run via enslaved labor on loan from those planters.
Mamie Hillman has praise for Summer Perritt. 
"She's about standing on the square of truth," Hillman said.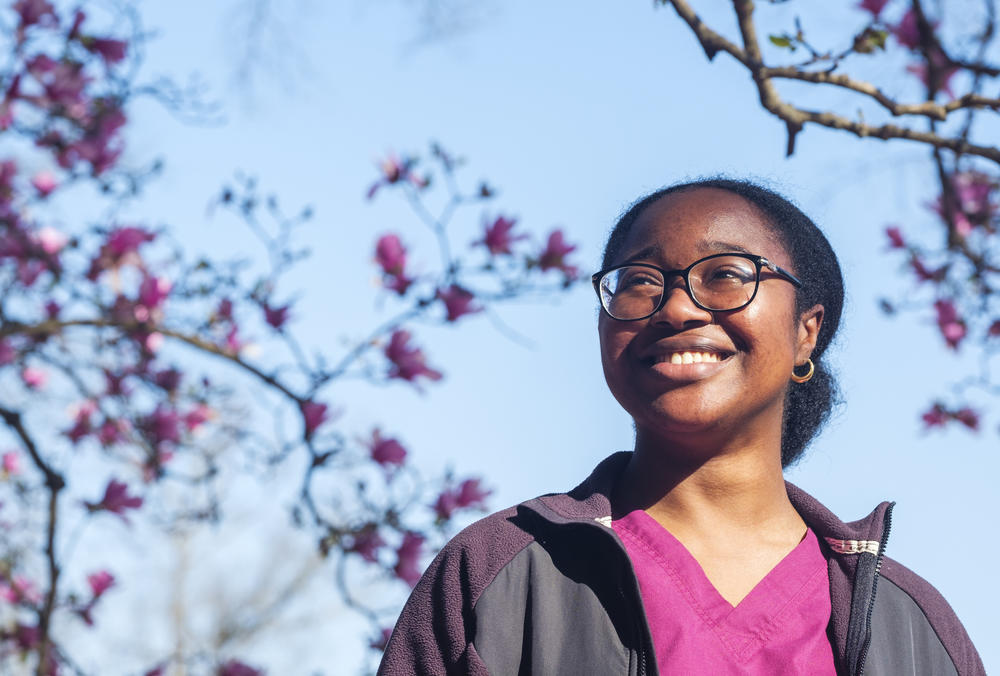 Mary-Angel Ekezie is in the tour video, too, one of two students being shown the Black cemetery while Perritt shares what she learned. 
"It was a shock to me, and I was like, 'Why didn't anyone tell me this?'" Ekezie recalled.  
Back then, Ekezie and other members of the student government decided they would do what they could to share this history with the next generation of students to make their Pilgrimage to Penfield. 
"We were like, 'I don't think we can go back to our old way of doing things now that we have this knowledge,'" Ekezie said.  
With the support of faculty, the script for the Pilgrimage has been updated. Since in-person trips have resumed, Mercer has asked Hillman to guide the tour of the cemetery.
Meanwhile, Mercer University has joined a consortium of schools, led by the University of Virginia, grappling with each school's relationship to slavery. Historian Doug Thompson directs the King Center for Southern Studies at Mercer and said the school is also thinking about next steps. 
"What we want to do is help Mamie Hillman so that she has a better sense of where people are," Thompson said. "I actually think we need to map the cemetery."
Thompson said his students usually want to know more than that, like who the people in the cemetery were. Given the state of the burials and the lack of any real markers on many, that will likely never happen. 
Ekezie has been interning with Hillman in the Greene County African American Museum since she graduated. 
She says the Penfield cemetery history in no way makes her less proud of the school that attracted her for its tradition of public service.
"It made me more in awe of just how far Mercer's history has progressed," Ekezie said. 
Ekezie said the only thing she can do now is be grateful for what she's learned and move forward from here. 
Correction
An earlier version of this story misspelled Mary-Angel Ekezie's surname. 
Secondary Content
Bottom Content