Section Branding
Header Content
McMichaels appeal federal convictions, saying Arbery killing didn't happen on a public street
Primary Content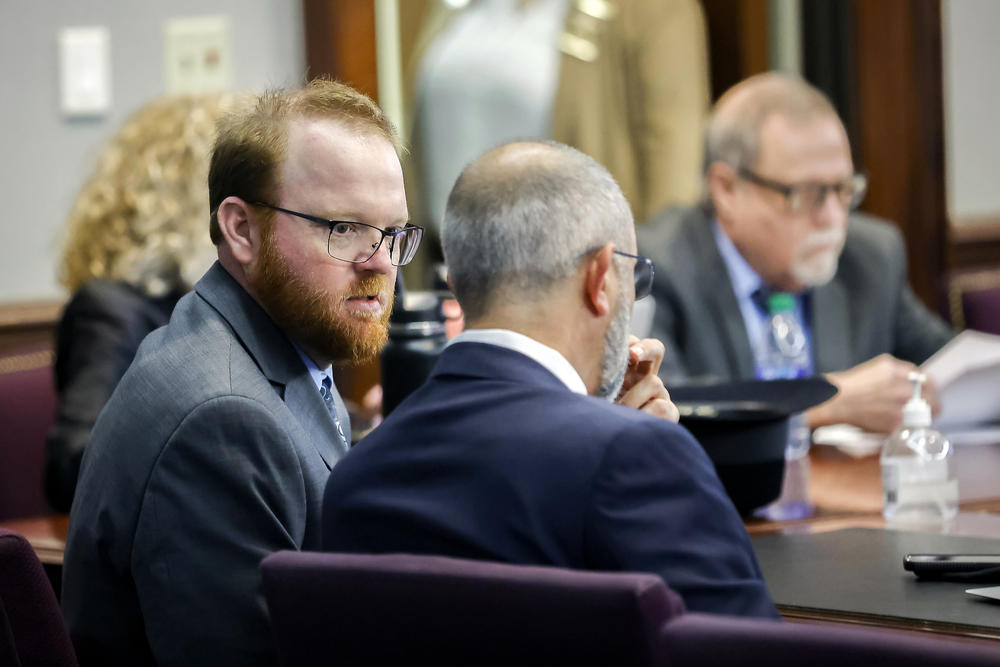 Two of the three white men convicted of committing a racially motivated hate crime in their murder of Ahmaud Arbery have asked Judge Lisa Godbey Wood to overrule a federal jury's unanimous guilty verdict, claiming that the roads in Satilla Shores — the Glynn County neighborhood where the chase and killing occurred — were not public streets, as prosecutors had charged in their indictment.
In separate motions filed Tuesday, attorneys for Travis McMichael and his father Greg McMichael argue that federal prosecutors failed to provide sufficient evidence that Glynn County "provided or administered" the roads, which were dedicated by a private developer to the county in 1958 — a dedication which the attorneys say was never accepted by county commissioners.
As of this article's publication, prosecutors had not filed responses to the McMichaels' motions — which the court docket indicates they have until March 22 to do — nor had co-defendant William "Roddie" Bryan filed an appeal of his conviction under the same hate crime statute as the one that prosecutors charged the McMichaels with.
That statute — one of a handful of federal hate crime laws — criminalizes the harming or threatening of a person on the basis of their race for engaging in "federally protected activities" — among them being the use of a facility provided or administered by a government, such as a public street.
Savannah-based attorney Amy Lee Copeland, representing Travis McMichael, wrote in her client's motion for acquittal that although the Glynn County Board of Commissioners in 1958 approved the plot of land for Satilla Shores, it explicitly rejected the developer's dedication of the streets to the county.
Copeland acknowledged that the Glynn County Public Works Department had responded to dozens of maintenance requests in Satilla Shores between 2009 and 2021, but argued that they did not rise to the level of "implied acceptance" of the developer's dedication of the streets to the county.
"These service tickets overwhelmingly went to drainage, ditches, and mosquitos," Travis McMichael's motion reads. "The only asphalt repairs came in conjunction with the county's drainage work. Not a single ticket involved a pothole repair."
Copeland had made a similar argument during the trial itself, although not in as much detail as the 43-page motion, which references case law at both the federal and state levels, including a federal appeals case involving a 1979 clash in Alabama between Black marchers with the Southern Christian Leadership Conference and members of the Ku Klux Klan.
Richmond Hill-based attorney A.J. Balbo, representing Greg McMichael, echoed Copeland's argument in his client's motion. Additionally, Balbo claimed that the government's evidence of racial animus against Bryan and Travis McMichael had unfairly tainted the jury's perception of his client.
"Despite jury instructions directing the jury to consider the defendants individually, it seems clear that the impact of the racial animus evidence from the other two defendants contaminated the jury's view of Defendant Gregory McMichael," Greg McMichael's motion reads. "The 'spill over' of that toxic evidence explains how the jury came to the conclusions that it did as to Defendant Gregory McMichael, even in the absence of sufficient evidence warranting a conviction."
In addition to asking for acquittal on the hate crime and related firearms charges, both Copeland and Balbo requested that their clients also be acquitted of kidnapping. In their motions, the attorneys argued that Travis McMichael's pickup truck used during the chase was not an "instrumentality of interstate commerce," as federal prosecutors had charged in their indictment.
"The Ford truck was not moving in interstate commerce," Travis McMichael's motion reads. "Its use as a putative means of corralling or detaining Arbery came from the fact that it was parked, with McMichael standing outside. This would be akin to finding an interstate commerce nexus if a person used the receiver of a rotary dial telephone to bludgeon someone or its wire cord to garrote a victim."
Federal sentencing has not been scheduled for the McMichaels and Bryan, each of whom has already been sentenced to life in prison for their state murder charges, with only Bryan having the possibility of parole after 30 years.
Federal rules generally require a probation officer to conduct a presentence investigation before a judge imposes a sentence. Court records do not show any such investigation thus far.
Secondary Content
Bottom Content