Section Branding
Header Content
Senate bill cracks down on local school boards' ability to eject disruptive parents from meetings
Primary Content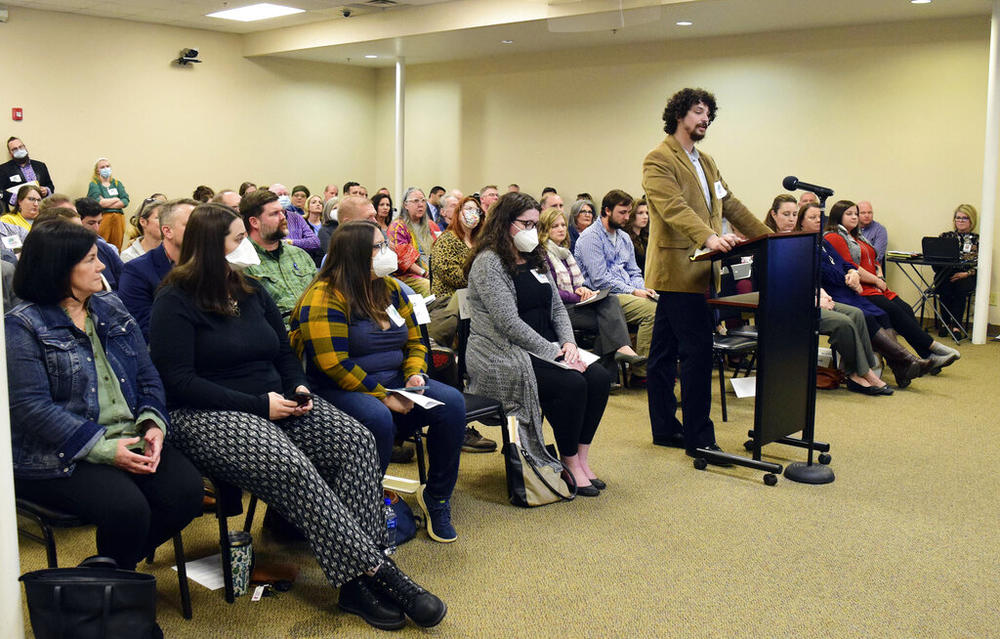 A Senate panel backed a bill on Tuesday that would put pressure on local school boards to adhere to the open meetings laws and create barriers to removing disruptive parents from meetings.
Local government meetings — particularly school boards — became hotspots of hostility across the country and in Georgia throughout the pandemic as politically far-right parents dominated public hearings.
Further tension has grown over conversations regarding "critical race theory" in classrooms, an issue perpetuated by conservative GOP lawmakers this session, even though it is not taught in Georgia schools.
Proponents of Senate Bill 588 say it will protect parents who may hold a different political view than school board members. But critics say it's redundant because  there are already laws on the books that protect parents' right to open meetings and set up a process for disruptions from attendees.
Senate Pro Tempore Butch Miller, a Gainsville Republican, is the lead sponsor on the measure. Miller also is a GOP candidate in the crowded lieutenant governor race.
During the committee meeting Tuesday, he said it aims to protect parents from unjustly being removed.
"We've seen parents treated unfairly by boards of education because of their political views or disagreements, and they have been arrested and barred from attending future meetings simply by voicing their concerns," he said.
"The bill sends a statement to boards who would abuse their authority," he added. 
Miller went on to condemn action at the federal level to address out-of-line parents.
Threats against school board members were widely reported during the pandemic, to the point of federal government involvement. Last fall, Attorney General Merrick Garland called on federal law enforcement agencies to examine the issue.
He asked  authorities to address "a disturbing spike in harassment, intimidation, and threats of violence against school administrators, board members, teachers, and staff who participate in the vital work of running our nation's public schools," according to the Associated Press.
The 2022 legislative session has been dominated by conservative education bills aimed to please Republican lawmakers' deep-red voting base. With many up for statewide office and others in tough primaries, culture wars are driving decisions over Georgia schools.
Justin Pauly, with the Georgia School Boards Association, told lawmakers the legislation was unnecessary.
"Everything in SB 588 is already addressed in state law and required of school boards," he said. "The Open Meetings Act includes most of these provisions. There's not a need to add this legislation just for school boards."
Lisa Morgan, president of the Georgia Association of Educators, also spoke out against the bill and warned lawmakers they're wasting legislative time on a non-issue.
"I've seen a lot of things in school board meetings. I've seen disruptions and we have laws currently to deal with those disruptions," she said. "And our school boards have policies and procedures in place to allow public input in their meetings."
The bill opens a pathway to litigation and gives superior courts the authority to issue warnings and order local school boards to comply if they find that board has not met the open meeting requirements or parents feel they have been unjustly treated.
Buddy Costley, with the Georgia Association of Educators, offered concern that the legislation may inhibit local school boards from filing a "criminal no trespass" — where the individual, if convicted, is guilty of a misdemeanor. 
"Sometimes we do have some parents and stakeholders that do not behave, follow decorum or safety rules, or just lace profanity because they're angry in front of children who are being awarded at board meetings or in the school office if they come in."
Costley said the law appears to override the ability to take that step if necessary.
The bill passed out of the Senate Education and Youth Committee.
Secondary Content
Bottom Content