Section Branding
Header Content
Judge rules Georgia's new redistricting maps will be used in 2022 elections
Primary Content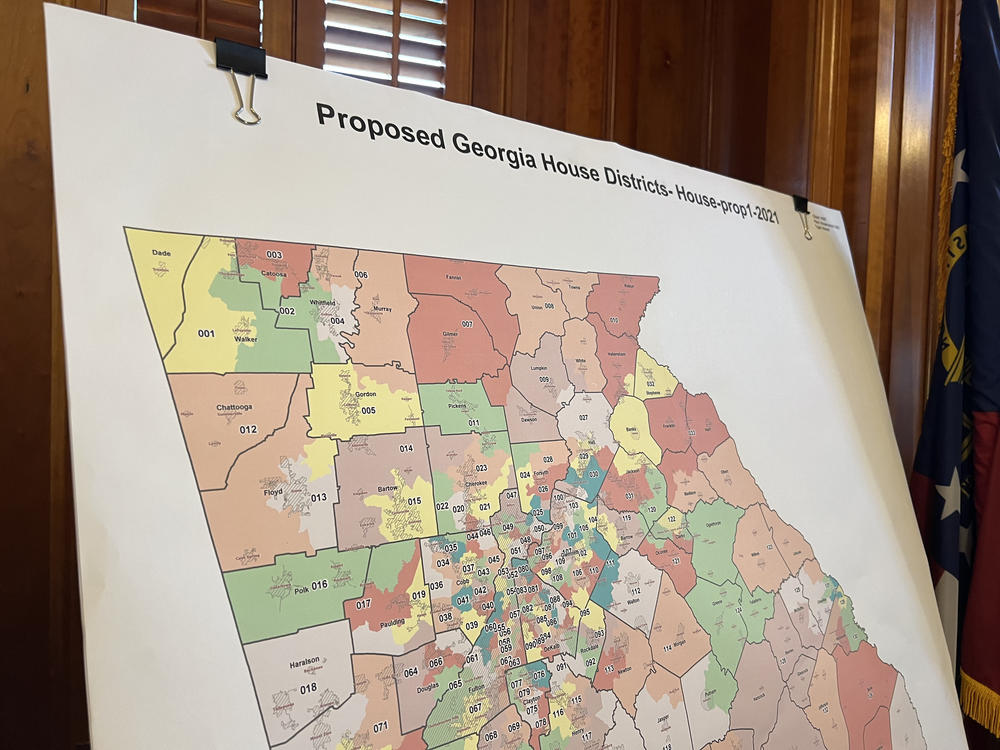 A federal judge has ruled that Georgia's new legislative and congressional maps can be used for the 2022 elections but also that they likely contain districts that violate the Voting Rights Act.
Judge Steve Jones issued a 238-page order Monday that denied a request to block new boundary lines that give Republicans an additional U.S. House seat and shrink their margins in the General Assembly because making changes while preparations for the May 24 primary election are underway could result in "significant upheaval and voter confusion." 
"Changes to the redistricting map at this point in the 2022 election schedule are likely to substantially disrupt the election process," Jones wrote.
The ruling comes in a case that combines three lawsuits that allege the redistricting process violated Section 2 of the Voting Rights Act by failing to include enough majority-minority districts that would give Black voters the opportunity to elect candidates of their choice.
Much of Georgia's population growth over the last decade has been spurred by an influx of Black residents to metro Atlanta, and the lawsuits argue lawmakers neglected to account for that growth when redrawing political maps.
While the state of Georgia contends its maps are not unconstitutional, elections officials also testified that the monthslong preparation process for the May primary would be disrupted if the court ordered any changes to maps or election dates.
"With candidate qualifying for the State of Georgia set to begin in six days, any change now would be considered late in the process," Jones wrote. "Applying the Purcell principle, the United States Supreme Court 'has also repeatedly emphasized that lower federal courts should ordinarily not alter the election rules on the eve of an election.'"
County elections officials have to assign Georgia's more than 7.5 million voters into their new districts for federal, state and local races and mail out new precinct cards notifying them of changes. After candidate qualifying ends next week, the state creates drafts of more than 2,000 ballot styles with combinations of races specific to each precinct that must be checked before absentee ballots are printed and mailed to voters beginning in April. Jones also acknowledged that counties could have difficulty securing polling places if the election date were moved.
The normal local redistricting timeline was already compressed due to delayed results from the U.S. Census.
Jones also took note of a similar redistricting case out of Alabama where the U.S. Supreme Court ruled the state's primary could continue under maps that a lower court found unconstitutional.
"This a clear victory for common sense and order over liberals' attempted partisan power grab," Republican Secretary of State Brad Raffensperger said. "Georgia's maps are fair and adhere to traditional principles of redistricting, and I look forward to defending them through this case and in the Court of Appeals and Supreme Court."
While Jones allowed the maps to be used for the current election cycle, he also found all three plaintiffs were likely to succeed with at least some of their claims of districts that violate the law.
One set of plaintiffs argued that Georgia's 14 House districts should have included a majority-Black seat based in the western part of metro Atlanta, spanning from Cobb to Fayette counties. The current maps drastically overhaul the competitive, currently Democratic 6th and 7th Districts in metro Atlanta to give Republicans a safe seat in the 6th while making the 7th safe for Democrats.
The ruling also found that the other sets of plaintiffs challenging state legislative maps are likely to succeed in showing two majority-minority state Senate districts and two state House districts could be drawn in the south metro Atlanta area and another majority-minority state House district could be drawn near Albany.
While the maps will be in place for now, the larger lawsuit over the legality of the maps will continue.
"Having determined that a preliminary injunction should not issue, the Court cautions that this is an interim, non-final ruling that should not be viewed as an indication of how the Court will ultimately rule on the merits at trial," Jones wrote. "Under the specific circumstances of this case, the Court finds that proceeding with the Enacted Maps for the 2022 election cycle is the right decision. But it is a difficult decision. And it is a decision the Court did not make lightly."
An appeal is expected.
Secondary Content
Bottom Content