Section Branding
Header Content
'You can't just throw your hate at me': Brunswick residents reflect on Ahmaud Arbery's legacy
Primary Content
GPB's Benjamin Payne spoke with Brunswick residents gathered at the city's Ahmaud Arbery mural on Feb. 23, 2022 — exactly two years after the 25-year-old Black man was murdered by Travis McMichael, Greg McMichael, and William "Roddie" Bryan. The day before the anniversary, a federal jury found that the three white men killed Arbery because of his race.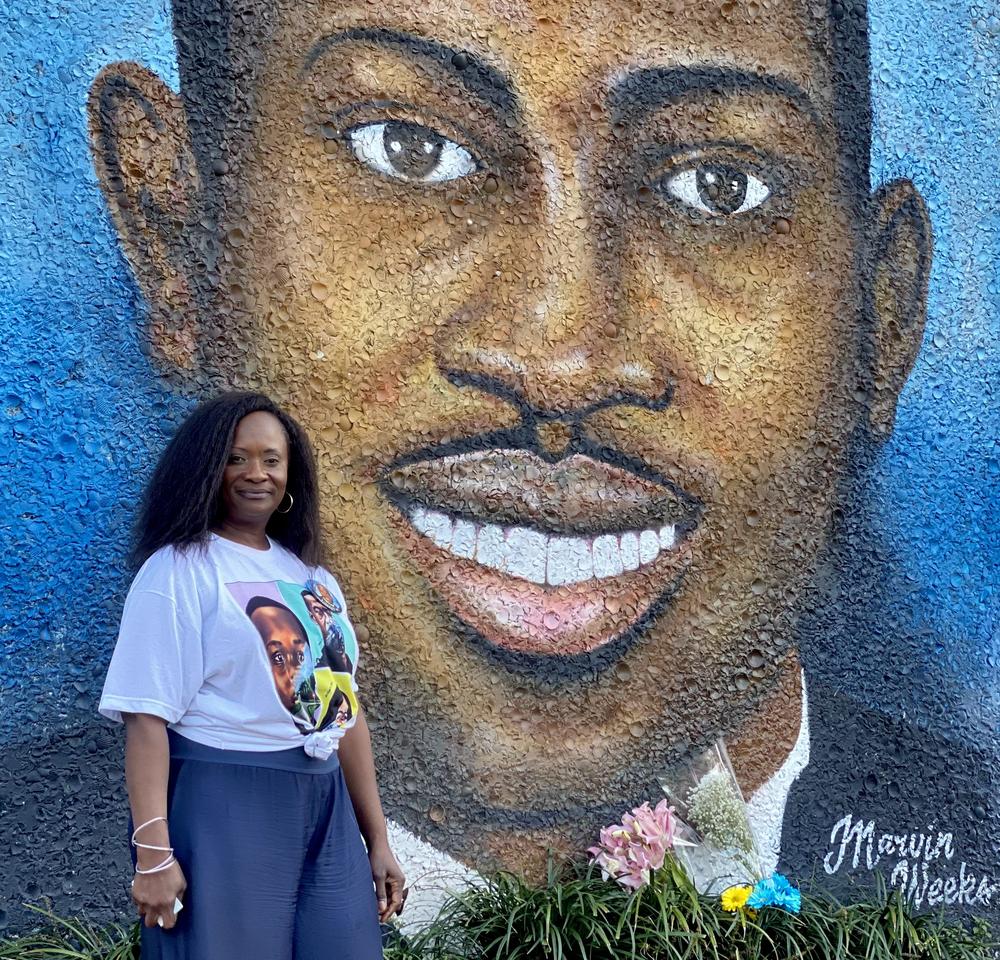 This past week marked a historic moment for Georgia and the country, when the three white men who murdered Ahmaud Arbery were convicted on federal hate crime charges of killing the 25-year-old Black man because of his race.
So what does it all mean to the Brunswick community?
GPB's Benjamin Payne went to the mural of Ahmaud Arbery in Brunswick on the two-year anniversary of Arbery's death, to hear from residents about what the verdict means moving forward.
J.Nell Ford:
I have a Black son, and that could have been my son.
I'm just here to support the movement. There's still a lot of work to be done here in America. I mean, it's 2022, or 2020 when [the murder] happened. We're thinking that we've gotten past all this racism and hatred. But to see something like this happen to a young man in our small little peaceful town, I thought it was just unreal.
And it just revealed to us that there are still a lot of work to be done between the races and in America. What happened to that baby shouldn't have happened.
Raymond Hamilton:
It was a tragedy. It shouldn't have never happened. We in the United States. And the United States supposed to be the greatest. And we need to come together and be the greatest.
I think justice has been done. But I think we need to come together as a unit. We're family here. I know a lot of families hurt right now. They hurt. We all hurt. But justice I think been done.
We going forward now.
Dana Roberts Beckham:
This day means so much to us. It means so much for my little boy and for the little children in my family because in Georgia, for so long, the representation of a Black man being killed — justice has never been fulfilled to this level.
We're looking at that as a catalyst for the future. What would that entail? That these children, little African American boys, won't feel like they're afraid to run in a neighborhood. Will feel like they are somewhat protected, or protected by law, that you can't just throw your hate at me.
Hate has been thrown at us for so many years and generations and generations, where no one's went to jail for it, never been indicted for it. Hate crimes have been going on forever in my family. I've lost someone because of a hate crime.
For the future, we're looking at that can never happen no more to young people — to young, Black, African American men and women.
Secondary Content
Bottom Content