Section Branding
Header Content
Voting rights activists temporarily delay poll closures in Lincoln County
Primary Content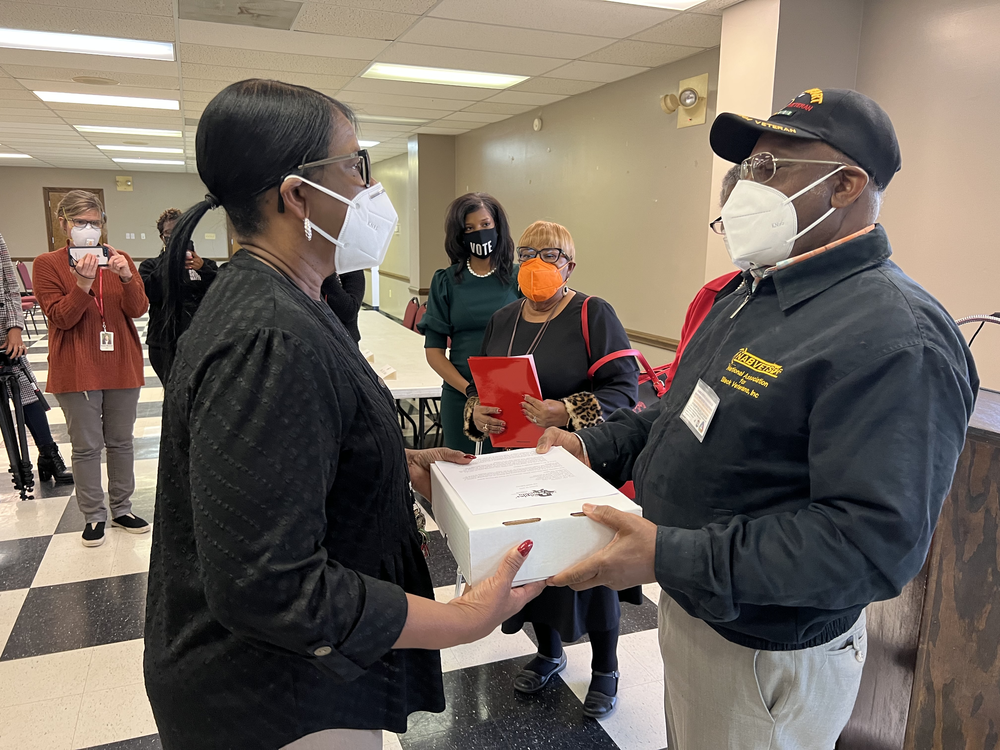 A coalition of voting rights groups successfully petitioned elections officials in Lincoln County Wednesday to temporarily block a plan to consolidate the rural community's seven voting locations into one, setting up a renewed battle over voting access and limited resources.
At a contentious election board meeting that abruptly ended after multiple residents got into a back-and-forth with board chair James Allen over the proposal, voters questioned the need to make such harsh changes.
"It is unconscionable that we would even have anyone to think about closing precincts in 2022," Rev. Denise Freeman of Lincolnton said earlier Wednesday after delivering the petition. "It takes us back to an era that we thought that we would never have to go back to."
The push to close polling places comes as Republicans in Georgia have enacted sweeping election law changes spurred by false claims of voter fraud with the 2020 election — and in a state that has a history for racist voting laws that target Black voters.
Since the landmark Shelby v. Holder U.S. Supreme Court decision in 2013 that ended federal oversight of election changes in Georgia, the state has seen about a 10% reduction in voting locations, particularly in rural areas with small election budgets and even smaller populations.
The poll closings have come even as the state's population has grown by more than 1 million registered voters over the last decade.
Lincoln County's election director said her county of just over 6,000 registered voters north of Augusta does not have the resources or voters to support the number of polls currently open, and argued that the voting rights groups never asked how they could help the county's needs.
"I think that their first step should have been to come to me and talk to me," said Lilvender Bolton, who is Black.
While Georgia has made national headlines for recent elections featuring long lines in nonwhite communities and its 98-page voting law that rewrote virtually every aspect of election code, Lincoln County's story is a little bit different.
Lincoln County is about 70% white, gave 68% of its votes to former President Donald Trump and has an elections budget of around $100,000, most of which goes to pay the salaries of its two staff members. And while the elections board was one of several reconstituted under local legislation passed by the Republican-controlled General Assembly, the board's composition remains three white Republicans and two Black Democrats — all of whom support the decision to consolidate.
But the Georgia Coalition for the People's Agenda and other groups that canvassed to get enough signatures to block the closure said in a press conference Wednesday that the county should be working to keep access open for voters and find solutions that don't involve fewer polls.
"My thing is we should be looking at ways to make sure all voters can exercise their right to vote," said Helen Butler with the GCPA. "It's not for Black, white, people of color – it's for United States citizens."
 
Bolton said at the Wednesday night election board meeting she would take the time to verify the more than 600 signatures provided and the vote to consolidate would be tabled until a later meeting.
Under Georgia state law governing polling place changes, if a petition is signed by at least 20% of the registered voters in a precinct set to be closed the change can't move forward.
The voting rights groups collected signatures from Lincoln County precincts 1B (799 registered voters in November 2020), 3A (489 voters) and 3B (1,003 voters).
Most voters in Lincoln County cast their ballots before Election Day, and many of the polls slated to be shuttered saw relatively few people show up in person to vote. Election data from the Secretary of State's office shows that more voters signed the petition from the three targeted precincts than voted on Election Day at those voting locations in the last statewide election.
Bolton said she will review the petition signatures and the elections board will likely call a special meeting soon to address the petition and next steps the county may take.
Secondary Content
Bottom Content