Section Branding
Header Content
They were pregnant when the pandemic hit. Now these moms are eager to vaccinate their new kids
Primary Content
The pandemic continues to affect people in a variety of ways. Some are positive, like couples who became pregnant and/or had a baby after March 2020. Now, these parents are waiting for COVID-19 vaccines for ages 5 and under to get emergency use authorization. GPB's Ellen Eldridge reports.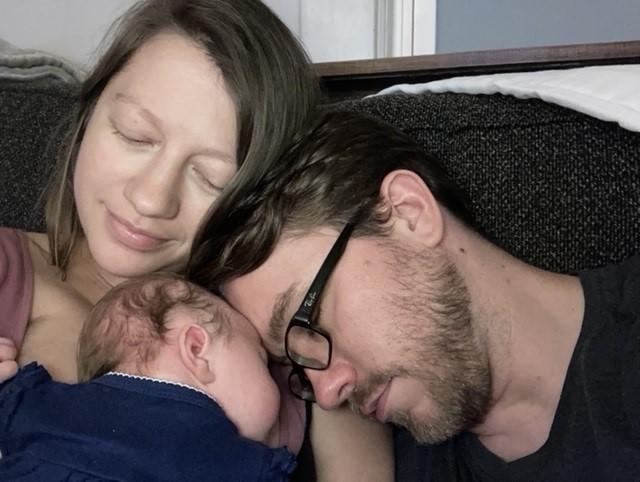 In early 2020, Rebecca Cardona and her husband were thinking about having another child. Then COVID hit.  
The couple found themselves quarantined — with their 4-year-old daughter, Jamie. 
In the uncertainty, the 36-year-old mother decided to postpone getting pregnant. But they only waited six months.  
"By the time that we were pregnant, which was confirmed in November, we really had a clear picture of (when) the vaccine was going to when it was going to be coming."
Cardona gave birth around the start of the delta surge.  
Isadora Pennington is a first-time mom who found out she was pregnant months before COVID hit the Atlanta area.  
"So I was 8 months pregnant when the pandemic really hit," Pennington said. "The weekend of my baby shower was the weekend of the first shutdowns." 
The typical fears a new mom has like "Is nail polish toxic?" and "Will deli meat hurt my baby?" turned into paranoia about having a baby during a pandemic. 
Stories she heard about giving birth during the pandemic terrified Pennington. 
"They would have to give birth alone," she said. "And also, in some cases, they would be isolated from their newborn for two weeks following the birth. And all of that terrified me.
"So, we shut down." 
She said she and her husband did not breathe the same air as anyone else for months. COVID rules meant her sister couldn't help with the birth. 
"That was a real, sad part for me," Pennington said. "I had to have a COVID test while I was in active labor, which was not fun. And it really sent me over the edge."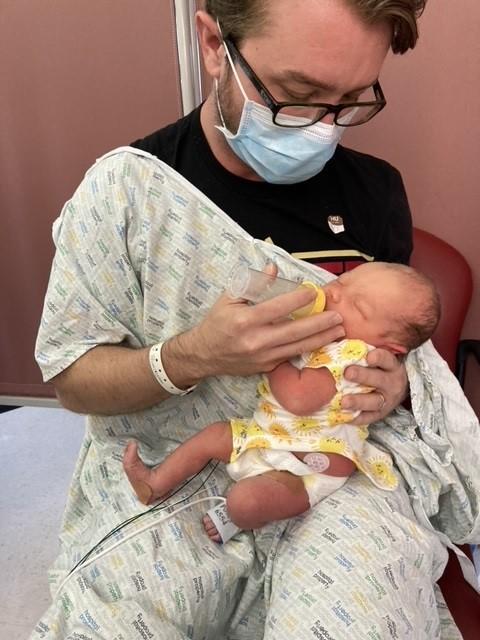 Delilah was born in early May. 
Brigid Kirk learned about her first pregnancy after the March 2020 shutdown.  
She was treated as COVID positive during her entire delivery because of a hard to read test result, which meant a masked recovery from her C-section. 
"I felt like I needed to wear a mask every time somebody came in the room," Kirk said. "But I had a C-section, so I'm trying to, like, grab my mask and I can barely move."  
But, even worse for the couple was that her husband, Matt, could not participate. 
"You have this experience that you see on TV, you know, like the dad holding the mom's hand while you watch the ultrasound screen? He didn't get to experience any of that," Kirk said. "It was almost a little difficult for him to feel connected to the baby until the baby was born." 
Cardona, who had waited to get pregnant, avoided Kirk's experience by getting vaccinated in time for her delivery. 
Still, it wasn't easy to decide to be vaccinated in those early days. Cardona says her palms were sweaty when she did.  
"Every doctor that I spoke to during my pregnancy was very, very happy about me getting the vaccine," Cardona said. "Looking back, knowing that even more data has come out to support it, I feel very good about that choice." 
Now, all these pandemic-made parents are eagerly awaiting vaccine approval for their very young kids. Currently, none of the COVID vaccines are approved for children younger than 5 years old.  
Pfizer says it is beginning to test a three-dose series of the vaccine for kids under 5. 
That could add months to the approval process.
Secondary Content
Bottom Content