Section Branding
Header Content
Spaceport Camden receives FAA approval. But legal hurdles remain
Primary Content
Spaceport Camden gets the regulatory green light, but groups protesting the project on environmental concerns are filing legal challenges to the effort. GPB's Benjamin Payne reports.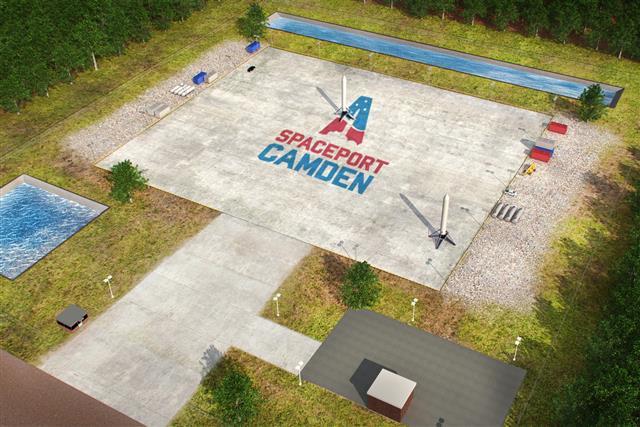 A proposed launch facility in Southeast Georgia for small commercial rockets has come one step closer to becoming a reality, as the Federal Aviation Administration on Monday granted the Camden County Board of Commissioners a license to operate Spaceport Camden.
The license permits the county to build and run a vertical launch facility, control center complex, alternate control center, visitor center, and mission preparation area on roughly 100 acres of land along the coast of the Atlantic Ocean, roughly halfway between Brunswick and the Georgia-Florida state line.
The Camden County Board of Commissioners, which began pursuing the project in 2015, issued a statement heralding the FAA's approval as marking a "mission accomplished."
"We are no longer a one-dimensional economy solely reliant on the brave sailors and contractors at Naval Submarine Base Kings Bay for economic prosperity," said Camden County Board of Commissioners Chairman Gary Blount in the statement.
Under the FAA license, Spaceport Camden would host up to 12 launches per year, only one of which could be held at night. Each rocket would carry a small payload weighing between 100 and 300 pounds. The booster rocket that powers takeoff would fall between 200 and 300 miles offshore into the Atlantic Ocean, never to be recovered.
Even with the federal go-ahead, the fate of Spaceport Camden remains up in the air, as a grassroots campaign is underway to block the county from purchasing the land from chemical company Union Carbide.
"The marsh, Cumberland Island, Little Cumberland Island, the Atlantic Ocean, the waterways in the Atlantic — all of those are at risk because of the debris, of the fuel, of the other things that will come from [rocket launch failures]," said Megan Desrosiers, executive director of the environmental conservation nonprofit One Hundred Miles.
Camden County itself has admitted that roughly 20% of rocket launch attempts would likely fail.
One Hundred Miles announced last week that a petition it helped distribute to Camden County residents was filed in court on Tuesday. Camden County residents James Goodman and Paul Harris filed a motion in court to temporarily halt Camden County from purchasing the property, while a judge considers whether to schedule a special election on whether to block the purchase.
The petition, which Goodman and Harris say garnered 3,850 signatures, relies on a provision in the Georgia Constitution that allows citizens to force county governments to hold elections to change or repeal ordinances, resolutions, or regulations. In this case, the election would determine whether the county resolutions authorizing the purchase should be repealed.
Secondary Content
Bottom Content