Section Branding
Header Content
Alpharetta lawmaker tees up Buckhead battle for 2022
Primary Content
Alpharetta Republican State Sen. Brandon Beach prefiled legislation on Thursday that will jump-start a battle over Buckhead cityhood next session.
The bill, SB 324, would let residents in the wealthy area decide whether or not they want to secede from the city of Atlanta and create their own. If it passes, the question would be added to the ballot next November for Buckhead for a vote.
Neither Beach nor any of his 12 Republican co-sponsors actually represent Buckhead.  
"Over the past few weeks, we have heard testimony first-hand from Buckhead residents who feel their needs are not currently being addressed and what the proposed incorporation would entail," Beach said upon filing the bill.
Proponents of the effort cite a rise in violent crime as the driving force behind the effort to split from Georgia's largest metropolitan city — although rising crime is being seen both across Georgia and nationally. 
Leaders of the effort, a volunteer group called the Buckhead City Committee, say Atlanta leaders aren't adequately addressing public safety concerns.
"I believe it is now the time for citizens in the Buckhead neighborhood of Atlanta," Beach said, "to have the ability to determine for themselves whether to form their own city and establish services which would be more responsive to their needs."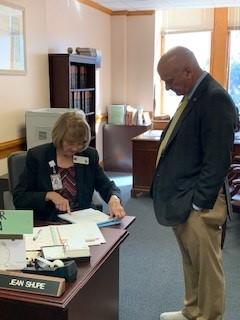 The 54-page piece of legislation would create a new city with a mayor and six city councilmembers, as well as its own municipal court, police force and fire departments.
Opponents condemn the effort and hit back that the loss of tax revenue from the wealthy area of Atlanta would be a major blow to the city's finances. During a committee meeting on the issue, those against the measure asserted that if Buckhead residents are unhappy with leadership, they should take it up at the ballot box.
The issue is likely to play out in a heated legislative battle when lawmakers convene under the Gold Dome in January.
The next mayor of Atlanta will also play a key role in resolving the issue. The race is down to a runoff between City Councilman Andre Dickens and City Council President Felicia Moore.
Moore said that she may have the best shot at convincing Buckhead residents to stay with the city after representing a portion of the area in the past.
"After I'm elected, I'm going to be reaching out to those who are against the movement and work with them to strategize on how to stop it," she said during the Atlanta Press Club debate Tuesday. "But I'll also be meeting with those who want to leave this city."
Dickens said if elected he would work with state legislators to resolve the issue before the question gets to voters.
"I don't want it to get out of the hands of the state legislature," he said during the debate. "I want them to be able to manage that and not allow Buckhead to leave."
Secondary Content
Bottom Content